Wonderful Things Florida Is Known For. Put These On Your Bucket List.
This article may contain affiliate links. Whenever you buy something through one of these links, I may earn a small commission without any cost to you. I really appreciate it as it supports this site and my family. Thank you!
When I first moved here, I had no idea the number of things Florida is known for. I am still exploring, but you will want to add the destinations below to your Florida bucket list.
Florida is like an onion. You peel away one layer and reveal many others. There are so many wonderful things Florida is known for.
It is also known for Mickey Mouse, Magic Kingdom, Harry Potter, Universal Studios, Sea World Orlando and several other theme parks.
In addition, Florida is of course known for its beautiful beaches that make it a top vacation spot in the United States and from around the world.
Thank you for reading this post. Don't forget to subscribe! This way you never miss an update, travel deals, discounts and more!! Subscribe to the right------>
From the stunning white sand beaches of the Gulf Coast to the Atlantic Ocean to the Florida Keys, you will find at least one beach in the sunshine state you will love.
Think that is it? You would be wrong. Florida has beautiful state parks as well as national parks including Everglades National Park. The oldest city in the United States? You would find that in Florida too in St. Augustine.
Florida is also a little bit country. Over 700,000 folks in Florida live in rural parts of the Sunshine State.
Combine it all together, and you have one great place to put on your list to visit. Even if you have been here, there is so much more to explore you may not have been aware.
Florida Statistics You May Not Know
Below are a few fun statistics about Florida that you may not know:
The state flower of Florida is the orange blossom and the state bird is the mockingbird.
Florida's nickname is the Sunshine State. But Central Florida is known as the lightning capital not only of North America but of the world.
Florida has the longest coastline in the contiguous United States. Alaska has the largest coastline of all 50 states.
There are over 21.5 million folks that call the state of Florida home. I am one. Approximately 1,000 people move to the state daily.
80% of the country's citrus products are grown in Florida.
In 2014, Orlando was the most visited tourist destination in the USA.
Florida is also known as the boating and fishing capital of the worlds.
Quite a few things right? But it gets better. Let's break it down.
Entertainment
Amusement parks, water parks, speedways, zoos, golf courses, historical sites and other interesting tourist attractions, you will find them all in Florida. One of the best things about Florida is options.
Kennedy Space Center. If you are a space enthusiast, you will want to be sure to visit the Kennedy Space Center. Definitely one of the coolest places not only in Florida but the United States.
I have been to Cape Canaveral on the East Coast once, and it is on my list to go again. You really need two full days to experience it all. The Space Shuttle Atlantis blew my mind by how it is made.
Universal Studios, Magic Kingdom, Animal Kingdom, Hollywood Studios, Sea World (nee Seaworld Orlando), Busch Gardens, and all the resorts including the Walt Disney World Resort are waiting for your family.
You can easily see why some refer to the Sunshine State as the Theme Park Capital Of The World.
National Parks, Historic Sites, Botanical Gardens
After you visit ALL the amusement parks in Florida, you may be ready for some nature. Florida has you covered there too. These are the spots to hit for those that enjoy outdoor activities:
Everglades National Park and the Florida Everglades. South of Miami in Homestead, this park is the largest subtropical wilderness in the United States. One of the best places to experience the wildlife, swamps and more in this part of the county.
Castillo De San Marcos in St. Augustine. Not only America's oldest city but also the oldest masonry fort. Look for the cannonball holes in the walls then explore this amazing city. Other spellings for this city include Saint Augustine and St Augustine.
Dry Tortugas National Park. Off the shores of Key West, you will find the islands of the Dry Tortugas. Easy to do a combo trip from either Miami Beach or from the Florida Keys via boat. Explore Fort Jefferson then spend time snorkeling the crystal clear waters where you may see sea turtles, bright fish, dolphins, and more.
Florida State Parks. These state parks are some of the most gorgeous in the world. Many have coral reefs for you to snorkel like John Pennekamp Coral Reef State Park.
Others have a hidden botanical garden beyond the gates like Alfred B. Maclay Gardens State Park in Tallahassee or Washington Oaks Gardens State Park on the Atlantic Ocean of Palm Coast.
As of this writing, there are 175 Florida State Parks. Many of these parks offer camping, nature trails, hiking trails, paddle trails and more.
State Forests/National Forests. In addition to the Florida State Forests, you Florida also has several National Forests.
The National Forests include Apalachicola, Ocala and Osceola. Keep your eyes open for wildlife including black bears, Florida Panthers, bobcats, and more.
The natural beauty in all of these forests is something you will not see elsewhere in the country. One forest may have palm trees while another has long leaf pine trees. Each one is uniquely different.
Florida's Natural Springs. If you have not experienced the freshwater springs in the state of Florida, you have NO idea what you're missing.
Fun facts are the springs stay a constant 72 degrees year round as well as 27 of those being first magnitude springs. These 27 springs have a total combined flow of 8 billion gallons of water each day.
Love to snorkel? How about scuba diving? These and other water activities await you at the springs. My favorites are Madison Blue, Three Sisters, Little River, Devil's Den, Silver Springs, Rainbow Springs and Royal Springs.
Lake Okeechobee in the center of Florida is the largest freshwater lake in the southeastern USA. It is a shallow lake with an average depth of 9 feet. Popular with boaters and a great spot to explore.
Daytona International Speedway in Daytona Beach. If you have the need for speed, make sure you visit this world-renowned racetrack. This speedway has been open since the 1950s and hosts NASCAR as well as a few other races.
Dali Museum located in St. Petersburg is an art lover's paradise. This museum is dedicated to the of Salvador Dalí and hosts the most comprehensive collection of his work outside the USA.
A few other museums to mention are the Ringling Museum in Sarasota. This museum was established in the 1920s and offers a display of the most amazing circus memorabilia in the world.
Also, the Vizcaya Museum and Gardens in Miami is a 28 acre historical landmark. This home was owned by 20th century businessman, James Deering. Be sure to allow enough time to explore it all. It is worth it.
Florida Beaches
Of course, you know I'm going to finish with breathtakingly gorgeous Florida Beaches! What else would you expect from this beach loving girl?
From the south you have the Florida Keys which includes Key West and Duval street as well as the southernmost point in the USA.
Key Largo, Marathon and Key Biscayne on Biscayne Bay are definite beaches you will want to visit in Southern Florida. Be sure to try the key lime pie!
But before you leave South Florida, be sure to visit South Beach on Miami Beach, Coral Gables, Fort Lauderdale, Hollywood Beach, and West Palm Beach on the East Coast.
On the West Coast (note: this area is still recovering as of this writing from the hurricane that hit in 2022). On this side of the state, stop at Fort Myers, Sanibel Island, Captiva Island, Siesta Key as you move your way up the Gulf of Mexico.
In the center of the state, you will enjoy the beauty and marine life of Clearwater, St. Pete, Tampa Bay, and Sarasota.
As you continue toward the Panhandle, St. George Island, Panama City Beach, Santa Rosa Beach, Fort Walton Beach and Pensacola all await your visit.
This area does get cool during winter. The best time to visit for those that prefer a warmer destination would be spring through fall.
And on the northeast side of the state, you will want to visit Amelia Island, Jacksonville Beach, St. Augustine Beach, Daytona Beach, Cocoa Beach and Vero Beach and sunny days on the coast.
And there you have it! From roller coasters to tropical birds. Coastal climates and country life.
Activities from space exploration at Cape Canaveral or water activities like kayaking the Suwannee River.
Whatever you like to do, it is the perfect place for a getaway with something for everyone on the above list of things Florida is known for. Check here for current deals: Florida Vacations
Tip: The best way to see the whole state is by car. Be sure to stop at a rest area or gift shop and grab a sunpass for toll roads. That will you save your money on your visit to this popular tourist destination called Florida.
Upcoming Trip?
I like to use Booking for booking not only my hotels, but my tickets and rental cars as well. Makes life so much easier with only having to log into one location for my information.
Be sure to grab my travel tips to save you time and money. You'll also be entered into the weekly drawings.
Register here: Get 100 Travel Tips EVERY traveler should know PLUS entered into the weekly drawing.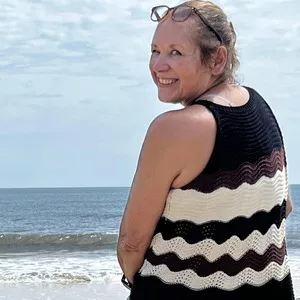 About Denise
Denise Sanger lives a life split between her love for fitness and her passion for travel particularly to the BEACH. Denise also has a love of marketing and lives in beautiful Suwannee County, Florida. You can find out more about Denise here: About Denise