15 Best Jacksonville Beaches To Put On Your Bucket List
This article may contain affiliate links. Whenever you buy something through one of these links, I may earn a small commission without any cost to you. I really appreciate it as it supports this site and my family. Thank you!
Where To Find The Best Jacksonville Beaches
Jacksonville, Florida is not only the largest populated city in Florida, it also has 22 miles of beautiful beaches. But overlooking a Jacksonville Beach vacation means you're missing out on the beautiful shores of the Atlantic Ocean in one of Florida's most fun cities.
Folks often think of Miami, Fort Lauderdale, Siesta Key or Panama City Beach when planning a Florida beach vacation.
I'm always in Jacksonville for one reason or another. It's so easy to fly in and out of Jacksonville International Airport.
It's a smaller airport but has many direct and connecting flights to get you where you want to go. Security is always a breeze. One of the advantages of flying in and out of smaller airports.
Thank you for reading this post. Don't forget to subscribe! This way you never miss an update, travel deals, discounts and more!! Subscribe to the right------>
Is Jacksonville Beach a nice beach?
Yes. Jacksonville Beach as well as nearby beaches below are very nice. Jacksonville Beach itself can get quite crowded during the summer months, but there are plenty of less busy beaches nearby to enjoy. I have listed those below.
Can You Swim In Jacksonville Beaches?
Most beaches, yes. There are others, however, with strong currents you are recommended not to swim in. Jacksonville Beach does have lifeguards, but others nearby do not.
Is The Water Clear On Jacksonville Beaches?
Most of the time, yes. However, I do want to mention that unlike many Gulf of Mexico beaches, the farther out you swim, the less clear the water is. If you tend to stay near the shore, you will be fine.
Does Jacksonville Beach Have A Boardwalk?
Jacksonville Beach has Jacksonville Beach Pier. You pay a small fee to walk or fish on the pier.
What Are The Best Beaches In Jacksonville?
I can go on and on about the many things to do in Jacksonville, but will save that for another article. This article is about the gorgeous Jacksonville beaches you need to your list of beaches to visit.
Honestly? You may not have even heard of a few of these beaches in Northeast Florida.
Hopefully after reading this you will want to visit because they are some of the most natural, beautiful beaches in Florida.
The following Jacksonville Beaches include greater Jacksonville and nearby beaches. At the bottom I have placed additional information to help you plan your trip.
Jacksonville Beach.
We start with Jacksonville Beach but truthfully? It's not my number one. I prefer fewer crowds and more relaxing beach time.
If you're one that likes to be in the midst of what's happening, you'll love Jacksonville Beach. During peak summer season, the Beaches Trolley will happily shuttle you from one beach to another.
When you have had enough sun, there are plenty of activities, shops and restaurants nearby to explore. There are quite few access points to Jacksonville Beach.
Neptune Beach.
Neptune Beach is known not only for the beach, but the surfing as well. A bit away from the city of Jacksonville, you'll find Neptune Beach to the northeast separated by the Intracoastal.
Don't let that stop you from visiting. What I love the most about Neptune Beach is that it's away from the more crowded Jacksonville Beaches. Kick back. Relax and stay awhile on Neptune Beach.
Atlantic Beach.
This beach is a secret to most visitors and the locals like it that way. Calm and peaceful is how I like to describe it. Also, there are plenty of nearby attractions to enjoy.
Kathryn Abbey Hanna Park.
This beachfront park is amazing! The beach? Amazing but there's more. This park is operated by the City of Jacksonville and offers many attractions and things to do to keep even the fussiest person happy. Picnic, camping, fishing, biking and hiking trails, Kids Splash Park and the list goes on.
Mayport Poles.
Located near Kathyrn Abbey Hanna Park, is Mayport Poles. This is a destination for surfers as the waves are larger in this area. A portion of Mayport Poles as well as Seminole Beach are on Mayport Naval Base Property. On my last visit, I saw war ships and more.
Boneyard Beach.
This beautiful beach is something you have to see with your own eyes. Bleached driftwood stands out against the blue of the Atlantic Ocean. Located inside Big Talbot Island State Park.
Driftwood Beach.
Also located inside Big Talbot Island State Park, Driftwood Beach is another one you need to make time to see. Bleached driftwood skeletons look like something from a movie.
Black Rock Beach.
This beach like the two above is also inside Big Talbot Island State Park. I'm writing inside, but you actually park off the road and walk into the beaches.
Please be sure to pay the entrance fee as that is what supports these parks. The best time to see Black Rock Beach is at low tide. These are actually not rocks. They are unique soil formations that are also home to many creatures.
Little Talbot Island State Park.
The baby to Big Talbot Island State Park, Little Talbot boasts five miles of beautiful beach shoreline for you to explore. Watch for shells and other items on the beach. Note that collecting driftwood is prohibited.
Amelia Island.
This is one of my favorite beaches in the Jacksonville area. A bit farther north of Big Talbot and Little Talbot. My last trip was a beach camping trip at Fort Clinch.
The history of this little island is fascinating. You can literally take a step back in time as you explore the remains of Fort Clinch.
We found a shark's tooth on our last visit. You may think there's not enough to do on an island, but you would be wrong. Fantastic restaurants and shop await you after a day spent on the beach.
Fernandina Beach.
Located on Amelia Island is the historic town of Fernandina Beach. There are actually over 40 access points to this beautiful beach.
Fernandina Beach is sometimes only referred to the downtown area, but this beautiful beach is included in Amelia Island's 13 miles of coastline.
Mickler Beach.
Moving south towards and actually considered to be Ponte Vedra brings us to Mickler Beach. This beach is another favorite but tends to get quite crowded.
It is also dog friendly (check time schedule as dogs MUST be off the beach before the heat of the day sets in), has restrooms, showers and picnic areas.
Ponte Vedra.
Known for the PGA Tour, I like Ponte Vedra beaches for walking and exploring. Many have found sharks teeth and sea glass while strolling this beautiful piece of the Atlantic shoreline. Not as crowded as Jacksonville Beach and perfect for families.
North Beach Guana River Preserve.
This is a must-visit if like me, you are a nature lover. On the west side of A1A you will find the preserve where you can hike, bike, kayak, fish and more.
On the east, beach side, you have several access points to the beach. Also in a few of the parking areas, there are hiking trails as well as a stature of Ponce De Leon. A top pick of mine for sure.
Be sure to visit St. Augustine and St. Augustine Beach before you leave the Northeast part of the Sunshine State.
These links will help you plan your Jacksonville Beach Vacation:
Upcoming Trip?
I like to use Booking for booking not only my hotels, but my tickets and rental cars as well. Makes life so much easier with only having to log into one location for my information.
Be sure to grab my travel tips to save you time and money. You'll also be entered into the weekly drawings.
Register here: Get 100 Travel Tips EVERY traveler should know PLUS entered into the weekly drawing.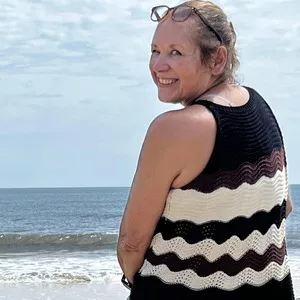 About Denise
Denise Sanger lives a life split between her love for fitness and her passion for travel particularly to the BEACH. Denise also has a love of marketing and lives in beautiful Suwannee County, Florida. You can find out more about Denise here: About Denise