Beach Camping Fort Clinch State Park
This article may contain affiliate links. Whenever you buy something through one of these links, I may earn a small commission without any cost to you. I really appreciate it as it supports this site and my family. Thank you!
I love to camp but this past weekend was a first for beach camping. AND tent camping in over 25 years.  You know I always say girls trips are the best trips and this one was no exception.  My two friends arrived at Fort Clinch State Park on Friday. I had to teach my fitness classes Friday so didn't arrive until Saturday.  I really regret not having that second night on the beach.
Beach camping at Fort Clinch was not exactly what I had in mind.  The sites that were closest to the beach were the RV sites and two or three of those could actually see the ocean from their sites.  We tent camped in the primitive area and let me tell you my Guardian Angel was right there with me. More on that later. (Whether you're tent camping or RV camping, you can get pretty much everything you need from Camping World which is what I did for a few things I didn't have on the way over to the beach.)
Traffic on Amelia Island due to construction delayed my arrival by about an hour.  I text my friends telling them don't wait on me if they wanted to go do something.  When I got there, I offloaded my car, grabbed my chair and went directly to the beach.  It was a very windy weekend. I didn't realize after spending about 90 minutes sitting in my chair vegging that I was sunburned because the wind off the ocean was keeping me cool.
There were shells EVERYWHERE. A shell collectors dream beach.  My friend even found a shark tooth! This island is actually known for the amount of shark teeth folks are able to find.  
Thank you for reading this post. Don't forget to subscribe! This way you never miss an update, travel deals, discounts and more!! Subscribe to the right------>
After a quick shower, we headed over to Fort Clinch. You can't visit Fort Clinch State Park without taking that step back in time and touring the fort.  Not many other folks at the fort, so we were able to walk the whole thing in about 45 minutes including the portion on the beach. 
Beach trips make it very easy to social distance especially when you're camping. Dinner was right on the beach and it was delicious. The wind though was increasing and we could see the rain coming off the ocean so we thought it best to head back to the park.
As the wind kept picking up, we turned the corner and saw our tents had been blown over. Stakes pulled right out of the gravel the winds were so strong. Luckily we had placed our gear inside which is what kept the tent from blowing away.
Beach storms are beautiful but awe inspiring as you witness Mother Nature.
This would be the beginning of a stormy night camping right off the beach. Our Florida camping tent was waterproof AND windproof which was because that wind whipped ALL NIGHT LONG. Sleep? Nope. Not very much anyway.
Venturing out in the morning, we chatted with those around us to make sure everyone was okay. One woman camping alone had to spend the night in a collapsed tent as the wind and rain wouldn't relent enough for her to be able set it up again.
With the break in the weather, we were treated to a gorgeous sunrise on the beach. There is nothing as promising as a sunrise and watching that ball of fire as it peaks from the ocean is breathtaking.
Even with storms all weekend long, I truly enjoyed camping on the beach and would definitely do it again. BUT an RV or at least a pop-up camper, like we had when the girls were younger, might be my next purchase 😉 We traveled monthly throughout the southeast in that pop-up and many fantastic memories were made. Give it a try. You might enjoy beach camping as much as I did.
Upcoming Trip?
I like to use Booking for booking not only my hotels, but my tickets and rental cars as well. Makes life so much easier with only having to log into one location for my information.
Be sure to grab my travel tips to save you time and money. You'll also be entered into the weekly drawings.
Register here: Get 100 Travel Tips EVERY traveler should know PLUS entered into the weekly drawing.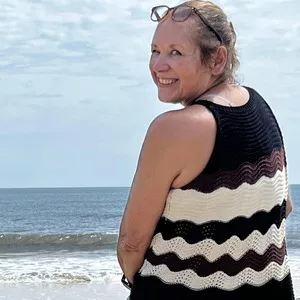 About Denise
Denise Sanger lives a life split between her love for fitness and her passion for travel particularly to the BEACH. Denise also has a love of marketing and lives in beautiful Suwannee County, Florida. You can find out more about Denise here: About Denise