Shrimp or prawns on your next vacation?
This article may contain affiliate links. Whenever you buy something through one of these links, I may earn a small commission without any cost to you. I really appreciate it as it supports this site and my family. Thank you!
The strangest thing has happened to me. After eating beef and pork my whole life, I've developed an aversion to it. It simply tastes terrible to me. The other strange thing? I now eat shrimp. I have NEVER eaten or liked the taste of shrimp until this year.
A friend of my brother's was bitten by a tick. I believe he said it's the Lone Star Tick and had the same reaction. So now my husband is on me to go to the doctor but in this current age of Covid-19, that's not so easy. I have no other symptoms and it's not necessarily a bad thing to eat less red meat so I'm not overly concerned.
But what does have me perplexed is what the difference is between shrimp and prawns? First I've had to wade through the many different ways you can order and eat shrimp. My absolute favorite is blackened shrimp (recipe below). Delicious! I also like cajun style and shrimp and grits.
The other day at a restaurant here in Florida near the Rainbow River, prawns were on the menu. Hmm. I always thought the two were the same. So I decided to do some digging.
Thank you for reading this post. Don't forget to subscribe! This way you never miss an update, travel deals, discounts and more!! Subscribe to the right------>
The main difference besides their shells? Shrimp are smaller and live in saltwater while prawns are larger and live in brackish water. Some say prawns taste sweeter. I'll have to get back to you on that because I didn't order them this time around. They were a bit more expensive and with my new found love for shrimp, I was afraid I might not like them.
Most recipes for blackened shrimp use the same ingredients. It's out of this world delicious! This is the one I've been using at home and plan to use on our next beach trip with tomato cucumber salad for an easy dinner in. (Click here for the salad recipe: Tomato Cucumber Salad)
Ingredients
1 pound shrimp shelled and de-veined
2 tablespoons olive oil
2 teaspoons
1 clove garlic crushed (or 1 teaspoon garlic powder)
1/2 teaspoon salt
1/2 teaspoon onion powder
1/2 teaspoon ground dried thyme
1/4 teaspoon dried basil or oregano
1/4 teaspoon ground black pepper
1/4 teaspoon cayenne pepper
Combine everything into a bowl making sure the shrimp is fully coated. You can refrigerate in the marinade or cook immediately. Heat large skillet (I use an iron skillet), then once pan is hot drizzle olive oil into pan and cook the shrimp in batches. Don't overcook and don't crowd the pan. Enjoy in your favorite recipe when charred on both sides. Yum!
p.s. I'll keep you posted on the prawns.
Upcoming Trip?
I like to use Booking for booking not only my hotels, but my tickets and rental cars as well. Makes life so much easier with only having to log into one location for my information.
Be sure to grab my travel tips to save you time and money. You'll also be entered into the weekly drawings.
Register here: Get 100 Travel Tips EVERY traveler should know PLUS entered into the weekly drawing.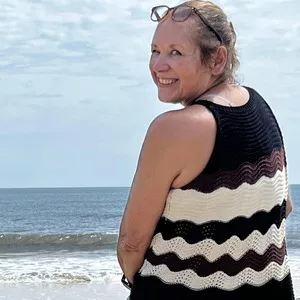 About Denise
Denise Sanger lives a life split between her love for fitness and her passion for travel particularly to the BEACH. Denise also has a love of marketing and lives in beautiful Suwannee County, Florida. You can find out more about Denise here: About Denise