Can You Surf in Key West? What You Need To Know.
This article may contain affiliate links. Whenever you buy something through one of these links, I may earn a small commission without any cost to you. I really appreciate it as it supports this site and my family. Thank you!
Key West, Florida is a popular tourist destination and the southernmost point of the United States. It is known for its beautiful beaches, laid-back atmosphere, and vibrant nightlife. But can you surf in Key West?
It always surprises me when I get this question. I also need to think about it before I reply. The answer is yes, but it's not always easy. Key West, Key Largo and the rest of the islands are not the first pick for surfers.
Key West is located at the southern tip of the Florida Keys. The waves are smaller and less consistent than on other parts of the East Coast. Destinations like Cocoa Beach, New Smyrna Beach, and even Fort Lauderdale or Miami in South Florida all are better options. 
Too busy to read this article now? Click here to check rates and availability for the best activities in Key West: Top Key West Water Sports And Tours
Thank you for reading this post. Don't forget to subscribe! This way you never miss an update, travel deals, discounts and more!! Subscribe to the right------>
While the Florida Keys are more famous for snorkeling, diving, and boating, there are a few spots around Key West and nearby islands where you might get lucky and a spot good enough to surf.
The best chances are on days when there are strong swells from the south or southeast. But this often coincides with tropical storms and hurricanes. The best time of year to surf is during the winter months.
Let's take a look at the surf spots and best places to catch the waves in Key West. We will also see how they compare to other East Coast surfing destinations like Cocoa Beach, Sebastian Inlet, New Smyrna Beach, and Daytona Beach.
The Best Places to Surf in Key West
​The best spots in Key West to check the waves are:
Smathers Beach
Smathers Beach is the most popular beach in Key West. It's also one of the best surf spots located on the Atlantic Ocean side of the island.
The last time I was at this beach, though, there were no large waves or even waves of any size. Only calm waters. That might be completely different the next time I visit.
It is also very seldom you have to watch for powerful waves that may take you where you don't want to be. The Coral reef and the world's third-longest barrier reef protects the island
This is one of the better spots to try depending on your skill levels for beginners. The waves here are typically small and gentle, making it a good place for beginners.
On days with strong swells, Smathers Beach can produce some big waves for all levels of surfers.
Higgs Beach
​This beach is located just north of Smathers Beach, and it's another good spot to check. The warm water and waves here are typically slightly larger than at Smathers Beach, which makes it a better option for intermediate and advanced surfers.
South Beach
​This beach is located in the south part of Key West, and it's a good spot to surf when there are swells from the south or southeast. The waves here can be larger, and there may be strong currents that are more powerful than at other beaches in Key West, so it's best for experienced surfers.
Cow Key Channel
Cow Key Channel is a narrow channel between Key West and Stock Island. It's a popular spot for boaters and kayakers, but it's also a great place to surf on days with strong swells. The waves here can be large and powerful, so it's best for experienced surfers.
Fort Zachary Taylor State Park
The beach in Fort Zachary Taylor State Park is one of the most beautiful state parks in the Sunshine State I have visited. It is located in the historic district of the island. That said it does not have the best waves and is more suited for snorkeling, fishing or simply relaxing. 
Click here to check rates and availability for the best activities in Key West: Top Key West Water Sports And Tours
Wakeboarding Or eFoil
One more thing I want to mention when the waves are not cooperating for you to get into the Gulf of Mexico or Atlantic waters. Wakeboarding or eFoil are both great alternatives.
Wakeboarding can be enjoyed by most people even beginners, and you do not need to wait for a rideable wave. There are several places you can do this in Key West including a man-made lake.
Efoil requires no previous experience and is safe for beginners. The company that offers it guarantees everyone will get up on the board.
You can get additional information here: Efoil Key West. I have not personally tried this, yet, but it is on my list to give it ago.
Tips for Surfing in Key West
​If you plan to surf in Key West, here are a few tips:
Check the forecast: The best way to find good surf in Key West is to check the forecast before you go. There are a number of websites and apps that provide surf forecasts for Key West and other parts of Florida's East Coast. Also be sure to keep in mind during hurricane season, even if the storms are offshore, they could kick up the surf significantly.
Be aware of the currents: The currents in Key West can be strong and may include rip currents. It's important to be aware of them before you get in the water. Also like swimming, never surf alone. Surf with a buddy so that you can help each other out if you get caught in a current. Be sure to check the surf report.
Respect the marine life: Key West is home to a variety of marine life, including coral reefs, sea turtles, and dolphins. Do not harass or harm any animal or marine life including manatees and sea turtles.
Surf Lessons: If you have not surfed before, please take a moment to learn the proper technique for this water sport. Surfers make it look so easy when in fact surfing is a physical activity. The best surfing schools will have equipment rental boards and more, so you can see what works best for you.
Relax. Don't stress too much. The best thing to do when learning anything new is to have a great time while learning.
Other Water Activities: The waves may not cooperate with you while on vacation in Key West. Be sure you have other options for water sports such as a jet ski ride, snorkeling, scuba diving or other popular activity.
Other Florida East Coast Surfing Destinations
​If you want to have a better chance of surfing on your vacation, the Southernmost Point may not be the best option for you. For more consistent waves, you may want to consider surfing at one of the other Florida East Coast surfing destinations, such as Cocoa Beach, New Smyrna Beach, or Daytona Beach. 
These beaches are all located on the Atlantic Coast of Florida, and they offer a wider variety of surf conditions than Key West. In addition, you will find quite a few surf schools where you can take lessons as well.
The top picks along the East Coast of Florida are:
Florida Gulf of Mexico Surfing Destinations
There are a few options on the Gulf Side of the state you might want to check out. They are:
Perdido Key: This area is called the bungalows of Perdido Key. Perdido Key is far west on the Florida Panhandle closer to Alabama. Check the surf report for wave height. Also, be sure to check local rules as I have been advised there are several areas with private property and no trespassing signs. I am not 100% clear if these signs are legal or if the owners of the condos are putting them up. As far as I am aware, the state owns the water and shore from the tide line to the water. Best to check for yourself.
Fort Walton Beach: Also on the Panhandle another option is Fort Walton Beach. At this beach, there is an exposed beach and Jetty break that has consistent surf. The best part of surfing here is you will also usually find clear waters in this area of the state. 
This would be the best place for up-to-date surfing and surf lessons in Fort Walton Beach And Perdido Key: Get Your Guide Fort Walton Beach
I will update this article as I get more information so be sure to bookmark it.
The following information will help you plan The Best Key West Vacation:
Upcoming Trip?
I like to use Booking for booking not only my hotels, but my tickets and rental cars as well. Makes life so much easier with only having to log into one location for my information.
Be sure to grab my travel tips to save you time and money. You'll also be entered into the weekly drawings.
Register here: Get 100 Travel Tips EVERY traveler should know PLUS entered into the weekly drawing.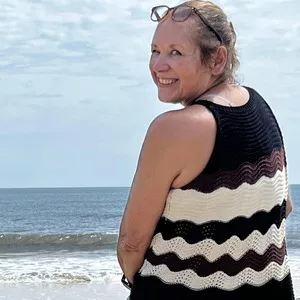 About Denise
Denise Sanger lives a life split between her love for fitness and her passion for travel particularly to the BEACH. Denise also has a love of marketing and lives in beautiful Suwannee County, Florida. You can find out more about Denise here: About Denise