Best Things To Do In New Smyrna Beach
This article may contain affiliate links. Whenever you buy something through one of these links, I may earn a small commission without any cost to you. I really appreciate it as it supports this site and my family. Thank you!
Exploring and Enjoying the Best of What New Smyrna Beach Has To Offer
New Smyrna Beach. Truly a gem on the Atlantic Ocean side of Florida with nearby neighbors including Kennedy Space Center, Canaveral National Seashore and Daytona Beach.
With so many popular attractions, you can be certain you will enjoy a vacation in this charming beach town.
I recently spent a weekend in New Smyrna Beach in a condo literally steps from the ocean. What a wonderful time we had.
There is nothing quite like opening your eyes in the morning and seeing the waves hit the shore. Yes my condo was that close.
Thank you for reading this post. Don't forget to subscribe! This way you never miss an update, travel deals, discounts and more!! Subscribe to the right------>
Not only is New Smyrna Beach a great place to visit, there are so many wonderful things to do. On the weekend we visited, a craft show was jamming on Flagler Avenue with live music at the Flagler Avenue Park.
Saturday night found us first in the Canal Street Historic District at The Spott, for a delicious fine dining experience like no other. After that, back over the Intracoastal Waterway to Casey's bar for live music. The cover band was fantastic!
From beaches to biking or nature trails. And from boat rides to beachfront golf courses, New Smyrna beach offers endless possibilities for exploration, relaxation, adventure or simply having fun!
With so many wonderful activities and attractions that new Smyrna Beach has to offer, it can be overwhelming to decide what to do and where to go.
That's why I have put together a list of the top things to do when visiting New Smyrna beach, Florida. From simply relaxing to cultural attractions, NSB has it all.
One thing I noticed? How friendly everyone is in this funky beach town on Florida's Central Atlantic Coast.
Where is New Smyrna Beach?
This charming beach town is located on Florida's East Coast in Volusia County. South of Jacksonville, St. Augustine and Daytona Beach. North of Titusville and east of Orlando.
How To Get To New Smyrna Beach?
New Smyrna Beach with it's tree-lined streets is very convenient and easy to get to not only from other locations on the East Florida Coast, but from both Orlando Airports.
Roughly a 55-minute drive from Disney or Universal making it easy to enjoy a day at the amusement parks followed the next day with your tootsies in the sand.
Driving? North or South on I-95 exit off 249 and head east to the beach.
New Smyrna Beach
Let's talk a moment about the beach. After all, you know my first thing to look for when traveling is the beach and this beach did not disappoint.
When we were last there, the surf was a short walk from our condo. Hard packed sand made it easy to get a good brisk walk in on the beach which is not as easy in sugar sand.
From surf fishing to surfing to kiteboarding, NSB is a popular spot for those that enjoy water activities.
Prefer a more relaxing beach vacation? You will find that here as well. This beach even allows cars with 4-wheel drive to park directly on the beach.
Best Things To Do In New Smyrna Beach Area
My list of the best things to do when visiting is LONG, so I am going to limit myself to my top picks.
Smyrna Dunes Park
First stop is Smyrna Dunes Park. This is one of the best places to enjoy the beach.
Smyrna Dunes Park is a stunning 184-acre park and seaside sanctuary. It is located along the southern shoreline of Ponce de Leon Inlet and the perfect spot to explore.
Whether you're looking for a place to relax and take in some breathtaking views of the Atlantic Ocean, Indian River or Ponce de Leon Inlet. Or an adventurous escape with plenty of outdoor activities, this park has something for everyone!
The park features a long, elevated boardwalk crafted with recycled lumber that is both comfortable and durable.
Stretching across 2 miles of terrain, its handicapped-accessible design makes it accessible to all.
Several scenic overlooks are available throughout the boardwalk, so you can take in the beauty of nature in style.
Boaters and anglers alike will appreciate the 300' fishing pier which also includes handicapped accessibility. Let your furry friends join in on the fun too; there are dog-friendly swimming beach areas located along the river shore.
Marine Discovery Center
If you want to truly get to know our ocean's inhabitants from their mysterious depths to their shallow waters, make sure to check out Marine Discovery Center.
It's an amazing opportunity to discover something new every time you visit. Learn not only about ocean life but also our environment.
Awesome exhibits feature information about conservation efforts through interactive displays. Daily guided tours with knowledgeable staff of this Marine Science Center will take you around each tank allowing you to see fascinating animals like rays swimming around.
Truly a great way to spend your day! MDC is open Monday through Saturday; closed Sunday and one of the most fun things for families to explore.
Ponce de Leon Inlet Lighthouse
Ponce de Leon Inlet Lighthouse is one of many historic buildings in the NSB area and also the tallest lighthouse in the area.
A brilliant beacon of light, standing tall and proud along the Eastern coast of Florida in Ponce de Leon Inlet.
The beautiful Ponce Inlet lighthouse was built in 1887 and is made up of an impressive 172 steps that visitors ascend to reach the top.
The lighthouse is surrounded by the Atlantic Ocean on the east and Halifax River on the west. Ponce Inlet marks the northernmost boundary of Mosquito Lagoon, a major water body in the Indian River Lagoon National Estuary.
At the top, you can experience awe-inspiring views of the area's stunning coastline. Standing at 175 feet tall, it is one of the tallest lighthouses in the United States.
It is also one of only three lighthouses ever designated as a National Historic Landmark by the United States Department of the Interior.
Be sure to visit the interior of the lighthouse. It features a unique spiral staircase with its original first-order Fresnel lens still installed atop its lofty perch which is amazing considering how old this lighthouse is.
New Smyrna Museum of History
The New Smyrna Museum of History is a great place to learn about the history of New Smyrna Beach. The museum has exhibits on topics such as the Native Americans, Timucuan Indians, the Civil War, and local businesses.
There is also a research library with historical documents and photographs. The museum also hosts special events such as lectures, workshops, and movie screenings.
The museum is open Monday through Friday 9 a.m. to 4 p.m. Saturday 10 a.m. to 4 p.m. and Sunday 1 p.m. to 4 p.m. with a nominal entry fee of $5 for adults.
New Smyrna Speedway
Looking for some high-octane fun? You will find it at the New Smyrna Beach Speedway. This state-of-the-art racing facility offers something for everyone, from NASCAR diehards to first-time spectators.
The new Smyrna Beach Speedway is located just minutes from the Daytona International Speedway, making it the perfect place to catch all the action. The facility features a half-mile oval track, as well as a quarter-mile drag strip.
There's also a 3/8-mile figure-eight track, which is perfect for adrenaline junkies. No matter your level of interest in racing, the new Smyrna Beach Speedway is sure to have something for you.
Turtle Mound National Historic Site
Next on the list? The Turtle Mound National Historic Site. Turtle Mound National Historic Archaeological Site.
This is the perfect place to learn about the history and culture of the Seminole people and fun for the entire family. This site features a large mound that was once used as a lookout point by the Seminoles.
Today, the mound is open to the public and offers stunning views of the surrounding area. Keep a watch for horseshoe crabs as they are often on the beach.
The site also features a museum with exhibits on the history and culture of the Seminole people. In addition, Turtle Mound National Historic Site offers hiking trails, picnicking areas, and a playground.
Sugar Mill Ruins
The Sugar Mill Ruins were once part of a large sugar cane plantation that was destroyed by a hurricane in 1856. Today, one of many historical sites, the Sugar Mill Ruins are open to the public and offers an interesting glimpse into the past.
This grist mill was built in 1832 by Dr. Andrew Turnbull. It is one of the oldest surviving buildings in East Florida. The Sugar Mill Ruins are now part of a park, which includes a walking trail, a picnic area, and a museum.
Old Fort Park
Be sure to stop and explore Old Fort Park. The park is part of a vibrant blend of parks that call NSB home.
Visitors can explore the old fort and learn about its role in the history of the city. In addition, the park offers beautiful views of the Atlantic Ocean and the surrounding area.
Riverside Park
Riverside park is truly a hidden gem in New Smyrna Beach. It is a great place to take a walk, have a picnic, or just relax.
The park has a playground, a pavilion, and plenty of open space. It is also a great place to see wildlife.
Watch for otters, turtles, shore birds and other marine life. This park is open from sunup to sundown and there is no admission fee.
In addition to the attractions above, New Smyrna Beach is a popular art lover destination. The HUB on Canal as well as the Atlantic Center These art galleries display both local culture and national artists.
My accommodations for my last visit to NSB were with Get Away Rentals. They do not manage ALL the homes in the building but do manage roughly half and each one is amazing!
Upcoming Trip?
I like to use Booking for booking not only my hotels, but my tickets and rental cars as well. Makes life so much easier with only having to log into one location for my information.
Be sure to grab my travel tips to save you time and money. You'll also be entered into the weekly drawings.
Register here: Get 100 Travel Tips EVERY traveler should know PLUS entered into the weekly drawing.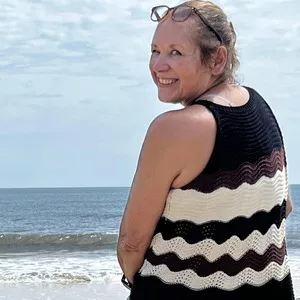 About Denise
Denise Sanger lives a life split between her love for fitness and her passion for travel particularly to the BEACH. Denise also has a love of marketing and lives in beautiful Suwannee County, Florida. You can find out more about Denise here: About Denise