Best Thanksgiving Margarita For A Beach Lover
This article may contain affiliate links. Whenever you buy something through one of these links, I may earn a small commission without any cost to you. I really appreciate it as it supports this site and my family. Thank you!
Thanksgiving is so much fun at the beach. After all, what is better than a day spent in the sun and sand, followed by a scrumptious meal? Then add in the best Thanksgiving margarita cocktail ever for a beach lover, and it's a match made in heaven.
Of course a margarita right? I bet that is the first cocktail that popped into your mind. And for good reason too.
Margaritas are synonymous with the beach. Well at least in my mind. Every single trip I take to the beach, I enjoy my top three favorite beach cocktails. They are:
Do you think as I do that there are certain cocktails that simply bring out your best beach loving self? If so, print out this easy Thanksgiving Margarita recipe to enjoy this holiday season.
Thank you for reading this post. Don't forget to subscribe! This way you never miss an update, travel deals, discounts and more!! Subscribe to the right------>
How to make the best Thanksgiving Margarita
People often think margaritas are hard to make, but they are actually quite simple. Take it from this former bartender who put herself through college tending bar.
Follow the steps below and enjoy!
3 ingredients is all it takes:
Tequila
Apple Cider
Lime Juice
Now for me, I only use and drink top shelf tequila. One thing I learned very quickly, is that well tequila causes me issues the next day that are not so pleasant.
My first choice and what I generally have on hand is Patrón Roca Silver. It is smoother and sweeter not only in cocktails but as a straight shot or on ice.
Whatever YOUR favorite tequila is, use that.
Next? Apple Cider. That's right. Apple Cider and tequila? Fantastic combo!
I choose the unfiltered apple cider as it has the best taste to me. You may prefer filtered apple cider which does not have the pulp that unfiltered does.
Finally? Lime juice! Fresh is best with lime juice as it is with everything.
Then simply pour all the ingredients into a shaker cup, shake and serve in a tumbler or margarita glass. Add cinnamon sugar to the rim to bump the presentation AND taste up a notch.
That's it! Here's the recipe for you to keep on hand:
Upcoming Trip?
I like to use Booking for booking not only my hotels, but my tickets and rental cars as well. Makes life so much easier with only having to log into one location for my information.
Be sure to grab my travel tips to save you time and money. You'll also be entered into the weekly drawings.
Register here: Get 100 Travel Tips EVERY traveler should know PLUS entered into the weekly drawing.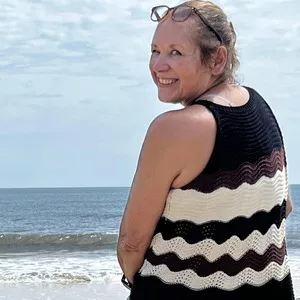 About Denise
Denise Sanger lives a life split between her love for fitness and her passion for travel particularly to the BEACH. Denise also has a love of marketing and lives in beautiful Suwannee County, Florida. You can find out more about Denise here: About Denise