Florida Swamp Water Beach Cocktail Recipe
This article may contain affiliate links. Whenever you buy something through one of these links, I may earn a small commission without any cost to you. I really appreciate it as it supports this site and my family. Thank you!
You know me. I always like to try new things including beach cocktails. But when I read the name Florida Swamp Water Cocktail on a menu in PCB, I thought what is that?
So of course you know your girl here had to order it and give it a taste. I am not sure what exactly I was expecting, but it was not what was in that glass!
A Swamp Water Cocktail is delicious! Refreshing. Not heavy at all.
Now when I think of Swamp Water, it's murky brown. The type of water you cannot see through. This cocktail was clear enough to see through including the orange slice on the side of my glass.
Thank you for reading this post. Don't forget to subscribe! This way you never miss an update, travel deals, discounts and more!! Subscribe to the right------>
Truthfully? My Florida Swamp Water Cocktail tasted almost like a skinny margarita.
I did a little research and I believe the one I enjoyed on the beach is very similar to the Texas Swamp Water Cocktail. Who would have thought so many states had swamp water!
According to that recipe, you only need three ingredients: white tequila, fresh squeeze lemon juice and Topo Chico which is sparkling mineral water. Makes sense why it reminded me of a margarita.
What a rabbit hole I ended up going down looking at the various recipes! Some of these recipes call for powdered drink mix such as lemonade.
Another was made with Vodka, Apricot Brandy and lemonade poured over ice. And then I found Alligator Swamp Water which is made with only two ingredients!
The good thing for me? I used to be a bartender, so I was able to quickly figure out all these recipes. Below are my top two recipes. I hope you enjoy them. Let know what you think.
Recipe #1 Florida Swamp Water Beach Cocktail
Okay this recipe is my top recipe because I like how light and refreshing it is. It is almost the same as the Texas Swamp Water Cocktail except I could not find Topo Chico, so I used San Pellegrino, but you can also use LaCroix Sparkling Water or Bubly.
Cocktail Ingredients
3 ounces white (Blanco) tequila. I used Patron Silver Tequila
1.5 ounces fresh squeeze lime juice
Sparkling Mineral Water
Pour all ingredients into a shaker cup, shake and pour over ice in a tumbler. I then added a slice of orange because after all, I am in Florida.
Texas Swamp Water called for a slice of lime. Either will do as well as lemon and other citrus.
And let's not forget the Alligator Swamp Water. As delicious as the Florida Swamp Water Cocktail. Below are the two ingredients you need to give this one a try:
Alligator Swamp Water Cocktail Ingredients
1.5 ounce Midori Melon Liquor
1/2 cup orange juice
Again put into a shaker cup, shake and pour over ice. Again I garnished with an orange slice.
So what to do with the Midori Melon Liquor after you make this cocktail? Yummly has a list of cocktails to try. You can get them here: Yummly Midori Melon Liquor Cocktails
Hope you enjoy one of these Florida Swamp Water Beach Cocktails! Looking for something a bit more indulgent? Get my frozen Bushwacker
Recipe here: How to make a frozen Bushwacker drink. Salute!
Upcoming Trip?
I like to use Booking for booking not only my hotels, but my tickets and rental cars as well. Makes life so much easier with only having to log into one location for my information.
Be sure to grab my travel tips to save you time and money. You'll also be entered into the weekly drawings.
Register here: Get 100 Travel Tips EVERY traveler should know PLUS entered into the weekly drawing.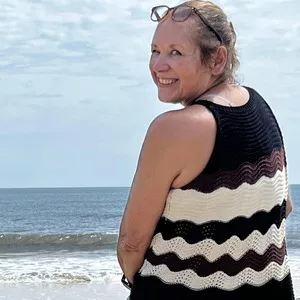 About Denise
Denise Sanger lives a life split between her love for fitness and her passion for travel particularly to the BEACH. Denise also has a love of marketing and lives in beautiful Suwannee County, Florida. You can find out more about Denise here: About Denise