Health benefits of outdoor exercise including the beach.
This article may contain affiliate links. Whenever you buy something through one of these links, I may earn a small commission without any cost to you. I really appreciate it as it supports this site and my family. Thank you!

Why do you need outdoor exercise? Will an outdoor workout provide not only physical health benefits, but mental health benefits as well? The short answer is yes.
A few years back, the hubby, myself and family met up in Panama City Beach for the hubby's 60th birthday. We always have so much fun when we visit PCB and this trip was no exception.
Neither of us are much for parties these days. Been there, done a lot of that when we were younger. Now we both prefer good company in an awesome outdoor location like Panama City Beach. It's not only my number one beach choice but his as well.
It's been a crazy year for both of us and if you had told us a year ago what our lives would be like today, neither of us would have believed it. We've closed a business and both of us now work opposite hours and days.
Thank you for reading this post. Don't forget to subscribe! This way you never miss an update, travel deals, discounts and more!! Subscribe to the right------>
This sometimes means we won't see each other for a few days at a time. This birthday trip also allowed us to reconnect and spend time together.
A beach trip was exactly what the doctor ordered for this girl. We have been spending a lot of time running around trying to get our lives back on track and living a healthy lifestyle.
We may not be out of the woods yet, but we have sure made a lot of progress and taking some downtime helped me at least see that. Sometimes the first step to take is to simply look back and see where you were and how far you have come.
As I was sitting on the beach, watching the waves roll one after another to shore, I could literally feel the tension leave my neck and my whole body relax. Read this next: How many steps are in a mile when walking the beach?
Any outdoor activity will do that for me including watching the waves, seagulls and people walk by. A simple walk on the beach has the stress releasing instantly from my shoulders.
You see, spending time outside in nature is a great way to improve memory, fight depression and lower blood pressure. Yet we don't make the time to spend even a few minutes outside on a daily basis.
I've always been the girl that preferred to be outside from the time I was young and will always choose an outdoor workout over an indoor workout every time. Especially in warmer weather.
But even a nature lover like me sometimes needs to be reminded how much my body craves and needs to spend time with nature.
If you've been feeling sluggish, tired and run down, spending time outside in a natural environment is the boost you need.
Could be as simple as spending some time in your garden or taking advantage of local hiking trails near your home. Any outdoor physical activity that gets your heart rate up is perfect especially for older adults.
Fresh air walking around your local park will do more for you than an indoor exercise where you're on the treadmill to nowhere. And don't think you won't get a good full-body workout if you're not slinging weights around inside the gym.
A nice bike ride works not only your cardiovascular system but legs and butt as well. There are so many different ways to get a great workout in outdoors.
Here in North Central Florida where I live, we are surrounded by beautiful natural springs many with hiking paths that run next to the river the springs feed into. Even heading to one of these trails or parks once a week will have a major effect on how you feel any time of the year not only summer.
Outer layers of clothing you can remove during your outdoor activities will help regulate your body temperature. In addition to cardio workouts like walking, jogging, biking or hiking trail, be sure to include strength training especially as you age.
Look for a green space near you if you are in the city. Many of these urban environment areas have a workout routine posted that you can follow as you move around the park.
If a nearby park does not have equipment to follow for a strength exercise routine, there are still ways to get a strength workout in. Use a park bench or picnic table to do push-ups or to stretch as an example.
If you do not have a park with exercise equipment, you may want to consider a gym membership or some type of resistant equipment at home.
The benefits of outdoor exercise are many but the main reasons are:
Regular exercise boosts the immune system. Very important as the cold temperatures kick in for winter.
Vitamin D levels increase when you spend time outdoors. 15 to 20 minutes of outdoor exercise such as a brisk walk helps your body absorb this important vitamin.
High-intensity interval training (hiit workout) or other similar exercise that includes bodyweight exercises boosts your metabolism and feel-good hormone serotonin.
Scientific evidence that cardiovascular exercise that gets the heart pumping is the best choice for heart and lung strength.
Entire body strength training with cardio provides additional benefits not only improves your overall fitness but may help you sleep better too. One of the health problems we deal with as we age.
It is much easier to stay active when the air temperature is warm, and you spend most of your time outdoors. A really fun way to get your exercise in when it's warm is stand-up paddleboarding. So good for core strength!
If that's not your thing, the benefits of kayaking and canoeing also improve core strength as does walking or hiking on uneven terrain such as in sand on the beach. Think about your calves when you do!
Outdoor exercise in the winter does provide unique challenges but here are a few other tips for cold-weather exercise. To stay warm in cold weather and ward off wind chill choose exercise that incorporate all muscle groups. That will help the body warm up quickly.
Reminder! Just because it's cold outside, don't forget your water bottle. You still need to hydrate. Choose water over a sugary sports drink every time.
The benefits of outdoor exercise are huge in disease control for diabetes, cholesterol and more. The good news is that it's easier than ever to include it in your weekly activity schedule. Simply go outside and find fun physical activities you enjoy doing.
p.s. Remember to stretch before you start your workout. Dynamic stretching prepares your body and muscles for what's to come. Dynamic stretching has helped tremendously with mobility in my hips following this program: Hyberbolic Stretching
Upcoming Trip?
I like to use Booking for booking not only my hotels, but my tickets and rental cars as well. Makes life so much easier with only having to log into one location for my information.
Be sure to grab my travel tips to save you time and money. You'll also be entered into the weekly drawings.
Register here: Get 100 Travel Tips EVERY traveler should know PLUS entered into the weekly drawing.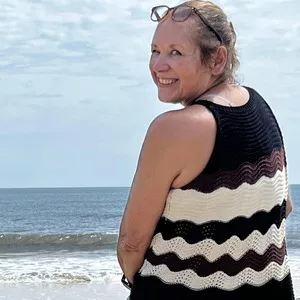 About Denise
Denise Sanger lives a life split between her love for fitness and her passion for travel particularly to the BEACH. Denise also has a love of marketing and lives in beautiful Suwannee County, Florida. You can find out more about Denise here: About Denise