Ultimate List Of The Best Places To Kayak In Florida
This article may contain affiliate links. Whenever you buy something through one of these links, I may earn a small commission without any cost to you. I really appreciate it as it supports this site and my family. Thank you!
best places to kayak in Florida starting With Rivers
An outdoor enthusiast's paradise and one of the best places to kayak in Florida, the freshwater rivers are a great place to start.
From crystal-clear springs, mangrove trails, and lush marshes to swift rivers and serene lakes, kayaking in Florida is a unique experience and great way to get away from the theme parks.
Whether you're a beginner or an experienced kayaker, Florida has plenty to offer. Here are some of the best kayaking spots in Florida that promise an unforgettable adventure.
There are paddle trails for many of the beautiful rivers in the state as well as salt water paddle trails for both the Gulf of Mexico and the Atlantic Side of the sunshine state.
Thank you for reading this post. Don't forget to subscribe! This way you never miss an update, travel deals, discounts and more!! Subscribe to the right------>
As you are paddling watch for the diverse wildlife only the state of Florida offers including alligators, bald eagles, otters, water birds and more.
For this article, we will start with the beautiful rivers and kayaking adventures located throughout the state.
Best Places To Kayak in Florida
North Florida Rivers & Paddle Trails.
Suwannee River.
The Suwannee River Wilderness Trail is one of several freshwater paddling trails in the state. It is an incredibly scenic kayaking spot in Florida that covers 150 miles of the river and its associated tributaries.
The Suwannee actually starts in George at the Okefenokee Swamp. On a recent visit to the swamp, the Suwannee had extremely low water levels. That makes it difficult to start your journey from the swamp.
There are a few options for paddling this trail. For those that are not experienced kayakers or canoeists, I would recommend start at Stephen Foster State Park AFTER Big Shoals. Big Shoals is the class III rapids and only rapids in the state of Florida.
You can portage (carry your kayak/canoe) around the shoals if you want to include those depending on yours and your party's skill levels.
There are also several outfitters in the area you can contact for shuttles, a guided tour or renting a kayak or canoe for a day trip.
If you have your own kayak, tandem kayak or canoe, check the Wilderness Trail for boat launches. For kayak rentals, contact one of the outfitters in the area.
The middle region of the Suwannee River is most popular for paddling. It begins in White Springs and ends in Branford. There are over 200 crystal-clear water springs on this portion of the river alone.
As you head south, enjoy exploring the majestic river winding its way through limestone outcroppings and cypress swamps with plenty of opportunities for wildlife viewing along the way.
Shallow waters make it easier to see the springs as they flow in to the river. Keep your eyes peeled for the shoreline watching for crystal clear waters flowing into the river.
This wilderness trail is designated beginner-friendly. It is known by many as the blackwater river. This is not to be confused with Blackwater River State Forest located in Milton that we will discuss below.
Watch the Suwannee River change on your kayaking trip. You will see large lime rock walls, caves and even sandbars that look like the sand dunes on the beaches.
Note: Because this river and others in the state are so dark, be sure to wear a bright-colored top or shirt. This way if you do flip, you will be easier to spot.
Sante Fe River
Even though, I love the Suwannee and am often on the river kayaking, in my opinion the Sante Fe River provides the best kayaking experience in my area. For the most part, it provides calm waters and is an easy paddle.
Some spell it Santa Fe River but Sante Fe River is the correct spelling. The natural beauty of this river is unrivaled, and it is also fantastic for springs.
This river is fed by roughly 36 natural springs including Ginnie Springs and Gilchrist Blue Springs. This scenic river also has the Itchetucknee River as one of its tributaries.
The Sante Fe is usually free of motorboats during winter months as the water levels are low. Interesting fact though this river is about 75 miles long, it actually goes underground then comes up again at River Rise State Park.
I have put in at several stops along this river, but my favorite is probably Rum Island. It is a great place to rent a kayak or canoe as well.
Itchetucknee River
The Itchetucknee River is often thought of as a tubers river. But it is actually a beautiful river to kayak as well. Again it is best to kayak or canoe this river during winter months when there are not as many tubers on it.
The river is 6 miles long and absolutely breathtaking. The colors alone transport you to your calm place. It is fed off the Itchetucknee Spring so is a constant 72 degrees year round.
Withlacoochee River
There is a Withlacoochee River North and South. I am talking here about the north river.
From Madison Blue Spring in one of the beautiful Florida State Parks, you can launch into the Withlacoochee River.
Another tea colored river, it meanders through the Twin Rivers State Forest, skimming the river banks and clear springs until it meets with the Suwannee River at Suwannee River State Park.
The full river is roughly 141 miles and there are various locations along the river for primitive camping if you plan a longer paddle.
Best Places to Kayak in Florida Central Rivers And Paddle Trails
Moving south toward the center of the state including both the Gulf side and the Atlantic side, you will find Weeki Wachee River, Rainbow River, Silver River, Crystal River, and the Wekiwa River in Apopka with Rock Springs.
Weeki Wachee River
Weeki Wachee River begins in the Weeki Wachee Springs State Park. Unfortunately, you can tell exactly when you leave the protection of the park boundaries.
We launched from the state park and enjoyed a twisty turning easy paddle until our take-out point at Rogers Park. Watch for manatees, turtles, birds and more.
Rainbow River
The Rainbow River and the spring head located in Rainbow Springs State Park is one of my favorite places to kayak. The river is unbelievable and truly one of the most beautiful rivers in the United States.
Very easy paddle. We launched from K.P. Hole County Park, paddled to the spring head, then returned. If you are renting a kayak, this is the best time to consider choosing a clear kayak.
Silver River
As mentioned in my springs article, you may have heard about Silver River because of the monkeys. This river is located in Silver Springs State Park and is another great choice for wildlife.
Monkeys, alligators, turtles and manatees all call this river home. One of the most unique rivers in North America for sure.
If you do not want to paddle, there is a glass bottom boat tour you can pick up at the state park. Definitely one of the best things about this river is the history and wildlife.
Crystal River
Another not to be missed river in central Florida. The best launch site for Crystal River is Hunter Spring City Park. You will then kayak toward the spring.
Be sure to time your visit for when the manatees are not in the spring if you want to paddle in. They do close off the spring entrance to protect the manatees.
Rock Springs, Wekiwa River, Apopka
Near Orlando, you will find the town of Apopka and Rock Springs. For this kayak trip, we used the boat launch at Kings Landing.
When you leave the launch, to see the spring, you need to paddle upstream to wear the spring head is. Not an easy paddle as you have to make the right turn from the launch upriver.
This is another fantastic river to go kayaking on in central Florida.
Best Places to Kayak In Florida South Florida Rivers And Paddle Trails
Continuing south, we find some fantastic options for kayaking or canoeing. My choice for the best option is Key Largo in the Florida Keys.
John Pennekamp Coral Reef State Park is not only a great choice to snorkel in the Atlantic Ocean, but also a great choice for kayaking. Skim through the 50 miles of mangroves and mangrove tunnels.
One of the best ways to experience the kayak trail in the mangrove forests is by paddle board or kayak. Watch for boaters though especially during the summer months as sometimes they end up where they are not supposed to be.
Turner River
Turner river is located in Everglades City and one of the most popular choices for kayakers and outdoor enthusiasts. There is nothing like the Everglades.
Begin your journey in Big Cypress National Wildlife Refuge. Some ducking might be necessary as you move through the mangrove tunnels.
Unfortunately this paddle trail is often crowded but for a good reason. It's out of this world with giant cypress trees and mangrove. If you are not an experienced paddler, I would suggest a guided tour.
There are several more paddle trails to explore in the Sunshine State including those on the Gulf Coast as well as the miles of coastline and white-sand beaches of the Atlantic.
Be sure to bookmark this page as I will detail these for you in a Saltwater Paddle guide for the state of Florida.
Upcoming Trip?
I like to use Booking for booking not only my hotels, but my tickets and rental cars as well. Makes life so much easier with only having to log into one location for my information.
Be sure to grab my travel tips to save you time and money. You'll also be entered into the weekly drawings.
Register here: Get 100 Travel Tips EVERY traveler should know PLUS entered into the weekly drawing.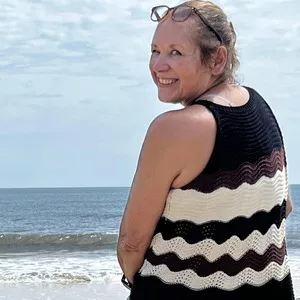 About Denise
Denise Sanger lives a life split between her love for fitness and her passion for travel particularly to the BEACH. Denise also has a love of marketing and lives in beautiful Suwannee County, Florida. You can find out more about Denise here: About Denise