The Ultimate Guide to the Best Family Beaches in Florida
This article may contain affiliate links. Whenever you buy something through one of these links, I may earn a small commission without any cost to you. I really appreciate it as it supports this site and my family. Thank you!
Planning a family vacation to Florida? Check out our ultimate guide to the best family beaches in the state. From the Panhandle to Clearwater to Key West, we've got you covered!
There's no such thing as a bad beach in Florida. Florida is known for its beautiful beaches, making it the perfect destination for a family vacation.
With so many options to choose from, it can be overwhelming to choose the best beaches. Add in many families are taking multi-general vacations, so you need to have something for everyone.
That's why I've put together a guide to the best family beaches in Florida, highlighting some of the top spots for sun, sand, and fun.
Thank you for reading this post. Don't forget to subscribe! This way you never miss an update, travel deals, discounts and more!! Subscribe to the right------>
From the Gulf Coast to the Florida Keys to the Atlantic, there's something for everyone on this list. I have also included at the end of this article, a list of fun attractions near each area to include in your vacation.
Best Family Beaches in Florida on the Atlantic Coast
Amelia Island: Get Ready To Explore
Amelia Island is a great family-friendly destination with 13 miles of pristine beaches. It's one of my personal favorites in this part of the Sunshine State.
The barrier island is located in northeast Florida and offers a variety of activities for families, including kayaking, fishing, and horseback riding.
The beaches are known for their soft sand and calm waters, making them perfect for swimming and playing.
There are also plenty of restaurants and shops in the area, as well as historic sites to explore. Easy access and a short drive from Jacksonville.
Don't miss the chance to visit Fort Clinch State Park while on the island. This Florida State Park offers hiking trails, a fishing pier, and a historic fort to tour.
Tip: Be sure to take time to visit Fernandina Beach before you leave.
Daytona Beach: Fun In The Sun
With its 23 miles of white sand and gentle waves, Daytona Beach is a great place to spend a summer vacation with the family. It's also a super cool place especially if you love NASCAR.
There are a variety of hotels, restaurants and activities to choose from. Definitely something for everyone in the family to enjoy.
Also, the beaches are fantastic. Daytona Beach is well known for its beaches, and for good reason. The sand is soft and white, and the waves are just the right size for swimming and surfing.
New Smyrna Beach: Less Crowded Family Fun
If you're looking for a fun and affordable beach vacation for the whole family, look no further than New Smyrna Beach. In NSB, the calm waters and sandy shores are perfect for swimming, sunbathing, and building sandcastles.
Even better? New Smyrna Beach is a walkable destination. Park your car until you're ready to leave.
Your family will also find fantastic restaurants and shops to enjoy when you need a break from the sun.
Best of all, New Smyrna Beach is less crowded and less expensive than many other Florida beach destinations. Relax and enjoy your time together without breaking the bank.
Explore Kennedy Space Center, Cape Canaveral National Seashore and Nearby Cocoa Beach
If you're looking for a Beach Family Vacation that's out of this world, look no further than Kennedy Space Center and Cape Canaveral National Seashore. This area of Florida on the Atlantic Ocean is stunning.
Here you'll find white sand beaches, crystal clear waters and views of launch pads and rockets that will make you feel like you're on another planet.
The kids will love playing in the sand and building sandcastles, while the adults can relax in the sun and soak up the unique atmosphere.
You can easily tie this trip in with a Disney World or another of the theme parks in Orlando. Kennedy Space Center is roughly an hour drive from Orlando.
One of the best things about Cocoa Beach is the kids have the opportunity to surf. If they have never surfed before, check the options from the nearby surfing schools for lessons.
St. Augustine For A Family That Loves History
St. Augustine is a beautiful beach town located in northeast Florida and definitely one of the most interesting places to visit.
The entire family will enjoy the sunny weather and pristine beaches as well as the history of the oldest city in the country. History buffs will enjoy learning about the city's rich colonial past.
There are many outdoor and water activities to keep everyone entertained, such as fishing, swimming, kayaking, and exploring the local parks and wildlife. Beautiful, public beaches to choose from.
Where to stay? You have plenty of options to choose from perfect for a family. St. Augustine is the perfect place to relax and create lasting memories with loved ones.
Vero Beach Nature's Getaway
Vero Beach is one of my favorite beach towns on the east coast and absolutely perfect for a family beach vacation. If you're looking for a fun and affordable family beach vacation, look no further than Vero Beach, Florida.
This charming beach town offers plenty of things to do for everyone in the family, from swimming and sunbathing on the beautiful Atlantic beaches to exploring the many parks and nature trails.
And when you're ready to take a break from the sun, there's plenty of shopping and dining options to enjoy. Best of all, Vero Beach is easy to get to and offers a relaxed, laid-back atmosphere that the whole family will love.
South Florida Beaches
Some of the best family beaches in Florida are in Southeast Florida. Whether you choose to stay in Palm Beach County or head south to Broward or Dade Counties, there is the perfect beach for your family vacation.
A few of my favorites are from when I lived in this part of the state are:
South Beach, Miami Beach. This area is a more upscale beach vacation destination. Yes there are plenty of things to do as a family but if you'd like to be a little more low-key, I would recommend a different beach. There are some great tennis courts in this area.
Boca Raton and West Palm Beach. Palm Beach County. Again like Miami, more upscale. If you prefer a resort type vacation, you would not go wrong in this area. Love to golf? There is a golf course here for you.
Delray Beach. While it is also in Palm Beach County, this city has more of a small town vibe. Definitely one of the best family-friendly beaches in South Florida.
Deerfield Beach, Fort Lauderdale Beach, Hollywood Beach. I've saved the best for last! Broward County has some of the best and my favorite beaches in South Florida. Enjoy a picnic at one of the picnic tables near the beach or play a game of volleyball on one of the volleyball courts at a nearby park.
TIP: After spending the day having fun in the sun, take time to explore the beautiful parks and even the Everglades that are not too far away.
Older kids will love Hollywood Beach Boardwalk where they can ride on 4-person bikes and stop in the shops or stores for ice cream or pizza.
Best Family Beaches on the Florida's Gulf Coast Of The Sunshine State
Fort Myers Beach: A Perfect Blend of Relaxation and Adventure.
Fort Myers Beach is a popular family destination located on the Gulf of Mexico in southwest Florida for many reasons.
Before we get into those, I do want to remind you that this area was hit hard by Hurricane Ian. Please check before booking your beach getaway.
Fort Myers Beach is known for its soft, white sand and clear, calm waters, making it perfect for swimming, sunbathing, and building sandcastles.
Bring your snorkel gear. The clear, shallow waters are perfect for snorkeling. Watch for sea turtles as they are often nearby.
Don't stop at snorkeling. Families can also enjoy many water activities like parasailing, jet skiing, and paddleboarding.
Enjoy fantastic restaurants and shops in the area, as well as a pier for fishing. And the sunset! Fort Myers Beach is a great spot to end the day watching the sun dip into the Gulf.
Sanibel Island and Captiva Island When You Are Dreaming of White Sand Beaches
I was not going to list these two barrier islands but decided to with the same qualifier as Fort Myers Beach. This area was hit hard by Hurricane Ian.
At this time, accommodations are limited, so you may want to hold off booking a family vacation in this area.
Once these beaches are fully operational, this area is a great option for those that like to beach comb. White-sand beaches, miles of coastline to explore around and so many beautiful seashells and sand dollars to find.
Siesta Key Beach
Before we leave Southwest Florida, I did want to mention Siesta Key Beach. This beach has been named several times as one of the top beaches in the United States.
And that is where the problem lies. It is very crowded. If crowds do not bother you, this beach town is pretty amazing.
I would definitely avoid it during Spring Break but at other times of the year, beautiful blue clear water, white sand and palm trees wait for your visit.
Clearwater Beach: Something for Everyone.
Moving up to west central Florida brings us to Clearwater Beach. One of the most beautiful beaches that is also family-friendly destination. Enjoy many water sports including jet skiing, parasailing, jet skis and paddle boarding.
For those looking for a break from the beach, Clearwater Marine Aquarium was home to Winter the dolphin, star of the movie Dolphin Tale. Unfortunately, Winter has passed away but her legacy lives on at Clearwater Marine Aquarium.
Even better? This top family-friendly destination in Florida, has plenty of restaurants and ice cream shops to make even the pickiest family member happy.
Panama City Beach: Plenty of Family Fun.
Moving up to the Florida Panhandle brings us to Panama City Beach. My favorite in this area and also a great family vacation spot.
Enjoy 27 miles of white sand beaches and crystal-clear waters. If you want to snorkel, rent a pontoon boat or hop on a ferry and head over to Shell Island.
This uninhabited island has beautiful shells and clear water to explore. You must carry in AND carry out anything you bring to the island.
Ready for a break? Head over to Pier Park. Here you will find an amusement park, great restaurants, fudge shop with ice cream and more.
Fort Walton Beach More Laid Back Beach Vibes
Equally beautiful as PCB, but more laid back. Fort Walton Beach is close enough to the amusement parks as well as Gulf World Marine Park to spend the day.
There are also several fantastic beach resorts in this part of the Panhandle that may be more affordable than other areas of the state.
Tip: Love to shop? Make time to visit Destin which offers some of the best shopping in the Panhandle.
Florida Keys Beaches: A Tropical Escape for the Whole Family.
Rounding out our list and the state, we arrive in the Florida Keys. The Florida Keys offer a unique and tropical beach experience for families. With crystal clear waters and colorful marine life, families can enjoy snorkeling, diving, and fishing.
Key Biscayne is near Miami but the Biscayne National Park needs to be on your list of places to visit.
Moving south toward Key West, our first stop is Key Largo. Be sure to make time to go to John Pennekamp Coral Reef State Park. There is nothing better than snorkeling over the reef.
As you continue your drive on the Overseas Highway, be sure to visit Bahia Honda State Park. This popular destination for families, with its calm waters and sandy beaches.
Picnic areas as well as public restrooms and plenty of space for the kids to run around and play.
For few crowds, families can visit the beaches on the smaller islands like Islamorada and Marathon.
When it's time to refuel, there are plenty of seafood restaurants and beachside cafés to choose from throughout the Keys. Be sure to try Key Lime Pie before you leave.
And there you have it. The best beaches in Florida for a family vacation. Be sure to check the other nearby attractions I've listed below for a fun filled getaway.
Upcoming Trip?
I like to use Booking for booking not only my hotels, but my tickets and rental cars as well. Makes life so much easier with only having to log into one location for my information.
Be sure to grab my travel tips to save you time and money. You'll also be entered into the weekly drawings.
Register here: Get 100 Travel Tips EVERY traveler should know PLUS entered into the weekly drawing.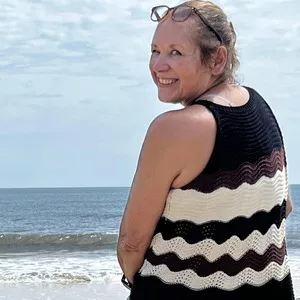 About Denise
Denise Sanger lives a life split between her love for fitness and her passion for travel particularly to the BEACH. Denise also has a love of marketing and lives in beautiful Suwannee County, Florida. You can find out more about Denise here: About Denise