Beaches in Marathon Florida
This article may contain affiliate links. Whenever you buy something through one of these links, I may earn a small commission without any cost to you. I really appreciate it as it supports this site and my family. Thank you!
Ahh. The Florida Keys. Heaven on Earth. Palm trees. Blue-green water. White beaches.
If you have not visited the Florida Keys yet, start planning. It's amazing. Every island in the Florida Keys has amazing beaches, but I love the beaches in Marathon Florida.
Once you leave Miami, you will literally find the stress leave your body as soon as you enter the top of the Keys. From Key Largo following the Overseas Highway to Key West, the views are out of this world.
You will drive over several bridges including the 3-mile bridge and 7-mile bridge. I was so focused on looking at the water, I did not notice how long the bridges were. All I could see were the views!
Thank you for reading this post. Don't forget to subscribe! This way you never miss an update, travel deals, discounts and more!! Subscribe to the right------>
The top key, Key Largo, is where the magic begins. But you will not want to stop there. The Florida Keys actually includes over 800 islands.
There are 882 charted Key islands, 30 of which are inhabited. The 204 kilometer (close to 127 miles) Overseas Highway connects the main islands from Key Largo to Key West.
The largest island is Key Largo which is roughly an hour drive from Miami International Airport. Key West is only 113 miles from Key Largo but be sure to enjoy every key as you make your way to the southernmost point in the USA.
It isn't easy writing about only one Florida Key. I love all the islands. But this article is about the best beaches in Marathon Florida.
Marathon Florida
Marathon, Florida is actually a city in the keys compromised of 13 islands. This part of the Florida Keys is known not only their beautiful beaches, but reefs as well.
If you snorkel, you will definitely want to get in the water in Marathon. Loggerhead turtles nest at Coco Plum Beach and Sombrero Beach.
Marathon's other claim to fame is the amazing fishing. Folks from around the world make their way to Marathon to fish.
Is Marathon Florida a nice city?
Marathon is a beautiful island. Laid back, quiet. Two of the biggest reasons people love to return year after year.
What is the closest key to Marathon?
Grassy Key is the closest key to Marathon. Grassy Key is home to the Dolphin Research Center.
The Dolphin Research Center is the perfect place to take the kids to learn about and swim with Bottlenose Dolphins.
What is the best time to visit the beaches in Marathon Florida?
The best time to not only visit Marathon but all the keys is between March and May. The winter tourist season is over but the high traffic summer tourist season has not begun. Even better? Hotel rates are lower. Check the current rates here: Florida Keys Hotels
Can you swim at the beaches in Marathon?
Absolutely! The beaches are free and easy to enter. You can also launch kayaks and canoes from many of the beaches.
What is there to do in Marathon?
There are so many fun things to do on this island. I always have a tough time leaving because I haven't done everything I wanted to!
My favorite things to do? They are:
Dolphin Research Center. I just can't get enough of the dolphins!
Turtle Hospital. The Turtle Hospital (Hidden Harbor Marine Environmental Project, Inc.) is a sea turtle rescue and rehabilitation center. They offer guided tours and the chance to meet current turtles in house.
Sombrero Beach (which we will dig into below) as well as Sombrero Reef. This reef is located on the outer banks offshore of Vaca Key, and best known for the large fingers of coral. Absolutely breathtaking to snorkel over.
Curry Hammock State Park. This beautiful state park is known for its seclusion. Undeveloped parcel of pristine sanctuary located between Key Largo and Big Pine Key.
San Pablo Catholic Church. This church does offer a regular mass schedule, but it's the gardens behind the church you must visit. Located at mile marker 53.5
Florida Keys Aquarium Encounters. This aquarium offers interaction with many marine animals including tropical fish, rays and even sharks!
Seven Mile Bridge. You will have no choice but to see this bridge as you drive over it. Be sure to also check out the old seven-mile bridge.
Crane Point Hammock, home to Crane Point Museum, Nature Center and Historic Site. Finally, be sure to save time to visit Crane Point Hammock. Perfect for nature lovers as they explore the tree canopies, boardwalks and wildlife along the trails. Bird centers, gift shop and even a fish pedicure all await your visit.
Best Beaches in Marathon Florida
There are some amazing beaches in the Florida Keys. Marathon has some of the best beaches making this city a great place for families, couples, girls trips and more.
Sombrero Beach. First on the list is Sombrero Beach. Sombrero Beach is located near mile marker 50 roughly a mile off US 1. (You'll get used to the Keys speak in mile markers.)
Sombrero Beach with its beautiful sand and shallow waters is a wonderful beach for beach lovers of all ages. This beach offers covered picnic pavilions and picnic tables, restroom facilities, and outdoor showers.
There are picnic tables conveniently located near the playground as well. Volleyball anyone? You will find sand volleyball courts at this beach. Look for Sombrero Beach Road located off US 1. This is a free beach.
Coco Plum Beach. I'm going to be honest. Coco Plum Beach can be hit or miss. I've visited this beach when it was covered in seaweed one day, and it was completely clear of any debris on the next day.
One of the things Coco Plum Beach is known for however, are the sea turtles and turtle tracks. Plenty of parking and toilets are available. This beach is located on Coco Plum Drive.
Calusa Beach located in Bahia Honda State Park. (Caloosa Beach is located on Islamorada.) In my opinion, this is probably one of the best beaches in the Keys and a great place to spend the day.
Crystal clear water and white sand awaits you in one of Florida's prettiest state parks. From the beach, you can also see the Old Bahia Honda Bridge.
There is a fee to enter all Florida State Parks, but here it is only $8 per vehicle, up to 8 people in the vehicle. Shallow water and mild currents makes Bahia Honda State Park one of the best for swimming.
Loggerhead Beach located in Bahia Honda State Park. This is my top beach pick for snorkeling!
Tip: Bring your own snorkel gear. Equipment is expensive to rent in the Florida Keys. Plenty of parking, clean restrooms and showers makes this a top spot for nature lovers and marine life.
Sandspur Beach. The final beach in Bahia Honda State Park I must mention is Sandspur Beach.
Sandspur Beach has been described by many as the prettiest beach in the world. Unfortunately Hurricane Irma did a bit of damage in 2019, but the beach is open for you to enjoy.
You will find a concession stand that offers a nice gift shop, snack bar, kayak rentals and daily snorkeling tours to the fabulous Looe Key National Marine Sanctuary. This beach is a definitely a must-visit.
Curry Hammock State Park. This Florida State Park is located on both sides of US 1 at mile marker 56.2.
One of the nicest beaches on the Atlantic Ocean side of the island. A sanctuary for wildlife including peregrine falcons that return each fall.
Sunbathing, swimming, beachcombing, birding, snorkeling and kiteboarding are all popular activities you can enjoy in this beautiful park.
This state park also plays an important role in the environment. It protects large areas of mangrove swamp, rockland hammocks and seagrass beds essential to the Florida Keys ecosystem.
Key Colony Beach. This beautiful beach is located in the middle of the Keys and very well known for outstanding snorkeling and water sports.
Sunset Park Beach is located in Key Colony and where you will want to spend your day relaxing and daydreaming as you watch the boats glide by. This beach is also one of the BEST for out of this world sunsets.
Located off West Ocean Drive and near Florida Keys Aquarium Encounters Plenty of parking, picnic areas and benches as well as a pier you can walk or bike to.
Smathers Beach. Before you leave the keys, take a drive south to Smathers Beach. This beach is also known as Smathers & Higgs Beach is one of the best in the keys. It is located in Key West.
Dry Tortugas National Park. This beautiful United States National Park is located off Key West in the Gulf of Mexico.
Dry Tortugas is made up of 7 islands and protected coral reefs. Head to Garden Key for the beaches and 19th-century Fort Jefferson.
Then be sure to visit Loggerhead Key to see the lighthouse and sea turtles. On nearby Loggerhead Reef, the Windjammer Wreck, the remains of an 1875 ship, is a popular spot for divers.
Upcoming Trip?
I like to use Booking for booking not only my hotels, but my tickets and rental cars as well. Makes life so much easier with only having to log into one location for my information.
Be sure to grab my travel tips to save you time and money. You'll also be entered into the weekly drawings.
Register here: Get 100 Travel Tips EVERY traveler should know PLUS entered into the weekly drawing.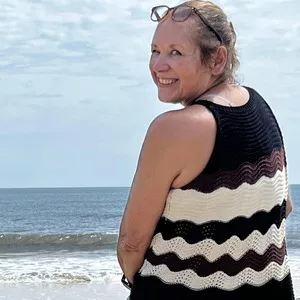 About Denise
Denise Sanger lives a life split between her love for fitness and her passion for travel particularly to the BEACH. Denise also has a love of marketing and lives in beautiful Suwannee County, Florida. You can find out more about Denise here: About Denise