Best Beaches In Florida For Women Traveling Alone
This article may contain affiliate links. Whenever you buy something through one of these links, I may earn a small commission without any cost to you. I really appreciate it as it supports this site and my family. Thank you!
Want to schedule a beach vacation but have no one to travel with you? Below are the best beaches in Florida for women traveling alone. The Sunshine State is a great place for solo travelers if you know where to go.
Outdoor activities, national parks, pristine beaches, and more, Florida is the perfect destination for everyone including solo female travelers. I actually took my first solo trip to a small town on the Florida Gulf Coastline and had an amazing time.
Why Florida Offers The Best beaches in Florida for women traveling alone
Yes, there are other great options throughout the USA for traveling alone such as Santa Fe, New Mexico, and its nearby hot springs.
Or North Carolina as well as South Carolina not only for the beaches but diverse landscapes as well. Even Las Vegas. I feel though that Florida is a better choice.
Thank you for reading this post. Don't forget to subscribe! This way you never miss an update, travel deals, discounts and more!! Subscribe to the right------>
Personally? I might choose to stay away from San Francisco right now even if the Golden Gate Bridge as well as San Diego even if these are on your bucket list. These just don't feel like a good choice for your next solo trip.
New York City might be a good option if you know your way around. If not, you might want to visit the city that doesn't sleep with a group. 
Florida is not only known for its stunning beaches but also for being a safe and welcoming destination for solo female travelers. The state takes pride in its commitment to tourism and ensuring visitors have a positive experience.
Whether you're exploring the bustling streets of Miami or lounging on the secluded shores of Amelia Island, you can feel confident knowing that Florida has implemented various safety measures to protect its visitors.
Additionally, the friendly locals are always willing to offer a helping hand and share their knowledge of the best local spots.
Florida's diverse and inclusive culture creates an environment where solo female travelers can feel comfortable and embraced.
You can jump to the destination you are interested in with this table of contents:
Safety tips For The Best beaches in Florida for women traveling alone
Before we really get into the best beaches, I'd like to talk about safety. While most destinations in Florida are generally safe, you should always take precautions especially when traveling alone.
Large cities like Miami or Orlando offer popular attractions, but you do need to be aware of where you are at all times. It is really easy to be in a safe place one moment, then in a place you should not be the next moment.
A few of the best things about Florida vacations are the range of fun things to do. From theme parks to live music and events to historic sites and national parks, Florida is one of the best solo travel destinations.
But first, let's go over a few of the best ways to stay safe while traveling to Florida or anywhere. Common sense goes a long way to protecting yourself.
1. Research your destination: Before your trip, make sure are familiar with the area you'll be visiting. A great way to find information is on travel sites advising where to go as well as where not to go.
2. Stay in well-lit as well as highly trafficked and well-populated areas. This is especially important if you are out at night. Avoid secluded or dimly lit streets.
I strongly recommend if you choose to be out at night you opt for a tour such as a walking tour with a knowledgeable guide.
3. Use reliable transportation: Choose well-known and highly recommended transportation options such as taxis, ride-shares, or public transportation.
Do not accept rides from strangers. Even though you may meet friendly new people on your vacation, you really do not know them and should not assume they are safe to drive around with.
Choose to meet new friends while on a tour, on the beach, or at dinner while in busy environments.
4. Keep your belongings secure: Use a secure bag or backpack to carry your valuables. I always when traveling solo or not, keep everything close to my body at all times.
If I do not feel I need credit cards or additional cash, they are locked up in the hotel room safe. Avoid displaying expensive items. Leave the diamond earrings at home.
5. Share your itinerary: Always let someone know your travel plans. This includes details of where you'll be staying, flight/driving information, and when you expect to return. Be sure to check in with them regularly.
6. Trust your instincts: Or as I have always told my daughters. Listen to your gut. You know if something or a situation feels unsafe. Trust those instincts and remove yourself from the situation.
By following these safety tips, you can ensure a worry-free and enjoyable experience as a solo female traveler exploring new places and things to do on vacation in Florida.
The Best beaches in Florida for women traveling alone
Now where should you go for a good time and plenty of things to do? When it comes to choosing the best beaches in Florida, there are so many options.
Each beach has its own unique charm. Some are more popular than others.
Any type of beach vacation you would like to have, Florida is the perfect place to do it.  
Here are some of the top beaches in the Sunshine State that every solo female traveler should consider visiting:
Clearwater Beach: Time for relaxation and water activities
Clearwater Beach, located on the Gulf of Mexico Florida coastline and is well known for its powdery white sand and clear turquoise waters.
This beach is perfect for solo female travelers and offers a nice blend of relaxation and adventure. It is also a fairly short drive from Tampa/St. Pete Airport.
Spend your days lounging under the shade of an umbrella, taking in the breathtaking views, or embark on a thrilling water adventure such as jet skiing or paddleboarding.
Clearwater Beach is also home to the Clearwater Marine Aquarium, where you can get up close and personal with dolphins and sea turtles. 
This is definitely one of the top destinations in the continental United States for white sandy beaches on the Gulf Coast. Best hotel options for solo female travel: Clearwater Beach Hotels
Miami Beach And South Beach: The vibrant and trendy beach scene.
South Beach is synonymous with glamour, energy, and a vibrant beach scene. Located in the heart of Miami on the Atlantic Ocean side of the Sunshine State, this iconic beach offers a list of fun things to do.
Check out the famous Ocean Drive lined with stylish restaurants, trendy bars, and luxurious hotels. Take a stroll along the Art Deco Historic District and admire the colorful buildings. Bask in the sun with easy access to the pristine sandy beaches.
But South Beach as well as downtown Miami truly comes alive at night, with its bustling nightlife and world-renowned clubs.
One of the best cities in Florida, but I must say when in South Florida to please be aware of your surroundings and your location at all times. Where to stay: Safest Miami Beach Hotels.
Siesta Key: Tranquility and natural beauty.
If you're looking for peace, tranquility, and natural beauty, Siesta Key is the perfect beach destination.
Located on the Gulf Coast, Siesta Key is known for its soft, powdery white sand that feels like walking on flour and is one of the most beautiful beaches in the world. 
The beach has consistently been ranked as one of the best in the world, and it's easy to see why. The calm, clear waters are ideal for swimming, snorkeling, and paddleboarding. 
Siesta Key Village, is a short distance from the beach and boutique shops, cozy cafés, a coffee shop or two, and local art galleries. I feel it is also one of the safest places to visit in Florida.
Best places to stay: Siesta Key Vacation Rentals
Sanibel Island: Gorgeous White Sand Beaches And Seashells
Sanibel Island as well as nearby Captiva Island and the Fort Myers Beach area took a direct hit from Hurricane Ian. While they are now open for the most part, it is not 100% back up to speed.
I cannot though, and for good reason, leave this area especially Sanibel Island off the list of the best places in Florida for solo women travel. The beaches in this area are absolutely stunning.
You would be happy picking any beach in this area. I'm listing the best places to stay in Fort Myers Beach as the others continue to rebuild: Fort Myers Beaches
Cocoa Beach: Surfing and space exploration on the Space Coast
Next on the list I have selected Cocoa Beach, which is situated on Florida's Space Coast. Perfect for those that love water sports as well as space enthusiasts. This lively beach town offers the perfect blend of adventure and relaxation.
Catch some waves at the East Coast's surfing capital, where the Atlantic Ocean provides excellent conditions for both beginners and experienced surfers.
If you're more interested in space exploration, visit the Kennedy Space Center and learn about the history of NASA's space missions. 
Nature lover? Definitely a great spot with the Canaveral National Seashore and availability to see marine life such as sea turtles in its natural habitat as well as beautiful state parks nearby.
Cocoa Beach also has a vibrant dining and shopping scene. Best places to stay: Top Cocoa Beach Hotels
Amelia Island: A charming and laid-back beach escape
Take a step back in time on this charming and laid-back beach escape. Amelia Island, located in Northeast Florida, is a hidden gem that offers a tranquil and picturesque setting.
The island's rich history is evident in its Victorian-era architecture, charming shops, and historic sites such as Fort Clinch State Park. Or spend your days strolling along the beaches, collecting seashells, or searching for shark teeth.
Amelia Island is also famous for its upscale resorts and spas and is a great option if you are searching for a relaxing getaway.
Be sure to take time to explore the small city of Fernandina Beach and its historic buildings.
Where to stay: Amelia Island BNB's.
St. Augustine: Exploring the country's oldest city
Absolutely one of my favorite cities to explore as well as one I feel very safe visiting. Explore the history of Castillo de San Marcos as well as the many historical buildings.
Love to be frightened? Take a night ghost tour where your tour guide will show the haunting of the jail, buildings, hotels, and cemeteries located throughout this beautiful city. St. Augustine is definitely a top recommendation.
Where to stay: St. Augustine Hotels
Florida Keys Including Key Largo and Key West
Welcome to Island time and the scenic views of the Florida Keys. I always tell people the Keys are heaven on earth.
As you make your way down the Florida Key chain of islands, be sure to stop at the top key, Key Largo. Here you will find some of the best places to snorkel as well as the opportunity to enjoy some key lime pie!  
Moving down the chain if you are driving brings us to Big Pine Key. Here you will find the gorgeous Bahia Honda State Park that you absolutely must explore.
Finally, laid-back Key West and the southernmost point. Be sure to enjoy the local cuisine of the Conch Republic. From the bars and restaurants of Duval Street with fun street performers to the beauty of the Dry Tortugas National Park with the option to snorkel, Key West has it all.
The best time to visit the Florida Keys is during the dry season which is between November and April. 
Vacation Rentals: Key Largo
Top Hotels: Key West
Packing essentials for a beach vacation in Florida
What to pack? Here are some items you should include in your packing list:
1. Swimsuits: Pack a few swimsuits because you will need them. Opt for comfortable and stay-in-place swimwear.
2. Sunscreen: Protect your skin from the Florida sunshine by packing a high-SPF sunscreen. Apply it regularly and often.
3. Beach cover-ups: Pack lightweight cover-ups or sarongs to use as a stylish way to protect your skin from the sun as you walk to and from the beach.
4. Hat and sunglasses: Shield your face from the sun's rays by packing a wide-brimmed hat and a pair of sunglasses. Opt for sunglasses with UV protection.
5. Beach towel or mat: Check your accommodations first to see if they have these on-site. If not, bring a beach towel or mat to relax on the sand.
6. Flip-flops and comfortable shoes: Pack a pair of flip-flops for the beach and comfortable walking shoes for exploring.
7. Water bottle: Stay hydrated throughout the day by carrying a reusable water bottle. Fill it up at water stations to reduce plastic waste.
8. Travel-sized toiletries: Pack travel-sized toiletries such as shampoo, conditioner, and body wash to save space in your luggage. Don't forget essentials like toothpaste and a toothbrush. If you do, most hotels will have these available for you.
9. Beach bag: Carry all your beach essentials in a spacious and sturdy, large beach bag. 
10. Other options: Pack a good book, or a Kindle to enjoy during your downtime on the beach.
FAQ Safest Places To Stay: The Best Beaches In Florida For Women Traveling Alone
As a solo female traveler in Florida, it's important to choose accommodations that prioritize safety, comfort, and convenience. Here are some options to consider:
1. Hotels and resorts: Choose well-known hotels or resorts that have a reputation for safety and excellent service. Look for options with 24-hour security, well-lit parking areas, and a concierge service.
2. Vacation rentals: Consider booking a vacation rental through reputable websites. Look for properties with positive reviews and a responsive host. Ensure the property has secure access and meets your safety requirements. Many will have security systems as well.
3. Bed and breakfasts: For a more personalized experience, consider staying in a bed and breakfast. Check for good reviews and a warm, welcoming environment. Check if they have safety measures in place, such as secure locks on doors and windows.
5. Campgrounds: If you enjoy camping, Florida offers numerous campgrounds near the beach. Look for options with good reviews, well-maintained facilities, and security measures.
And one final reminder! Before booking accommodations, I cannot recommend enough to read reviews from other solo female travelers. I always do this myself.
These links will also help you plan a vacation on one of the best beaches in Florida for women traveling alone:
Upcoming Trip?
I like to use Booking for booking not only my hotels, but my tickets and rental cars as well. Makes life so much easier with only having to log into one location for my information.
Be sure to grab my travel tips to save you time and money. You'll also be entered into the weekly drawings.
Register here: Get 100 Travel Tips EVERY traveler should know PLUS entered into the weekly drawing.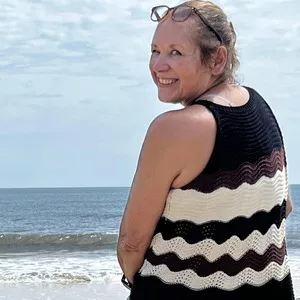 About Denise
Denise Sanger lives a life split between her love for fitness and her passion for travel particularly to the BEACH. Denise also has a love of marketing and lives in beautiful Suwannee County, Florida. You can find out more about Denise here: About Denise