How To Find The Least Crowded Beaches On The Florida Panhandle Area
This article may contain affiliate links. Whenever you buy something through one of these links, I may earn a small commission without any cost to you. I really appreciate it as it supports this site and my family. Thank you!
UPDATED: July 2023. The Florida Panhandle, located on the Gulf of Mexico, with its small town feel is one of the best areas to visit in the USA. Not only that, you will find miles of coastline and some of the least crowded beaches on the Florida Panhandle.
Untouched Paradise: Uncovering the Least Crowded Beaches in Florida Panhandle
It's also one of the best places to take vacations year round. Unfortunately this area also may have the most crowded beaches especially during spring break and in summer months.
When you escape the crowds, you discover many hidden gems along the stunning Florida Panhandle. While most visitors flock to the well-known beaches of Miami and Fort Lauderdale, many beach lovers know how special the Florida Panhandle beaches truly are.
Take time to venture off the beaten path, and you uncover untouched paradise in many of the least crowded beaches of the Florida Panhandle.
Thank you for reading this post. Don't forget to subscribe! This way you never miss an update, travel deals, discounts and more!! Subscribe to the right------>
You can literally see yourself strolling along beautiful white sandy beaches, with nothing but the sound of crashing waves and the feel of the warm sun on your skin.
Whether you're seeking a peaceful retreat or an adventurous getaway, these hidden gems offer the perfect escape from the hustle and bustle of everyday life.
From charming coastal towns to secluded coves and breathtaking natural beauty, the Florida Panhandle boasts some of the most serene and unspoiled beaches in the country.
Get ready to dive into a world of beautiful blue calm and discover your own slice of paradise along the Florida Panhandle's least crowded beaches.
Why visit less crowded beaches?
Yes more popular beaches may have an appeal for some, but for me, there is something special about visiting less crowded beaches. These hidden gems provide a calming refuge that is hard to find in more crowded areas.
Space. You have space to spread out your beach towel without worrying about bumping into other sun-seekers. You can relax without being interrupted as well as choose whether you want to try something new without having to wait hours because others want to do the same thing.
When you visit less crowded beaches, you can truly escape from the noise and chaos of everyday life. Really relax and enjoy hearing the waves rolling one after another onto shore.
Where To Find The Least Crowded Beaches On The Florida Panhandle
So where exactly do you find these least crowded beaches? Right here. I have listed them below as well as additional information at the bottom to help you plan your trip.
Shell Island/Panama City Beach
You may think you would have a hard time finding a quiet beach in Panama City Beach, but you would be wrong. Offshore is beautiful Shell Island.
This is by far one of the least crowded beaches in the area because you either have to take your boat or rent one or take the shuttle to get over to it.
The ride is about 25 minutes from PCB. Once you are on the island, be sure to walk over to the Gulf Side where you will find a stunning white sand beach.
Shell Island Tour: Shell Island Snorkel and Dolphin Catamaran Cruise
St. George Island
Another one of my favorite beaches on Florida's Gulf Coast. Really a step back in time, you will not find a bunch of high rises, but you will find cute beach houses.
At the east end of the island, you will find St. George Island State Park with crystal clear water, wild sand dunes, and shallow waters in many areas. Plenty of picnic tables, nature trails and unspoiled beaches wait for you to explore.
Love to camp? This is the place to do it! Beautiful campground for primitive to full hook up camping.
Where To Stay: St. George Island Vacation Rentals
Miramar Beach
Miramar Beach is a large beach with beautiful white sand and emerald waters. It is probably the most crowded beach on this list but overall as far as the larger beaches on the Panhandle, it is much less crowded.
If you want less crowded on the beach but more activities in the evening, this is your beach. Shopping, dining, water sports and more are available in one of the best beach towns on Florida's Gulf Coast.
Best places to stay: Top Resorts Miramar Beach
Navarre Beach
This beach is definitely one of the prettiest in the area. It is near several military bases including Eglin AFB, but many people do not visit this beach.
Navarre Beach is a great place for families too. Calm waters and lifeguards await you as does Gulf Islands National Seashore along with the Turtle Rescue Sanctuary.
The Navarre Beach Sea Turtle Conservation Center mission is to protect threatened and endangered sea turtles through community education and partnered research. Perfect place to visit on vacation if you happen to have a rainy day.
Gulf Islands National Seashore is a great place to visit one of Florida's unspoiled beaches. Love to snorkel? You will find three man made reefs off the coast of Navarre Beach.
Where To Stay: Best Hotels Navarre Beach
Santa Rosa Beach
Beautiful Santa Rose Beach is a popular destination for folks heading to the beach with their kids. This beach has many free beach access points along with picnic areas, restrooms and showers as you enter the beach.
Enjoy the natural beauty of this beach by exploring the walking nature trails. Be sure to get there early as you may find it difficult to get a parking spot. The parking lots are small and have limited spaces.
Where To Stay: Santa Rosa Beach Vacation Rentals
Perdido Key
Perdido Key is one of the larger beaches on the list. It is located between Pensacola and the Alabama state line.
Perdido Key means lost key in Spanish. This beach is a narrow white sand beach with gorgeous aquamarine waters.
Crabbing, fishing, snorkeling and beachcombing are only a few of the activities available on this gorgeous strip of beach.
Where To Stay: Perdido Key Vacation Rentals
Seagrove Beach
This is one of the best beach towns on the Panhandle for a relaxing vacation and a great spot for families.
Local restaurants, secluded beach, white sand and clear blue-green waters await you.
The beach spans more than two miles and the town has successfully held out on over development. This makes Seagrove Beach one of the least crowded beaches not only in the area but in Florida.
Where To Stay: Seagrove Beach Top Hotels
Cape San Blas
Cape San Blas is a narrow strip of beach that extends out from Port St. Joe. At this spot, you have your choice of Gulf beach access or Bay beach access.
Cape San Blas is home to St. Joseph Peninsula State Park, named the best beach in America in 2002. Enjoy fishing, kayaking, hiking, boating, local restaurants, horseback riding and the Cape San Blas lighthouse.
The Cape San Blas lighthouse has been rebuilt several times due to beach erosion. This lighthouse is101-foot-tall as well as a 131-step lighthouse and may be relocated in the near future.
Where To Stay: Cape San Blas Cabins, Cottages & Hotels
Alligator Point
Alligator Point is located on what is called the Forgotten Coast. Don't let the name stop you from planning a vacation here.
You will find some of the most pristine, clean beaches on Alligator Point. Located in Franklin County, this rural beach community boasts 8 miles of beach coastline.
Watch for bald eagles, black bear, deer as well as many migratory birds. Beaches, fishing, hiking, kayaking, biking, swimming and more are all available on this gorgeous stretch of white sand public beach.
Where To Stay: Alligator Point Campgrounds, Cottages & Inns
Grayton Beach State Park
By far, one of the most beautiful Florida State Parks and beach. This hidden gem offers a blend of natural beauty and recreational activities.
The gorgeous beach has sugar-white sand and crystal-clear waters, perfect for swimming and sunbathing. The park also features hiking trails that wind through coastal forests, dunes, and salt marshes, offering breathtaking views of the surrounding scenery.
For those looking to explore the underwater world, snorkeling and scuba diving are popular activities. Grayton Beach State Park also offers camping, but you must register way in advance to secure a spot.
Where To Stay: Grayton Beach State Park Vacation Rentals
Tips for enjoying the least crowded beaches on the Florida Panhandle
When deciding to visit these least crowded beaches in the Florida Panhandle, it's important to plan ahead and make the most of your experience. These tips will help you have an enjoyable trip:
1. Time. Best time to visit? During "shoulder" seasons, such as spring or fall, when the crowds are thinner. Avoid peak summer months.
2. Choose less well known beaches. Go beyond the popular tourist spots, and you will discover hidden gems that others will never take the time to see.
3. Pack everything you need. Before you head to this more remote destinations, be sure to pack everything you need. Bring sunscreen, beach towels, hats, and plenty of water to stay hydrated. And don't forget your camera!
4. Respect the environment. A few of the beaches mentioned above are very remote. Whatever you carry in, you must carry back out. This helps to preserve the beauty of the beaches. Practice Leave No Trace principles.
Best time to visit the Florida Panhandle
You may be wondering what exactly is the best time to visit the Florida Panhandle. This area does enjoy warmer temps than most of the country, but will definitely be cooler during the winter months than beaches farther south.
Also, the best time to visit depends on what you want to do and see as well as the activities you plan to enjoy. Spring and fall offer pleasant temperatures and fewer crowds which is great for beach exploration and outdoor activities.
Summer is the peak tourist season, with higher temperatures and more visitors. If you don't mind the crowds and prefer a lively atmosphere, summer can still be a great time to visit.
Winter is the least crowded season, but the temperatures can be cooler, especially in the evenings. But keep in mind if you are truly seeking a peaceful beach retreat, winter can offer a unique experience with lower prices and a more secluded atmosphere.
These links will help you plan the best vacation on the least crowded beaches on the Florida Panhandle
Upcoming Trip?
I like to use Booking for booking not only my hotels, but my tickets and rental cars as well. Makes life so much easier with only having to log into one location for my information.
Be sure to grab my travel tips to save you time and money. You'll also be entered into the weekly drawings.
Register here: Get 100 Travel Tips EVERY traveler should know PLUS entered into the weekly drawing.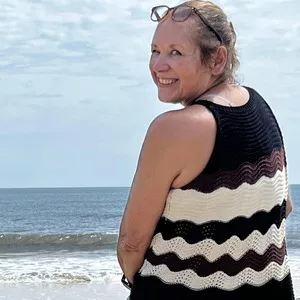 About Denise
Denise Sanger lives a life split between her love for fitness and her passion for travel particularly to the BEACH. Denise also has a love of marketing and lives in beautiful Suwannee County, Florida. You can find out more about Denise here: About Denise