Cocoa Beach Florida: A Guide to the Best Attractions and Activities
This article may contain affiliate links. Whenever you buy something through one of these links, I may earn a small commission without any cost to you. I really appreciate it as it supports this site and my family. Thank you!
A few years back my mother and I enjoyed an incredible weekend trip to Cocoa Beach, Titusville, and the Kennedy Space Center. Updated 4/2023.
Our experience was non-stop from the moment we arrived at the parking lot of the Kennedy Space Center until we left, and we could have easily spent another day exploring.
There are so many fun things to do in this area that I wanted to give this article an update. I originally published it four years ago.
Cocoa Beach, Florida is a popular tourist destination located on the east coast of the state. It is known for its beautiful beaches, warm weather, and laid-back atmosphere.
Thank you for reading this post. Don't forget to subscribe! This way you never miss an update, travel deals, discounts and more!! Subscribe to the right------>
The city is home to a variety of attractions, including the famous Pier, which offers great views of the ocean and is a popular spot for fishing and surfing.
Visitors to Cocoa Beach can enjoy a wide range of activities, from swimming and sunbathing to shopping and dining.
The city is also home to several parks and nature preserves, including the Thousand Islands Conservation Area, which offers hiking trails and opportunities for kayaking and birdwatching.
In addition, this beautiful East Coast beach is just a short drive away from other popular destinations such as Orlando and the Kennedy Space Center.
Where is Cocoa Beach?
Cocoa Beach, Florida is a coastal city located in Brevard County. It is situated on a barrier island between the Atlantic Ocean and the Banana River Lagoon.
The city is part of the Palm Bay-Melbourne-Titusville Metropolitan Statistical Area and has a population of approximately 12,000 residents.
How To Get To Cocoa Beach
Cocoa Beach is easily accessible by air or car.
The closest airport to Cocoa Beach is the Melbourne International Airport, which is approximately 25 minutes away by car.
Alternatively, the Orlando International Airport is about an hour away by car. Both airports offer rental car services and ride-sharing options.
The closest airports are Orlando or Melbourne International Airports.
Things to Do
Cocoa Beach, Florida is a popular destination for tourists who want to enjoy the sun, sand, and surf.
Here are some of the top attractions that visitors can enjoy during their stay. I also go into more detail about Kennedy Space Center below as well as other things to do while in this area.
Beaches
Cocoa Beach is known for its beautiful beaches. Visitors can enjoy swimming, sunbathing, and surfing at any of the area's beaches.
Want to learn to surf? This is the place to do it. Great waves and plenty of surfing schools to help you.
Cocoa Beach
Alan Shepard Park
Lori Wilson Park
Ron Jon Surf Shop
Ron Jon Surf Shop is a must-visit destination not only for surfers but anyone who loves the beach. This is my favorite store in Florida.
The flagship store in Cocoa Beach is the largest surf shop in the world, offering everything from surfboards and beachwear to souvenirs.
Activities
Cocoa Beach is a popular destination for those who love outdoor activities. Visitors can enjoy a variety of activities such as surfing, fishing, and boating.
Surfing
Cocoa Beach is known for its excellent surfing conditions. The waves are perfect for both beginners and experienced surfers. The beach has several surf schools that offer lessons for those who want to learn how to surf.
There are also several surf shops in the area where visitors can rent surfboards and other equipment. Some of the popular surfing spots in Cocoa Beach are the Cocoa Beach Pier, Shepard Park, and Lori Wilson Park.
Fishing
Love to fish? Fishing is another popular activity in Cocoa Beach. Visitors can fish from the beach or from one of the many piers in the area.
There are several fishing charters available for those who want to go deep-sea fishing. The most common fish found in the area are redfish, snook, tarpon, and trout.
Boating
Cocoa Beach is a great place for boating enthusiasts. Visitors can rent boats, kayaks, and paddleboards from several rental companies in the area.
The Banana River and Indian River Lagoon are popular boating destinations in Cocoa Beach. Visitors can explore the mangrove-lined waterways and see a variety of wildlife such as dolphins, manatees, and birds.
Kennedy Space Center Visitor Complex
And saving The Kennedy Space Center Visitor Complex for last does not mean we didn't have a great time. The Space Center is just a short drive from Cocoa Beach.
Visitors can learn about the history of space exploration, see real spacecraft, and even meet an astronaut. The complex also offers bus tours of the Kennedy Space Center, giving visitors a behind-the-scenes look at NASA's operations.
After parking our car, we purchased our tickets and were inside the gates in less than 10 minutes; a rare occurrence at large tourist attractions.
We were greeted by the Rocket Garden, which was simply breathtaking. Although the rockets on display were never launched, they were scale size and gave us a glimpse into the Cold War Era.
The highlight of our trip was the tour bus that took us into the secure areas of the Kennedy Space Center.
As we meandered through a nature preserve, we turned a corner and saw the Vehicle Assembly Building.
This building covers eight acres and is 40 stories high, making it the largest one-story building in the world. From this building, the space vehicles are moved by a "crawler" that transports them to the launch pad at a speed of 1 mile per hour.
The bus then took us to the Apollo Building, where we witnessed a reenactment of the launch of the first manned flight.
The trials and tribulations that went into getting men into space were beyond chilling. We watched as the countdown lit up panel after panel, and the launch was successful.
Our next stop was the permanent home of the Atlantis Space Shuttle. My mother and I were amazed by the many details that went into creating this incredible glider in space.
The legacy behind this space vehicle is one that we should all learn.
The trip to the Kennedy Space Center reminded us that when a goal is worth creating, it is worth putting in the effort to reach it.
We ended our trip with another day at Cocoa Beach. If you're vacationing in the area, be sure to include the Kennedy Space Center in your itinerary.
Upcoming Trip?
I like to use Booking for booking not only my hotels, but my tickets and rental cars as well. Makes life so much easier with only having to log into one location for my information.
Be sure to grab my travel tips to save you time and money. You'll also be entered into the weekly drawings.
Register here: Get 100 Travel Tips EVERY traveler should know PLUS entered into the weekly drawing.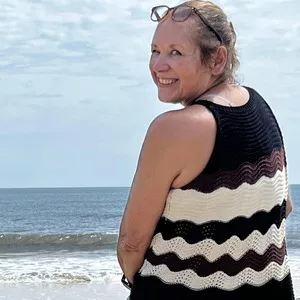 About Denise
Denise Sanger lives a life split between her love for fitness and her passion for travel particularly to the BEACH. Denise also has a love of marketing and lives in beautiful Suwannee County, Florida. You can find out more about Denise here: About Denise