Easy Blue Lagoon Cocktail Recipe To Make At Home
This article may contain affiliate links. Whenever you buy something through one of these links, I may earn a small commission without any cost to you. I really appreciate it as it supports this site and my family. Thank you!
We all love those cocktails we have at the beach, and often we think we cannot make them ourselves. But you can make them all at home including this Blue Lagoon Cocktail Recipe.
Most cocktails are fairly simple. Don't get me wrong. Some can be a bit more difficult than others.
Then others it's more about making sure you pour to satisfy the taste buds of the person drinking it. A perfect example are martinis.
Some people like them dry which means less Vermouth, more Vodka or Gin. Others like them dirty which simply means with olive juice to add a saltier taste.
Thank you for reading this post. Don't forget to subscribe! This way you never miss an update, travel deals, discounts and more!! Subscribe to the right------>
And what about Blue Curaçao. What does it taste like? It's blue, does that mean a blueberry type taste?
Actually no. Blue Curaçao is an orange-flavored liquor.
Why is it blue? Most of the time, coloring is added to it.
Now that we have stripped away the mystery, let's make a Blue Lagoon Cocktail. It's actually very easy and only three ingredients.
Blue Lagoon Cocktail Recipe Ingredients
1 ounce Vodka
1/2 ounce Blue Curaçao
Lemonade
That's it. No other ingredients except ice cubes.
First, add the Vodka And Blue Curaçao to a cocktail glass. Not a large glass but a regular glass sometimes called a high ball glass.
Then add ice. Fill to the top with lemonade. This is the perfect cocktail this year with the record heat we are experiencing. So refreshing!
My goal as a former bartender and now a travel blogger who loves all things beach including beach cocktails, is to live my life as if I am at the beach. I hope you are too.
Salute! Below are a few more cocktails for you to try to make at home.
Upcoming Trip?
I like to use Booking for booking not only my hotels, but my tickets and rental cars as well. Makes life so much easier with only having to log into one location for my information.
Be sure to grab my travel tips to save you time and money. You'll also be entered into the weekly drawings.
Register here: Get 100 Travel Tips EVERY traveler should know PLUS entered into the weekly drawing.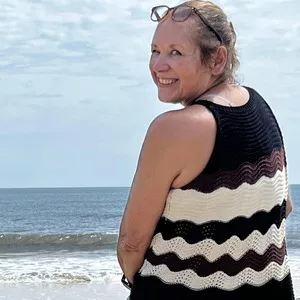 About Denise
Denise Sanger lives a life split between her love for fitness and her passion for travel particularly to the BEACH. Denise also has a love of marketing and lives in beautiful Suwannee County, Florida. You can find out more about Denise here: About Denise