Ultimate Guide to Beach Cocktails
This article may contain affiliate links. Whenever you buy something through one of these links, I may earn a small commission without any cost to you. I really appreciate it as it supports this site and my family. Thank you!
The beach and delicious beach cocktails with little umbrellas in them equals my kind of heaven. It's really the only time I splurge and don't pay attention to the calories in a Bushwhacker (865!). But oh so worth it.
If you feel that way too, here is my top list of beach cocktails to try, if you haven't already, on your next vacation. Enjoy!
Bushwhacker. Oh my gosh. The first time I had one of these cocktails I thought now here is a cocktail for chocolate lovers like me. Very popular in beach bars, this delicious indulgence has been around since the 1970's. AND for good reason. It's out of this world!
Bahama Mama. Fruity deliciousness but watch for the kick! The first time I enjoyed a Bahama Mama was on a cruise to the Bahamas!
Thank you for reading this post. Don't forget to subscribe! This way you never miss an update, travel deals, discounts and more!! Subscribe to the right------>
How appropriate right? We were on the private island where the amazing staff were walking around handing out Bahama Mama cocktails. Needless to say, I was a bit happy getting back on the ship.
There are some FANTASTIC deals right now on cruises. Check them out here: Cruise Deals
Sex On The Beach. This one definitely makes the list! I love this cocktail so much, I have the recipe PLUS a low-carb version you can get right here: Sex On The Beach.
Sea Breeze. Another beach favorite. I really like this one because it's so light. You can enjoy on the beach and not feel like you ate a huge dinner as you would after enjoying a Bushwacker.
Pina Colada. If you like piña coladas. And gettin' caught in the rain. If you're not into yoga. If you have half a brain. If you like makin' love at midnight. In the dunes on the cape. Then I'm the love that you've looked for. Write to me and escape. I absolutely LOVE Pina Coladas and enjoy one every single trip to the beach as well as the next cocktail:
Strawberry Daiquiri. There is something that both a pina colada or a strawberry has that instantly transports me to the beach. Maybe it's the rum.
Either way they're both DELICIOUS. Even better? When you combine the two into a Miami Vice.
If you have a blender or shaker, you can easily create these scrumptious beach cocktails at home. Cheers!
Get the recipes for all the beach cocktails here: Beach Cocktail Recipes
Upcoming Trip?
I like to use Booking for booking not only my hotels, but my tickets and rental cars as well. Makes life so much easier with only having to log into one location for my information.
Be sure to grab my travel tips to save you time and money. You'll also be entered into the weekly drawings.
Register here: Get 100 Travel Tips EVERY traveler should know PLUS entered into the weekly drawing.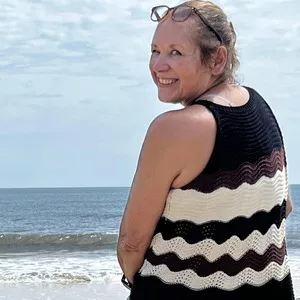 About Denise
Denise Sanger lives a life split between her love for fitness and her passion for travel particularly to the BEACH. Denise also has a love of marketing and lives in beautiful Suwannee County, Florida. You can find out more about Denise here: About Denise