The Hunt is On: The Best Treasure Hunting Beaches in Florida on The Gulf Coast
This article may contain affiliate links. Whenever you buy something through one of these links, I may earn a small commission without any cost to you. I really appreciate it as it supports this site and my family. Thank you!
Are you ready for an amazing treasure hunting adventure? Explore the best treasure hunting beaches in Florida and see what you can find!
In this article, we will explore the Gulf of Mexico beaches in the Sunshine State. I will then circle back with the same information for the Atlantic Ocean side. Let's get started.
Looking for buried treasure can be a fun, exciting experience. Florida is home to some of the best beaches in the world and, luckily, they also offer plenty of opportunities for treasure hunters! Explore the best treasure hunting beaches in Florida and discover what you might find.
What you need to know about treasure hunting beaches in Florida
Have you hunted for treasure before on Florida's beaches? No? Keep these tips in mind.
Thank you for reading this post. Don't forget to subscribe! This way you never miss an update, travel deals, discounts and more!! Subscribe to the right------>
First and probably important, you can hunt for treasure on the beach but not in the water. Anything submerged including wet sand is off limits.
No treasure hunting allowed in any Florida State Park.
No treasure hunting allowed in or on the sand dunes. Please do not step on these dunes as they are there to protect the lands from rising waters and storm surge.
Private property is always off limits unless you have express written approval from the property owner.
Top Treasure Hunting Beaches In Florida
Now that we have covered where you can and more importantly where you CAN NOT hunt for treasure, where do you look?
These are the top Treasure Hunting Beaches in Florida. Grab your bag and let's go!
Clearwater Beach
Clearwater Beach, near downtown St. Petersburg, has been a legendary spot for treasure seeking since the early 20th century. It boasts crystal-clear emerald waters, white-pinkish sand, and plenty of places to go hunting around the shallow flats of its shores.
Although not as famous as beaches like South Beach in Miami or Sanibel Island, Clearwater Beach is still an excellent destination for treasure hunters looking to find lost objects with metal detectors.
Bradenton Beach
Bradenton Beach is a great choice for treasure hunters. A wide stretch of sugar sandy beach and gentle waves that lap upon emerald waters, it's the perfect spot for casting your metal detector or simply walking along the shoreline beachcombing.
Of all the beaches in Florida, Bradenton Beach stands out as one of the most dependable spots for finding buried coins or other small bits of castaway treasures.
To increase your chances, go during low tide to find items buried beneath rippling waters and wet sands. Don't forget to check back as I update beach spots that have treasure hunting opportunities.
Fort De Soto Beach
Fort De Soto Beach is one of the top spots in Florida for treasure hunters. Located close to St. Petersburg, it's a large public beach with over 5 miles of quiet shoreline and plenty of shallow sandbars.
These sandbars are the prime spots for locating relics such as coins and jewelry, making them a goldmine – literally – for treasure hunters armed with metal detectors and other gear.
And with its dramatic scenery, wildlife, history and culture, Fort De Soto Beach also offers a great way to get some fresh air while searching for those hidden gems.
Naples Pier at Low Tide
The Naples Pier at low tide is a popular choice for the treasure-hunter fanatics. Its shallow waters and golden sands are prime habitats for relics of all sorts, ranging from ancient shells to coins and jewelry.
With your metal detector in hand, you can search through piles of interesting items while also getting to appreciate some great views as the sun sets over the Gulf.
The popularity of this spot also means that it can get quite busy during peak times, so be sure to plan accordingly. Shoot to search at low-tide. You can check tidal charts for those times.
Coronado Beach, Sanibel Island
Folks have messaged me that Sanibel Island is open for tourists. But reminder, this area took a hard hit from Hurricane Ian, so please check first.
Coronado Beach on Sanibel Island is a beachcomber's paradise. Its eastern side faces the Gulf of Mexico and its western shore, the Caloosahatchee River.
The high tide brings vast amounts of buried treasure from all over the world, making it an ideal location for metal detecting enthusiasts. The dynamic waters also deposit lost artifacts like ceramic coins, iron anchors, and shipwrecks.
Sanibel Island is also one of the top shelling beaches in Florida.
Siesta Key
Siesta Key is another barrier island loaded with treasure for you to find. There have been several shipwrecks off the coast of the island. It is also said that pirates buried their treasures on this beautiful beach in the Gulf of Mexico.
La Playa Beach
La Playa Beach near the city of Naples is one you definitely want to add to your list. Steve Styles who lives in Naples has been quite lucky in his treasure hunting on this beach.
According to the Naples News, a few decades back, he found a ring with 56 diamonds and 16 emeralds for which he sold for $12,000. Makes me want to hit the beach with a metal detector. How about you?
What do you need to treasure hunt?
Having the right equipment always makes a job easier. Treasure hunting equipment that can help you find treasure including gold are a simple garden scoop, a sand sifter, a pail and a metal detector.
Basic models of metal detectors cost around $100 but can go as high as $1000 depending on features. Start with an inexpensive detector and if you are still intrigued with hunting for treasure, you can always upgrade.
This is a great one for adults Metal Detector for Adults while this one is better for kids Metal Detector for Kids
Keep me posted on what you find. Happy hunting!
Upcoming Trip?
I like to use Booking for booking not only my hotels, but my tickets and rental cars as well. Makes life so much easier with only having to log into one location for my information.
Be sure to grab my travel tips to save you time and money. You'll also be entered into the weekly drawings.
Register here: Get 100 Travel Tips EVERY traveler should know PLUS entered into the weekly drawing.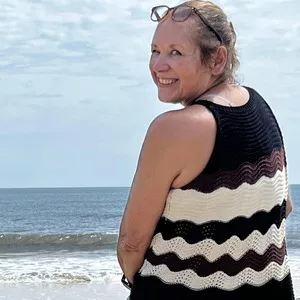 About Denise
Denise Sanger lives a life split between her love for fitness and her passion for travel particularly to the BEACH. Denise also has a love of marketing and lives in beautiful Suwannee County, Florida. You can find out more about Denise here: About Denise