Best Shelling Beaches in Florida
This article may contain affiliate links. Whenever you buy something through one of these links, I may earn a small commission without any cost to you. I really appreciate it as it supports this site and my family. Thank you!
The Best Shelling Beaches in Florida are also some of the most beautiful beaches in Florida.
Is there anything better than walking along the water's edge at the beach at low tide? There is. Finding the perfect seashell or sand dollars. Maybe even sea glass.
My shell collection includes conch shells, junonia shells, jingle shells, horse conchs, olive shells, jingle shells and even shark teeth and sea glass. I have found most of these prizes all the United States including Florida, Atlantic and Pacific coasts, but have also purchased a few I had trouble finding.
When it comes to the best places to beach comb for seashells, I have to say Florida is my top pick. You will find some of the best shelling beaches in Florida, particularly on the Gulf Coast, with its beautiful shallow waters.
Shell hunters around the world come prepared when they are planning a beach combing day. Many carry a mesh bag to let the sand fall back to the beach instead of taking it home.
Thank you for reading this post. Don't forget to subscribe! This way you never miss an update, travel deals, discounts and more!! Subscribe to the right------>
The best time to look for those hidden gems?
The best time to look for sea shells is low tide or going out. You will also find many beautiful shells after a full moon or big storm.
How do you know where to dig for the best shells?
Again an hour before or after the tide recedes as the strong currents of high tide will bring the shells in to shore and make it easier for you to see them.
Is it okay to pick up seashells?
Yes. As long as you are on a public beach and not in a national park or protected area. Be sure to check before taking your finds home with you.
What is the best time to search for shells?
I have always had the most success in finding perfect shells, including many rare shells early in the morning. It is a great time as I am an early riser and there are few crowds on the beaches.
Where is the perfect place to search for seashells?
I am partial to North America, particularly the beautiful beaches on the Gulf of Mexico, State of Florida. I have found some pretty shells on the other side of the Gulf in Texas. Outside of North America, England, Australia, South Africa, and the Bahamas are listed as the best beaches according to Travel + Leisure Magazine.
Below are the best shelling beaches in Florida. My favorite hunting grounds for empty shells.
Gulf Coast of Florida
Captiva Island and Sanibel Island.
I absolutely love this part of Southwest Florida. It is also where I have found many of my prices shells. Plus this area is known for having some of the best shelling beaches in Florida
Near Captiva Island is Sanibel Island, both barrier islands, are well known for the Sanibel Stoop or the elbows and a@@ beach. Why? That is the position you will find many as they scour the white sandy beaches.
These Florida beaches on the islands are well known as some of the best shelling beaches in the world. My favorite? The beaches of Sanibel Island. I can walk these beautiful beaches for hours.
Blind Pass Beach, also located on Sanibel Island, is not good for swimming due to the strong currents. But those strong currents wash up different types of shells and other finds. One of the most common shells you will find are jingle shells.
Finally, be sure to visit Lighthouse Beach, located on Sanibel Island's southern tip. In addition to some of the best shells, you will also find the historic lighthouse built in 1884.
Marco Island
Also located on the Southwest portion of the state of Florida is Marco Island. The best shelling spot on this island is Tigertail Beach.
Tigertail Beach is along the western edge of the island. Folks often find sea urchins and sand dollars on this beautiful beach. Be sure you are not taking a live sand dollar home with you. Live sand dollars are usually darker brown, a little fuzzy, and often partially buried in the sand.
Fort Myers Beach
Fort Myers Beach is another favorite of mine. If you have not figured it out yet, I love all beaches, but I am partial to the Gulf of Mexico in Florida.
Fort Myers Beach is also a great place to look for beautiful shells. This part of the coast including Sanibel, Captiva and Marco Islands have over 400 types of species of shells from scallop and clam to the exotic tulips, olives, fragile paper fig shells and the rarest of them all, the brown speckled junonia.
Also keep an eye out for hermit crabs as they scramble by. So much fun to watch.
Naples
While in the southwest portion of the State of Florida, be sure to visit Barefoot Beach. Barefoot Beach Preserve is located in North Naples and includes 342 of natural land and undeveloped barrier islands.
This beautiful beach with sand dunes is one of the best places to find perfect shells. It truly is a shell lovers paradise. It was also named 2nd best beach in the United States in 2014.
Many folks think Sanibel is the best place to find seashells, but shell hunters know better. You may find a Junonia Shell, Murek Shell, Conch Shell, Sand Dollar, Worm Snail Shells, Lightning Whelk Shells, Florida Spiny Jewelbox, Alphabet Cone and more on this beautiful beach.
Panama City Beach and Pensacola Beach
A popular destination for shell lovers is Florida's Panhandle and one of the best shelling beaches in Florida. I myself have spent many hours walking these shorelines and visiting outlying islands such as Shell Island.
Shell Island is only accessible by private boat. We usually rent a pontoon boat and head out to explore.
Tip: Navarre Beach located in Pensacola is a renowned area for sea glass
Early in the morning is the best time to search for shells in both PCB, Pensacola and throughout the Florida Panhandle. Collecting shells is generally allowed on these beaches, but be sure to be careful not to take any shells from the beach restoration project.
Also, be sure to check and make sure there are no living creatures in the shells you pick up. You would not want someone to take your home, so be sure not to take theirs.
This area is the perfect place to also see dolphins, sea turtles, sand dollars and an array of shells. Watch for the red flags as this area occasionally has strong currents and rip currents. Be sure you know what to do.
Florida Keys
Another perfect place to look for seashells? The Florida Keys.They may be few and far between but you will find them.
The Florida Keys including Key West is truly heaven on Earth. Head toward Chesapeake Bay located on Islamorada. Be careful when picking up shells, however, as the Queen Conch is a protected shell.
Best time to look for shells is when the tide recedes. Early in the morning is also better when there are fewer crowds. Search along the high tide line and you will probably find a few keepers.
South Florida
I lived many years in South Florida near Hollywood Beach and Fort Lauderdale Beach. Most times the shells I found were broken due to the rough churning of the Atlantic Ocean.
My sister, when visiting, found a perfect conch shell buried in the sands of Fort Lauderdale Beach. Don't be afraid to dig!
Miami Beach and Key Biscayne may be surrounded by luxury resorts, but you just might be lucky enough to find a few shells to take home with you. Again, the Atlantic Ocean is rough on the seashells in this area of Florida.
Central/North Florida Atlantic Coast Side
St. Augustine/Daytona Beach
Yes you may find a few keepers in St. Augustine and Daytona Beach but you will have to be an eagle eye. The best place to look for shells in this area is Ponte Vedra Beach.
Ponte Vedra Beach is also known for finding shark teeth. When looking for shark teeth, think small and jet black. Shark teeth are often mingled in with broken shells and sand, particularly at the tide line.
Fernandina Beach/Amelia Island
Amelia Island is the northernmost barrier island and absolutely breathtaking and one of my favorite places to explore. Fernandina Beach is located on Amelia Island and one of the best places to search for shells.
Venice Beach, Florida on the Gulf Coast might be the shark tooth capital of the world, but many shell seekers have found shark teeth on this island.
Turn your shelling adventure into a romantic vacation. Click here for the Most Romantic Beaches in Florida on the Gulf Coast.
Want more information on a vacation in Southwest Florida? Click here: Explore Southwest Gulf Coast
Upcoming Trip?
I like to use Booking for booking not only my hotels, but my tickets and rental cars as well. Makes life so much easier with only having to log into one location for my information.
Be sure to grab my travel tips to save you time and money. You'll also be entered into the weekly drawings.
Register here: Get 100 Travel Tips EVERY traveler should know PLUS entered into the weekly drawing.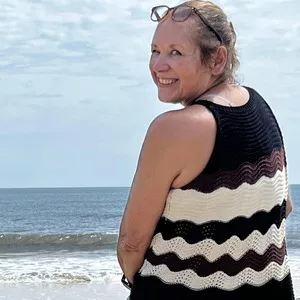 About Denise
Denise Sanger lives a life split between her love for fitness and her passion for travel particularly to the BEACH. Denise also has a love of marketing and lives in beautiful Suwannee County, Florida. You can find out more about Denise here: About Denise