The Joy Of Beautiful Pink Sand Florida Beaches
This article may contain affiliate links. Whenever you buy something through one of these links, I may earn a small commission without any cost to you. I really appreciate it as it supports this site and my family. Thank you!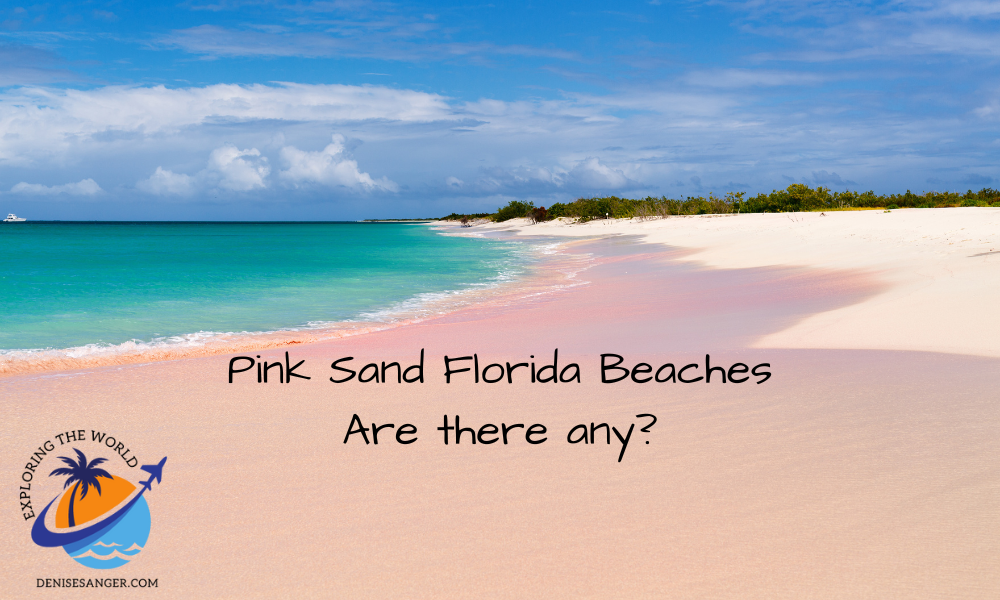 Discover the Joys of Clearwater Beach: An Idyllic Getaway to Pink Sand Heaven
We have all seen the beautiful pink sand beaches around the world. We have a gorgeous pink color sand beach nearby in the Bahamas.
But are there true pink sand Florida beaches? What about Clearwater Beach in Florida?
Clearwater Beach is on the Gulf Coast of Florida in the United States. It is one of the best beaches for many reasons including shallow waters and pretty sandy beaches.
But are these beaches on the Gulf Coast pink? Where else can you find pink beaches? Read on to find out.
How is a pink sand beach created?
Pink sand beaches are some of the most famous beaches that people from around the world come to see and visit.
The pink hue of the sand is due to microscopic coral insects known as Foraminifera, who have bright red shells and inhabit the undersides of coral reefs.
When the Foraminifera die, their shells wash up onto the shore and the pink hue is created.
What makes pink sand beaches unique?
There are a few things that make pink sand beaches unique. The first is the color of the sand.
The sand is a light pink color, which makes for a beautiful beach scene. The texture of the sand is also unique. It is very soft and feels good under your feet.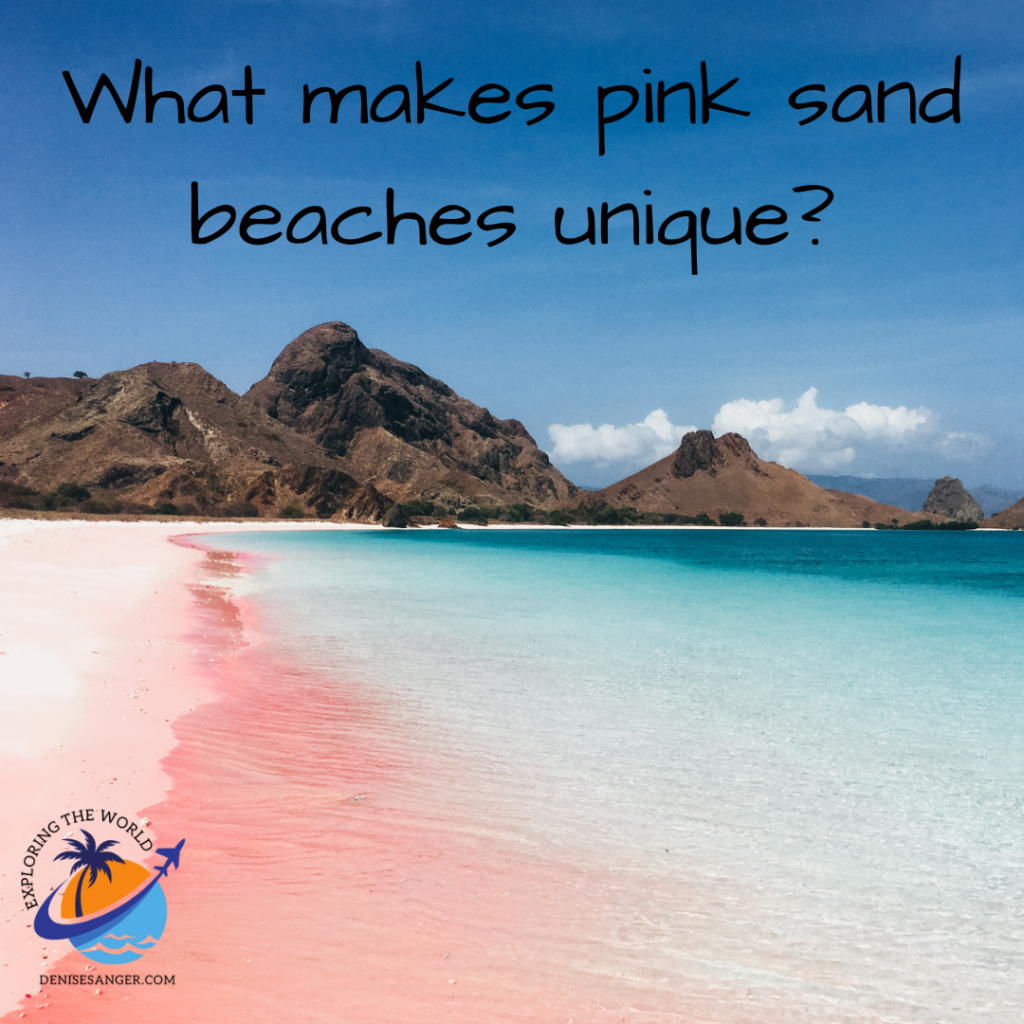 Finally, the wildlife that can be found on these beaches is also unique. You can often find sea turtles and other marine life swimming in the water near these beaches.
Where are pink sand beaches found?
The most famous pink sand beach is in Bermuda. There are also a few other places where you can find them, including The Bahamas and Hawaii.
Pink sand beaches are some of the most stunningly beautiful places in the world. From pink-hued sand to crystal clear waters, pink sand beaches have become a vacationer's delight and a definite must-visit for any beach lover.
Most Well Known Pink-Sand Beaches
You may have heard of some of the pink sand beaches below located around the world. These are the beaches that you should add to your bucket list:
Harbour Island, Bahamas: The pink sand is said to be the result of crushed pink coral and shells, making it one of the best pink sand beaches in the world. Whether you're looking for a romantic getaway or just want some peace and quiet, Harbour Island's pink sand beach is the perfect spot for your sunny escape.
Crane Beach Barbados: This natural beauty is located directly behind the pink sandstone cliffs. It is a pink beach because of tiny fragments of pink rocks that are mixed with other minerals and washed onto its beautiful shoreline
Barbuda, Caribbean: The pink sand beach is made up of coral, shells and pink limestone rocks which make it stand out amongst the typical white beaches usually seen in the Caribbean. Visitors love to come here to swim in the pinkish-red waters, relax on the pink sand or take photographs that they can show off to their friends.
Horseshoe Bay Beach Bermuda: The pink sand on these beaches is the result of pink coral and pink shells that have been eroded over time. Not only are these pink sand beaches beautiful, but they're also great for swimming and snorkeling.
Las Salinas de Torrevieja in Spain: The pink sand here is actually made up of microscopic pink plankton that give the beach it's unique hue. This pink paradise also boasts crystal clear waters, making it a great spot for swimming and snorkeling.
Waianapanapa State Park Hawaii: The pink sand here is the result of eroded volcanic rocks, giving it an extraordinary pink hue. Visitors love to come here for swimming and snorkeling, as well as just walking around and taking pictures of the pink beach.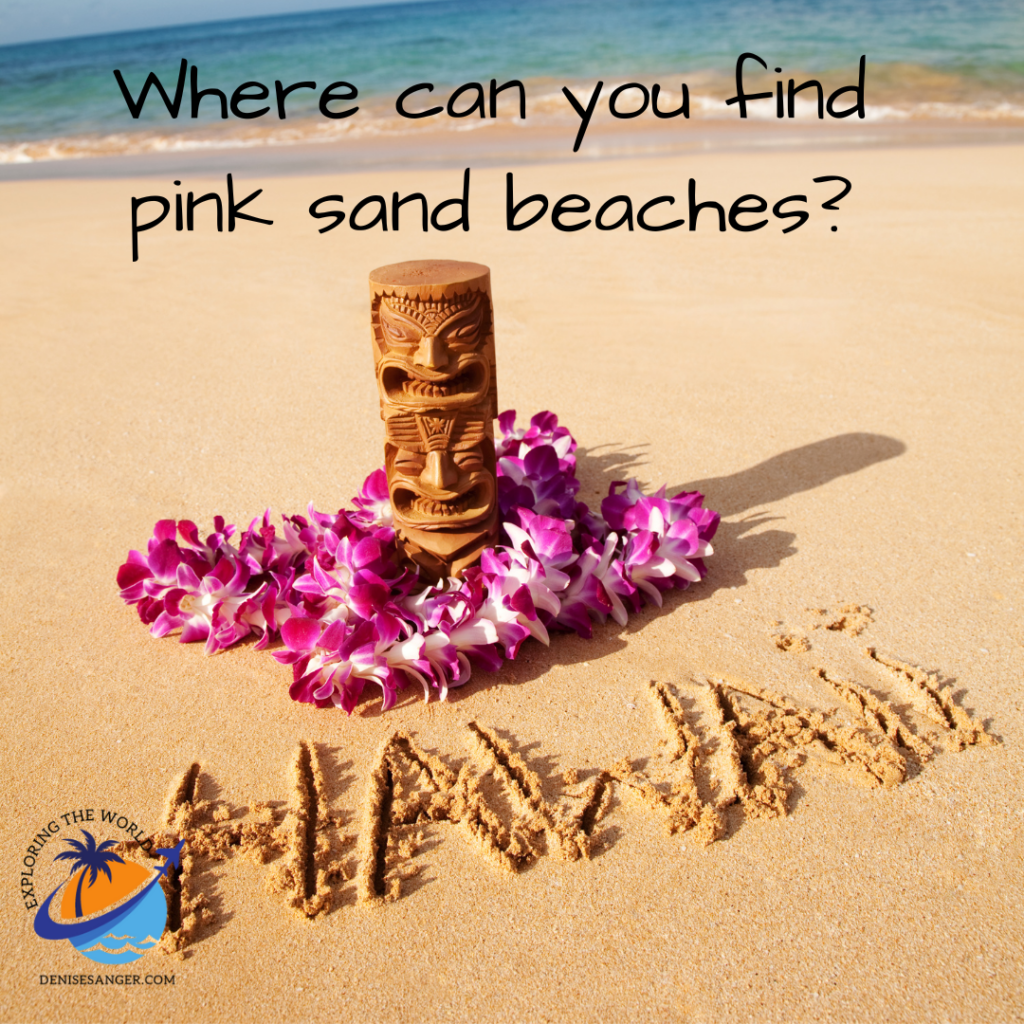 Elafonissi Beach Crete Greece: Visitors love to spend time here taking photographs of the pink sea and pink cliffs as well as swimming in its crystal-clear waters.
Kaihalulu Beach Bay Maui Hawaii: With its pink sand and turquoise waters, this pink paradise is a great place to escape from the hustle and bustle of everyday life.
Pink Sand Dunes on Virgin Gorda British Virgin Islands: From horseback riding to boat tours and more, you can explore the pink sand and take in the stunning views of this pink paradise is made up of bright pink sand which is the result of a rare type of olivine found in the area.
Papakōlea Beach in Hawaii: This pink paradise is made up of bright pink sand which is the result of a rare type of olivine found in the area.
Komodo Island Komodo Beach Indonesia: Komodo Island is not the only pink beach in Komodo National Park in Indonesia. There is another one in Bali. The small island is also famous for the Komodo dragon that calls this island home.
But what about the United States? Is there a beautiful pink sand beach we can visit without leaving the continental USA?
Is There A Pink Sand Clearwater Beach Florida?
Bad news for you. Contrary to what you may have heard, Pink Sands Beach in Clearwater really is not pink.
As most of the Gulf of Mexico Coast of Florida, you will find white sand on the beaches in this area.
Clearwater Beach, Sarasota Beach, Siesta Key and other beach towns here offer miles of beaches to explore. The turquoise water makes the Florida Gulf Coast one of the best places to vacation.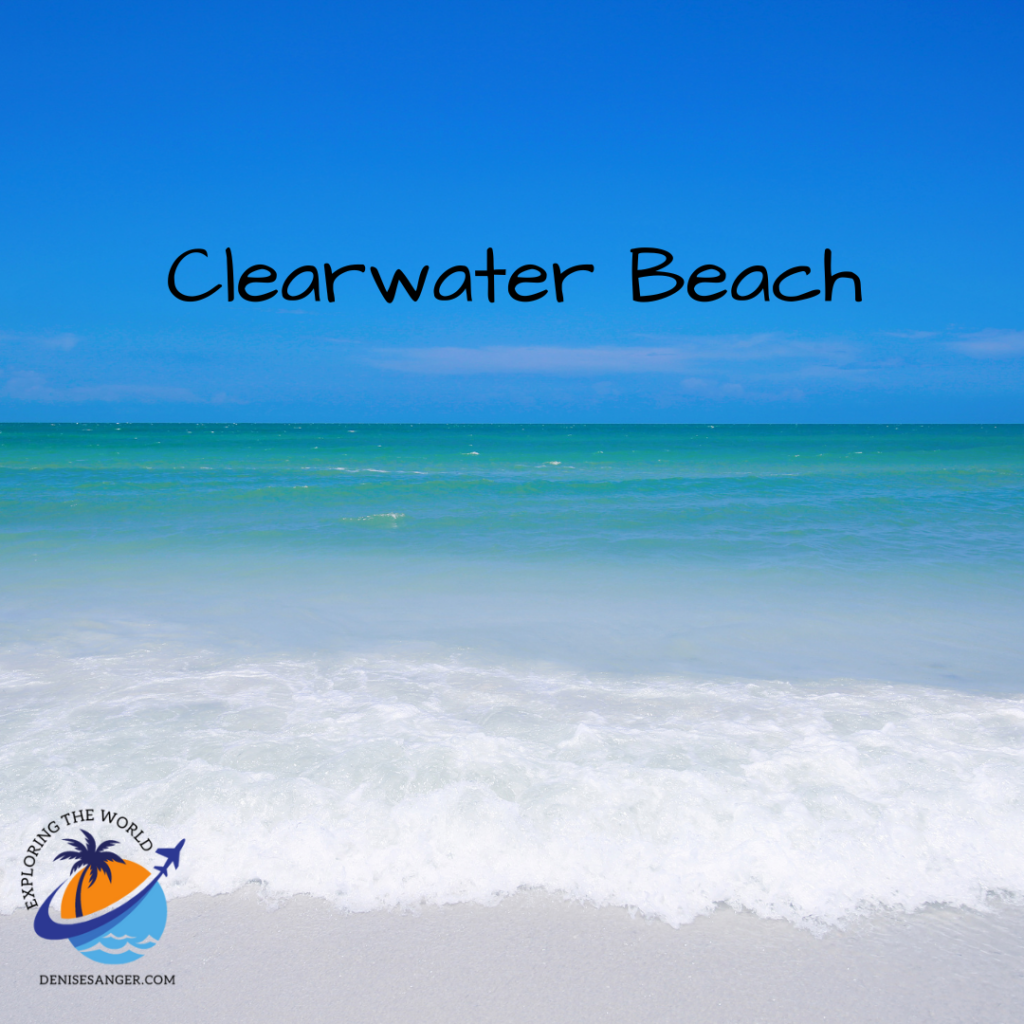 Enjoy water sports including scuba diving, boogie boards, and snorkeling and more. But pink sand you will not find. At least it's not pink to me.
But you will find a Pink Sand Clearwater Beach if you look here.
Where is Pink Sand Clearwater Beach?
The Pink Sand Clearwater Beach people are referring to is actually located in the Bahamas. It is a short ferry ride from the tip of South Florida including Miami and Fort Lauderdale.
What makes this beach in the Bahamas pink?
The pink sand on Harbour Island Bahamas comes from fine pieces of seashells and microscopic organism that the marine animal called foraminifera used to live in.
When the reddish-pink shell gets crushed over time by both natural forces such as waves and winds, as well as human activity like boat traffic and beach goers, it comes out as a pinkish hue due to the iron oxide found within the shells.
What makes pink sand beaches unique is not just their color but also their texture. The sand is very fine and feels soft under your feet.
The beaches are also home to a variety of wildlife, including sea turtles and shorebirds. This pink sand beach in the Bahamas is also easy to get to from North Eleuthera Airport.
Pink sand beaches are some of the most beautiful in the world. The sand is a soft pink color and the beaches are often home to wildlife, including sea turtles and shorebirds.
What makes these pink sand beaches some of the Caribbean's most unique beaches are not just their color but also their texture.
The sand is very fine and feels soft under your feet and the warm waters of the turquoise sea invite you to relax. These smaller islands of the Bahamas with some of the most beautiful beaches are a popular tourist destination.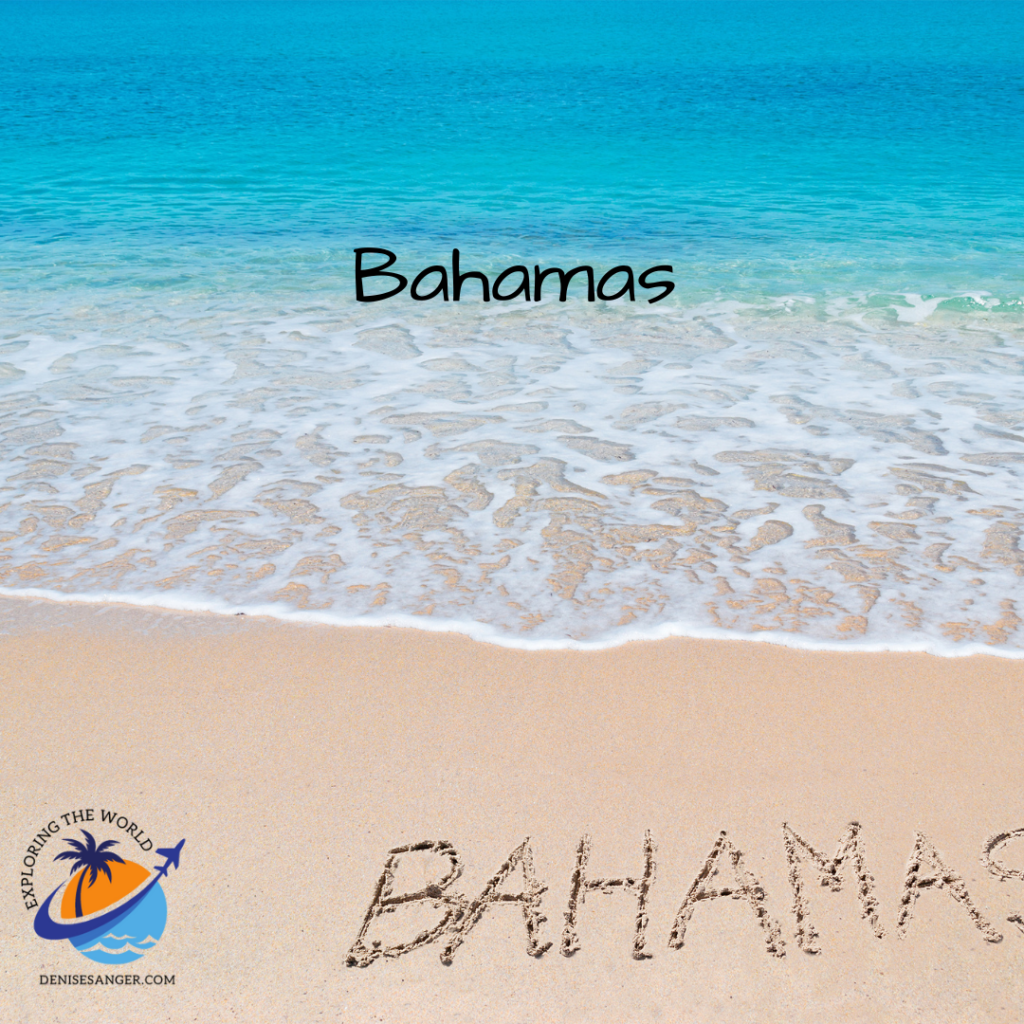 The pink sand is caused by broken pieces of coral that have been ground down by the waves over time. This creates a beautiful, soft sand that is perfect for sunbathing or swimming.
What about Pink Sands Resort? Where is that located?
If you're looking for Pink Sands Resorts that is located on Harbour Island, Bahamas (Harbor Island). Enjoy snorkeling in the Atlantic Ocean and even horseback riding on the water's edge of the beach at one of the most elegant resorts in the Caribbean. Get more information here: Pink Sands Resort
What about red sand beaches? Black sand beaches?
People also ask me about red sand beaches. Red sand beaches are both rare and yet an awe-inspiring natural phenomenon that can be found all around the world.
These are also referred to as pink sand beaches that are caused by microscopic coral insects known as Foraminifera.
Black sand beaches are typically caused by lava flows meeting the ocean, which grinds up the rock and creates tiny fragments of black-colored minerals such as magnetite, hematite, and pyroxene.
These particles then get washed up on shore through ocean currents and waves, creating a beach with incredibly dark-hued sand.
Black sand beaches are found in many destinations around the world. From the California coast of the United States, to volcanic islands like Hawaii and Vanuatu; to tropical beaches in countries like Costa Rica and Thailand, these spectacular landscapes can be seen all over the globe.
FAQ
Where Can You Find Pink Sand Beaches?
To quickly recap, you can find pink sand beaches in Hawaii, Bahamas, Bermuda, Spain, Thailand, Bali. But if you are searcing for a true pink sand beach, you will not find one in Florida at Clearwater Beach on the Gulf of Mexico.
Upcoming Trip?
I like to use TripAdvisor for booking not only my hotels, but my tickets and rental cars as well. Makes life so much easier with only having to log into one location for my information.
Be sure to grab my travel tips to save you time and money. You'll also be entered into the weekly drawings.
Register here: Get 100 Travel Tips EVERY traveler should know PLUS entered into the weekly drawing.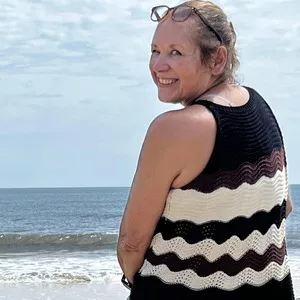 About Denise
Denise Sanger lives a life split between her love for fitness and her passion for travel particularly to the BEACH. Denise also has a love of marketing and lives in beautiful Suwannee County, Florida. You can find out more about Denise here: About Denise