No Fuss What To Pack For A Great Beach Vacation With Printout
This article may contain affiliate links. Whenever you buy something through one of these links, I may earn a small commission without any cost to you. I really appreciate it as it supports this site and my family. Thank you!
No Fuss What To Pack For A Beach Vacation With Printout list
Planning for your next beach getaway? No matter where your beach destination is, it is always a good idea to be prepared. Packing essential items ahead of time for any trip with this what to pack for a beach vacation printout list.
No matter where your tropical destination is and who is traveling with you whether it is your significant other or best friend but especially if you are going on a family beach vacation.
If you plan to spend most of your time on the beach as I do, to follow is a beach vacation packing list of the basics to put in your beach bag.
Whether you are going for a beach day or week long getaway, your beach vacation essentials are packed and ready to go. You know I love the Boho Beach vibe and the bright orange one is my bag: Boho Beach Bags
Thank you for reading this post. Don't forget to subscribe! This way you never miss an update, travel deals, discounts and more!! Subscribe to the right------>
Pro Tip: A great idea when you get back home after your beach trip, and what I do every time, is empty the sand and clean out your bag. Then repack your beach essentials removing what you did not use. It's the little things that make a difference and this is a great way to always be prepared and ready to go.
Beach Trip Packing List
Travel Essentials
Before we get into the beach accessories, let's first discuss travel documents. I prefer to carry these at all times in a waterproof bag. If I am staying in a hotel, I lock this plastic bag or dry bag in the hotel room safe whenever I head down to the beach. Inside the bag are:
Passport or Driver's License
Credit Card And Cash except for what I take down to the beach in my bag
House and Car Keys
Insurance cars – medical, car, etc.
List of emergency contacts
List of prescriptions
Copy of vaccine card if you need for travel
For what to pack for a beach vacation beach bag essentials, we are going to start with the most important things first beginning with personal items.
Sunscreen. The very first thing you should do is apply sunscreen. Proper sun protection can make all the difference between a good day on the beach or a not so good night sunburned.
In addition, it is worth the extra cost to get a good, high SPF for UV protection that is also water-resistant and requires fewer applications throughout the day.
I also personally choose reef-safe sunscreen. Why? To protect our beaches and marine life for a long time to come.
Sunglasses. As important as it is to protect your skin, it is an absolute must and equally important to protect your eyes. Choose sunglasses that protect against UV rays.
SPF Lip Balm. Ditto the above two items.
First Aid Kit. Better safe than sorry. You might be thinking, what could happen on the beach. I have heard many times, kids cutting their toes or bottoms of the feet on an oyster shell.
Cash and one credit card. I always have cash and one credit card on me when I am on the beach. This allows me to make little purchases or walk to the nearest beach bar to grab some cold drinks.
It is a good idea to keep the above items in a dry bag, so they are protected on long days at the beach. Use this also for kayaking, paddleboarding or any day trip boating activities.
What To Pack For A Beach Vacation: other items you will want to carry in your bag.
Water shoes. Water shoes especially if you will be on a rocky beach can make the difference in a great day vs an okay day by allowing you to get in the water.
Waterproof Phone Case. A waterproof phone case is a good choice especially if you like to take photos on the beach or in the water with your cell phone. The last thing you want to do, is drop your phone in the surf, and it becomes unusable the rest of your vacation.
Bathing suit. Of course if you already have it on as well as your beach coverup and flip flops, skip this point. Toss in a tank top for quick coverage if you plan to walk on the beach and don't want to slip the cover-up on.
Sun hat. Always a great addition to any outside activity. Be sure you have a beach hat with straps for young children to make sure it stays in place.
Rash guard. Not only a good idea for those that are surfing, but for anyone in the water or on the sand to help protect against sunburn.
Hand sanitizer. This allows you to quickly cleanse your hands before eating a snack.
Hair ties. It gets hot on the beach. For me a great choice and what I use also for teaching my classes are the spiral hair ties. They keep my hair back in a ponytail or bun and when I take it out, it doesn't break my hair like other rubber bands.
If you read on the beach, a good book OR your Kindle. I always have my Kindle with me. I have upgraded and now own a waterproof Kindle. You would not think you would need to worry about the water and your Kindle. But I jumped out of my chair to run to the surf and still had that Kindle in my hand.
Beach towel. You'll use it both on the beach and to dry off after you swim. Reapply sunscreen after every swim.
Beach Blanket or beach mat. When you are tired of sitting and want to lie on the beach, spread out your blanket or mat and relax.
Reusable water bottle. I personally only use reusable bottles, cups and even my travel coffee mugs. The ocean does not need any more plastic or trash. Very cost-effective as well.
Change of clothes. You never know what the day holds and a change of clothes including Boho maxi dresses does not take up much space in your bag. Include a light jacket if you may still be on the beach after sunset.
Light snacks and water to stay hydrated with reusable water bottle. Saves your cash too.
What To Pack For A Beach Vacation: Other items that may not fit In Your Bag
If you are bringing your beach chair, be sure to bring a beach umbrella to shade you while you watch the waves. Goggles & snorkel if you plan to check out what's under the ocean.
Beach toys to keep the kids busy if you are on a family vacation.
Portable speaker if desired. For me? I never carry one. I prefer the sound of the surf over music especially if it's blasting nearby. This is a personal choice.
It's a bad idea though, to blast your music and tick off those around you especially in today's environment. Maybe keep it a bit lower, so you can enjoy it but not disturb others.
What To Pack For a Beach Trip: In the room items for after your day on the beach.
In addition to your suitcase full of fun vacation outfits, you will want to include these items.
Aloe vera. Especially if you burn. Another tip and great option is to keep the aloe in your room refrigerator. First take a shower with as cold water as you can stand. Then pat dry and apply the cool aloe. Instantly lowers your body temperature from the sunburn.
Toiletry bag including toothbrush, toothpaste, face and skin creams, shampoo, conditioner, body wash, brush/comb, birth control if needed, shaving supplies, etc. Be sure to print out the comprehensive beach packing list I've provided below. I use a travel toiletry bag that I keep packed.
Phone charger. You know you are going to use that phone so be sure it is charged at all times.
Whether your day includes a casual dinner or evening wear for the restaurant you have been dying to go to, you will also have the perfect time by being prepared.
Get your packing list here: Beach Vacation Packing List
Enjoy your next beach vacation!
p.s. My affiliate links are in this article. If you purchase something using one of these links, I will receive a small commission that in no way affects the price you pay. That supports this site and I say a great big THANK YOU.
Upcoming Trip?
I like to use Booking for booking not only my hotels, but my tickets and rental cars as well. Makes life so much easier with only having to log into one location for my information.
Be sure to grab my travel tips to save you time and money. You'll also be entered into the weekly drawings.
Register here: Get 100 Travel Tips EVERY traveler should know PLUS entered into the weekly drawing.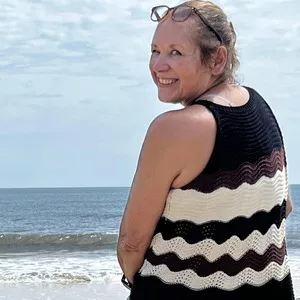 About Denise
Denise Sanger lives a life split between her love for fitness and her passion for travel particularly to the BEACH. Denise also has a love of marketing and lives in beautiful Suwannee County, Florida. You can find out more about Denise here: About Denise