2023 Florida Travel Statistics: What You Need to Know & When To Visit
This article may contain affiliate links. Whenever you buy something through one of these links, I may earn a small commission without any cost to you. I really appreciate it as it supports this site and my family. Thank you!
Florida. The land of sunshine, white beaches, blue waters and so much more. I have never regretted our move to Florida way from Ohio back in the 90s. But the latest Florida travel statistics have me shaking my head.
What I can tell you though, is many cities in the Sunshine State are packed. And people continue to pour into the state every single day.
With the average home price to purchase over $400,000, it is still significantly less than other tourist destinations. The median in Hawaii over $750,000 and in California at $708,000.
Florida however as much as I love it, may have a lower cost of living, but salaries are lower as well. Makes me wonder how those in the hospitality industry will ever be able to own a home to stay in our state.
Thank you for reading this post. Don't forget to subscribe! This way you never miss an update, travel deals, discounts and more!! Subscribe to the right------>
As far as retirees, the cost is high there as well. The lucky ones sell their homes prior to moving to Florida and hopefully make enough money to purchase a new one. Or at least have a good down payment to keep the mortgage reasonable.
The other side of the coin. Rentals. The monthly cost to rent apartments, condos, homes and more have soared in recent years.
In many areas, you cannot touch a tiny studio apartment for under $1500. Makes you appreciate how folks in New York City live.
So how does this affect beach vacations or any Florida vacation? The costs there are also higher than they have been in many years.
Groceries are up as much as 19% in South Florida compared to the average in other major cities in the United States. Yet in many destinations like on the Panhandle, the cost is actually lower.
When groceries rise, costs at restaurants, bars, etc. also rise. That means your vacation will cost more.
So what should you do? Be very selective on where you book your Florida vacation. Actually ANY vacation destination right now.
The information below is packed with the latest regarding travel trends, popular spots, and statistics about the Sunshine State. Prepare for your journey and make sure you get the most out of your adventure!
Where did I get this data? The Cost of Living Index published by the Council for Community and Economic Research (C2ER).
Keep in mind, this information is changing constantly. Let's break it down further.
Analyze Florida Travel Statistics and Visitors
With tourism numbers on the rise as we continue to recover from the pandemic shut-down, it's important to stay up-to-date on Florida travel statistics.
Knowing visitation trends throughout the year can help you more effectively plan not only your Florida vacation but all your out-of-state trips.
Keep in mind that certain areas of Florida may have different peaks in visitation during different months. Orlando for example tends to peak when schools are not in session. That is the time families travel.
When it's winter, here in Florida, we see a lot of northern state license plates as well as Canada. Snowbirds arriving to wait the winter months.
Additionally, some resorts and tourist spots may tend to draw bigger crowds than others, so be sure to figure out which ones are likely to give you the best experience.
Explore International Tourism Trends.
While domestic travelers make up the majority of visitors in Florida, international tourists also account for a large portion of overall travel numbers.
International travelers tend to spend more than domestic tourists, so it's important to be aware of global tourism trends that could affect your trip planning decisions.
For example, looking at previous years' travel statistics can help you identify which countries may be more likely to visit during certain months or times of year and what attractions they tend to prefer.
Last year, 7.02 million overseas visitors came to Florida. That was up 73% from 2021. So far for 2023, that figure is tracking even higher.
International tourists tend to visit heaving in the winter through Spring Break. And in droves.
On the other hand, the Panhandle gets hit hard during the summer months as US tourism from the Midwest through the Southern states of Kentucky, Tennessee, and Alabama arrive for their beach vacations.
Keeping these trends in mind as part of your overall research can help you better plan an enjoyable and productive time away from home.
Investigate Florida Travel Statistics For Popular Destinations.
Knowing where in Florida is popular with travelers can help you hone your plans. Miami, Orlando and the surrounding areas plus Tampa are all destinations to investigate further.
Look up statistics on tourist numbers for all these areas, as well as info about peak travel times. This can often significantly affect the cost of accommodation and availability of tickets.
Explore what types of activities or events draw visitors to these destinations as doing this can help you choose in which part of Florida you will find the most enjoyment.

Watch Trends in Travel and Technology.
Technology continues to evolve and inform tourism trends. With the rise of big data, many researchers now have access to larger and more in-depth information about tourist attractions, routes, and methods of travel.
This information can significantly change and shape where travelers choose to go. In Florida, new technology can be particularly helpful in planning a successful trip for you.
Keep your eye out for apps and other tools that help you determine peak travel times for where you want to go on vacation.
As an example, if Disney World Orlando is on your vacation list, Undercover Tourist has a free app that informs you not only of peak visit times but also park information including ride wait times. You can get it here: Disney App Undercover Tourist
Estimate Growth Projections for 2023 and Beyond.
According to estimates from Visit Florida, the official tourism marketing organization for the Sunshine State, tourism in 2023 is expected to continue a slow but steady recovery that began in 2022.
By the end of 2023, Florida is projected to welcome 114 million visitors. This is an increase of nearly 10% from 2021.
Spending from these visits is expected to reach $114.2 billion. That is an 8% increase from 2021 and near pre-pandemic levels. All good signs of continual recovery.
Caution About Driving
One more quick note for those that choose to take a road trip into our beautiful state. You may have read about the terrible drivers in Florida.
There is much more to that than just "Florida" drivers being terrible. And I'm not picking on anyone in particular.
These drivers, although they may have Florida tags on their cars, could be out of the country visitors. Florida's rental cars have Florida license plates.
Oh my gosh! You would not believe some of the things I have witnessed. Right hand turns off the freeway from the LEFT lane.
Or how about traffic signals being by choice. Don't feel like sitting at the light? Run through it.
But my personal favorite? The guy that parks in the left, high speed lane of the highways especially I-75 going maybe 55 mph.
Dude. That is not your personal lane. That is the passing lane.
One other thing to note. Trucks are not allowed in that left lane. Cars only. Unfortunately, you will many trucks in that lane that proceeds to back up the freeway for miles.
It's only a matter of time until FHP gets the offenders. Be aware and be careful.
Upcoming Trip?
I like to use Booking for booking not only my hotels, but my tickets and rental cars as well. Makes life so much easier with only having to log into one location for my information.
Be sure to grab my travel tips to save you time and money. You'll also be entered into the weekly drawings.
Register here: Get 100 Travel Tips EVERY traveler should know PLUS entered into the weekly drawing.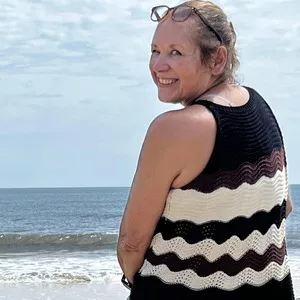 About Denise
Denise Sanger lives a life split between her love for fitness and her passion for travel particularly to the BEACH. Denise also has a love of marketing and lives in beautiful Suwannee County, Florida. You can find out more about Denise here: About Denise