Ultimate Cocoa Beach Florida Vacation Guide & Attractions
This article may contain affiliate links. Whenever you buy something through one of these links, I may earn a small commission without any cost to you. I really appreciate it as it supports this site and my family. Thank you!
Considering a Cocoa Beach Florida vacation? It is definitely one of the best places in the Sunshine State for a getaway. The Cocoa Beach area has a more small-town vibe than other nearby beaches.
I did write an article about this fun town a few years ago but it was time for an update. So here you go!
A short drive from Orlando, Disney, and Universal Studio. Cocoa Beach is about hour's drive east of Orlando which gives you easy access from nearby Orlando Airports. 
Not enough time to read the whole article? Bookmark it and check here for current rates and availability: Top Cocoa Beach Hotels
Thank you for reading this post. Don't forget to subscribe! This way you never miss an update, travel deals, discounts and more!! Subscribe to the right------>
The beach is known for its warm weather, soft white sand, and crystal clear waters. It's also home to the Kennedy Space Center, Canaveral National Seashore, and Port Canaveral which offers miles of undeveloped coastline and pristine beaches.
Cocoa Beach is a fantastic place for those who surf. Or those who want to learn. Enjoy a surf lesson, then browse the many surf shops for your new water activity. The iconic Ron Jon Surf Shop is located within walking distance of the beach.
The world's largest surf shop is a popular choice not only for surfers but the entire family. Yes, they have surfboards, but they also have clothing and swimwear for the entire family as well as home decor, toys, shoes, and more.
History buff? You, too, will love Cocoa Beach and its many historic sites. Historic downtown Cocoa Beach was the place to visit in the 50s and 60s.
Today you can enjoy great shopping, restaurants, and antique stores as you enjoy a short walk down the tree-lined streets. Just one of many reasons Cocoa Beach is one of my favorite destinations.
Exploring Cocoa Beach
There are so many things to see and do in Cocoa Beach. From nature preserves to museums to fantastic resorts, it's a great choice not only for a family vacation but a romantic getaway.
Canaveral National Seashore
This portion of the state is actually the largest undeveloped Atlantic Coastline in Florida. Beautiful barrier island with plenty to explore.
Dune, hammock, and lagoon habitats provide homes to many animals including sea turtles, manatees, dolphins, and birds use the estuary as their source for food, shelter, breeding, and nesting shorebirds.
Ready to explore this beautiful area? Below is the ultimate list of fun things to do in Cocoa Beach on vacation.
Fish, kayak, hike, swim, fish and more. Plenty of things to do on a family vacation.
Cape Canaveral.
The last time I visited, I took my mom to the Kennedy Space Center Visitor Complex, and she had a great time. You can actually see the rocket launches from several areas of the city and beach.
We were able to see the actual Space Shuttle Atlantis, the launch pads for SpaceX, and learned about space exploration and the history of Port Canaveral.
Truthfully? We needed more time to see it all. You can read about our adventure learning about space travel here: Infinity And Beyond At Kennedy Space Center.
Merritt Island
In addition to serving as a home for NASA's Kennedy Space Center, this island is also home to a 140,000-acre nature sanctuary, Merritt Island National Wildlife Refuge.
Coastal dunes, saltwater marshes, managed impoundment, scrub, pine flatwoods, and hardwood hammocks provide homes for 1,500 species of plants, animals and seabirds some of which are endangered.
When we visited and were touring the island, we were able to see the bald eagles. The nest way up in the tree, was easily visible by the eye.
Check here for current rates and availability: Top Cocoa Beach Hotels
Hike a nature trail in the refuge or bike one of the longer trails. Prefer to kayak? You can that also in the refuge.
This is considered an easy paddle, but portions are tidal. The upper Indian River Lagoon also offers bioluminescence trips. A kayaking tour may be best to help you navigate including some areas with shallow waters.
Historic Cocoa Village
A trip to the historic Cocoa Village will take you back in time! With its charming streets, century-old buildings, and unique shops. Truly a special place is an essential stop for history buffs and those who appreciate historic homes and buildings.
Ron Jon Surf Shop
This is such a cool store to explore and the perfect place not only for those who surf but those of us who love the beach.
It's one of my must stop shops when I see one whether it's this one in Cocoa Beach or another one such as Panama City Beach. The largest surf shop with over 52,000 square feet to explore. T-shirts, surfboards, and free parking!
Want to learn how to surf? The Ron Jon Surf School offers surf lessons all year long.
Exploration Tower
Located at Port Canaveral, this is one spot you need to be sure to visit. (The tower is currently closed with estimated reopening in Spring 2023.)
The tower has 7 floors waiting for you to explore. From the gift shop and restaurant on the first floor through floor seven with an outdoor observation deck, you will be able to see the beach and more of Brevard County.
Banana River Aquatic Preserve
This preserve is located in north central Brevard County. This preserve is one of the best places in Florida to kayak in bioluminescent waters.
Kayakers love this area but if you are not experienced or prefer not to venture out alone, you can opt for a kayak tour or tour guide. The best time to see the bioluminescence is May through October.
The preserve is also an important habitat for manatees, pelicans, alligators and diamondback terrapin turtles. The ideal place for nature lovers.
Dinosaur Store
Even if you don't like dinosaurs, you will enjoy this stop. 20,000 square feet, the Museum of Dinosaurs and Ancient Cultures has hundreds of artifacts and fossils from around the world.
In addition to the museum, there is also a hands-on interactive exhibits Adventure Zone making this a great spot for the whole family to enjoy.
Westgate Cocoa Beach Pier
This historic Cocoa Beach landmark stretches over 800 feet into the Atlantic Ocean and is home to delicious local restaurants, bars, gift shops and live music.
You will also find volleyball courts, outdoor showers, and lifeguards on the beach. Be sure to stop in at Rikki Tiki Tavern and enjoy a beach cocktail while overlooking the water.
Perfect place to stop for happy hour after strolling down the Cocoa Beach boardwalk.
Liberty Bell Museum
Located in nearby Melbourne, is the Liberty Bell Museum. The museum is free but be sure to call first as often it is not open.
Cocoa Beach Beaches
Lori Wilson Park
Situated at the south end of Cocoa Beach, this beach has plenty of room to relax and enjoy.
Whether you're looking for a place to sunbathe or take part in some fun activities such as volleyball, jet-skiing, or even skim-boarding, Lori Wilson Park is sure to provide an unforgettable experience.
Check here for current rates and availability: Top Cocoa Beach Hotels
The park also includes a nature center and two fishing piers that are perfect for those who want to get out on the water and catch some fish. 
Canaveral National Seashore
A must-visit spot when visiting Cocoa Beach, the Canaveral National Seashore is a barrier island that offers miles of pristine, undeveloped beach. In addition to its stunning beauty, the national seashore also offers opportunities for bird-watching and other wildlife viewing. 
Cape Canaveral is home to an abundance of wildlife, including three native species of sea turtles: the loggerhead, the leatherback, and the green turtle. Cape Canaveral Air Force Station is located here as well with six launch towers and the original mission control. Super cool to see!
Alan Shepard Park Beach
For those looking for a more secluded beach experience, Shepard Park Beach is the perfect spot! With its quiet atmosphere and uncrowded shoreline, it's easy to relax and unwind here.
There are also plenty of nearby restaurants and shops if you get hungry or want to do some shopping. The City of Cocoa Beach maintains this popular ocean-front park, and it's a great place for families as well as nature lovers.
Playalinda Beach Florida
This beach is also a great spot to check out if you're looking for something a little different. Located on the space coast, this beach is known for its wildlife viewing opportunities, as well as its miles of undeveloped coastline.
Whether you want to relax and enjoy the views or participate in some outdoor activities like walking a nature trail, Playalinda Beach Florida has something for everyone! 
Robert P. Murkshe Memorial Park
Located near Cape Canaveral on Florida's Space Coast this beautiful beach is located in a 7-acre park. It is very well known for its pristine coastline. White sandy beaches with plenty of activities and water sports to enjoy.
An easy day trip from Disney World, Universal Studios and other theme parks Orlando is known for. Get the kids away from the gift shops and let them explore the Atlantic Coast in this beautiful beach park.
Cherie Down Park
This park is another beautiful beach with plenty of things to do to keep the kids busy. It, too, is maintained by the city of Cocoa Beach.
Pavilions are available on a first-come basis. Picnic areas and a parking lot with free parking near the beach make it ADA-friendly as well.
Sidney Fisher Park
Located on the Atlantic Ocean side of the Sunshine State is Sidney Fisher Park. This 10-acre oceanfront park has picnic pavilions, picnic tables, showers, and restrooms as well as 200 parking spaces. There is a fee however for this parking lot of $15.
Westgate Cocoa Beach Pier
This historic beach pier was built in the early 60s and stretches 800 feet over the Atlantic Ocean. Be sure to visit the retail shops and local restaurants after you enjoy your walk on the pier.
Where To Stay In Cocoa Beach?
My choice is always a condo or cottage on the beach and there are plenty of those to choose from. Check out the options here: Cocoa Beach Vacation Rentals
There are also several hotels to choose from including chain hotels, pet-friendly vacation rentals, vacation homes on the beach, resorts to smaller beachside motels. 
Check here for current rates and availability: Top Cocoa Beach Hotels
For me, it's all about being on the beach especially seeing a Florida spectacular sunrise. This quintessential beach town has it all.  I have provided information below to help you find your perfect vacation spot.
Where To Eat?
The beachside bars and grills are my favorites. I love to see the water. There are also some fantastic restaurants and more also on the pier as well.
Seafood, steak, casual or fine dining, the choices are unlimited. Check the list below for your favorite!
Hopefully after reading this updated article, you'll want to make a stop and check out Cocoa Beach. It truly is a retro vibe beach town with out of this world fun for everyone.
These links will help you plan your perfect Cocoa Beach getaway:
Upcoming Trip?
I like to use Booking for booking not only my hotels, but my tickets and rental cars as well. Makes life so much easier with only having to log into one location for my information.
Be sure to grab my travel tips to save you time and money. You'll also be entered into the weekly drawings.
Register here: Get 100 Travel Tips EVERY traveler should know PLUS entered into the weekly drawing.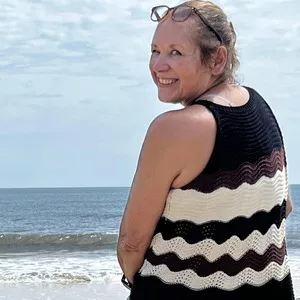 About Denise
Denise Sanger lives a life split between her love for fitness and her passion for travel particularly to the BEACH. Denise also has a love of marketing and lives in beautiful Suwannee County, Florida. You can find out more about Denise here: About Denise