Best Dixie County Florida Beaches
This article may contain affiliate links. Whenever you buy something through one of these links, I may earn a small commission without any cost to you. I really appreciate it as it supports this site and my family. Thank you!
Best Dixie County Florida Beaches
What do you think when you read Dixie County? Thinking that sounds like a place that does NOT have beaches? Don't let that stop you from visiting. This is one of my favorite places in Florida to spend time at. Let's explore a few of the best Dixie County Florida beaches.
From Horseshoe Beach to Shired Island Beach to Steinhatchee. There are quite a few beautiful beaches to visit on this part of the Florida Gulf of Mexico.
Dixie County was created from the southern portion of Lafayette County in 1921. The name Dixie references the southern designation.
This area and Taylor County provides some of the best saltwater fishing in the United States.
Thank you for reading this post. Don't forget to subscribe! This way you never miss an update, travel deals, discounts and more!! Subscribe to the right------>
Also, Steinhatchee and nearby Hagen's Cove are well-known during scalloping season. At Hagen's Cove, you can literally walk out for miles from shore.
You will also find some of the most scenic views on the Gulf. You may spot shrimp boats on the water and see some of the most beautiful sunsets.
Horseshoe Beach
The town of Horseshoe Beach is one of the coastal communities in the county. Small and quiet, you will find this quaint town at the end of Dixie County Highway 351.
Make sure you have plenty of gas before venturing down the road because you won't find a gas station. This area was first settled in the 1800s. C.C. Douglas and Burton Butler purchased the land and offered each lot that a resident squatter was living on for $10.
Horseshoe Beach sits in the middle of Florida's Big Bend area. Halfway between the Suwannee River and the Steinhatchee River on the Gulf Coast.
It is quite remote but a friendly fishing village nonetheless. However, if you are looking for white sand beaches, you will not find them at this beach. 
Now if fishing is your thing, you are in the right place. There is even a tackle shop right at the beach.
Although this town has become more populated, it is still a fishing and boating community at heart. This area is part of the Big Bend paddling trail and well-loved by those that kayak and canoe.
Accommodations may be found in nearby Cross City. A favorite is Putnam Lodge which proudly displays a sign that reads "where good folks come to meet."
Old Town, about 10 miles or so from Cross City, is one of those places that will have you thinking you are in the deep south. In this old Florida town, you will find the Nature Coast State Trail that used to be a railroad line.
The Nature Coast State Trail is a favorite of hikers and bikers and is also near Fanning Springs and Manatee Springs. This trail is part of the Andrews Wildlife Management Area.
If hiking is your thing, and you are not afraid of being out in no man's land, the Dixie Mainline Trail must be on your list. This is one of the most remote trails along the coastline of Dixie County.
Shired Island Beach
Shired Island Beach is in a secluded area of the Florida Gulf. Part of the Lower Suwannee National Wildlife Refuge at first glance it doesn't appear to offer much. But that would be wrong.
Shired Island Beach is a great place for wildlife viewing and walking along the shoreline. I was lucky enough to not only see dolphins in the water but also several bald eagles overhead.
There is also a campground located on this beach. But do not try to make reservations. It is first come, first served. RV hookups, tent camping, picnic tables and even a fishing pier.
This waterfront park is very laid back but also one of the best places for star gazing. Right around the corner from the park is one of the county boat ramps for easy launching.
Fishbone Creek
If you are staying at Shired Island or nearby Horseshoe Beach and have your kayak, you will want to launch at Fishbone Creek. This creek will take you to Horseshoe Cove.
A beautiful paddle through salt marsh and open water that will take you to the grassy shore of hammock island. Watch dolphins play, mullet, egrets and more as you enjoy the paddle. 
Salt Creek
If you are looking for natural Florida, you will find it in Salt Creek. Salt Creek is in the town of Suwannee and also part of the Lower Suwannee National Wildlife Refuge. 
Fishing is the main attraction, but you will also find some pretty good options for restaurants featuring local seafood.
Definitely off the beaten path and unlike any Florida beach you may have seen before, Dixie County is a must-visit for a taste of Old Florida.
For assistance planning a vacation to Old Town and Dixie County, I recommend TripAdvisor.
Planning any vacations or trips? Definitely grab this: 100 Travel Tips EVERY traveler should know Save time and money 😉
Upcoming Trip?
I like to use Booking for booking not only my hotels, but my tickets and rental cars as well. Makes life so much easier with only having to log into one location for my information.
Be sure to grab my travel tips to save you time and money. You'll also be entered into the weekly drawings.
Register here: Get 100 Travel Tips EVERY traveler should know PLUS entered into the weekly drawing.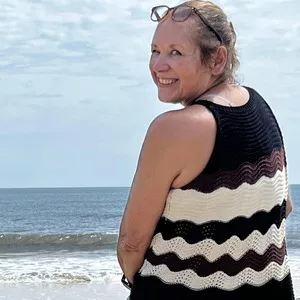 About Denise
Denise Sanger lives a life split between her love for fitness and her passion for travel particularly to the BEACH. Denise also has a love of marketing and lives in beautiful Suwannee County, Florida. You can find out more about Denise here: About Denise