Florida Gulf Coast vs Atlantic Beaches: Which is better for a beach vacation?
This article may contain affiliate links. Whenever you buy something through one of these links, I may earn a small commission without any cost to you. I really appreciate it as it supports this site and my family. Thank you!
Florida Gulf vs Atlantic Beaches: Which is better for a beach vacation?
Hmm. Gulf of Mexico Coast of Florida? Or the Atlantic Ocean side of the state? Florida Gulf vs Atlantic Beaches? Decisions. Decisions. Panama City Beach? Or Daytona Beach?
Which is better for a beach vacation? I think all Florida beaches are beautiful beaches.
You know your girl loves all beaches equally. I am an equal opportunity beach lover. But is there one side that's better than the other?
The answer? Both Florida Gulf vs Atlantic Beaches have their pros and cons, so it really depends on what you're looking for. Probably not the answer you wanted to read right?
Thank you for reading this post. Don't forget to subscribe! This way you never miss an update, travel deals, discounts and more!! Subscribe to the right------>
I am going to try to help you fellow beach lover. First we will break down what there is to love about the Atlantic side of the state. Then we will do the same for Florida's Gulf Coast.
Florida's Atlantic Coast has some of the best beaches in the world. Here are just a few of the best beaches on the East Coast of Florida:
Miami Beach. Ah, welcome to Miami. The city many celebrities call home. Soft sand. Lots of water activities. Exciting nightlife. South Beach. But you will also find quiet beaches in Miami if that is what you prefer.
Fort Lauderdale Beach. I absolutely love this part of the southeast corner of the state. Easy access to the beach. Great restaurants. It's one of the most popular destinations in Florida especially during the summer months.
Daytona Beach. Many movies have been made right on Daytona Beach. It is one of the few beaches that you are able to still drive your vehicle on for a day of fun in the sun.
Cocoa Beach. West of Orlando in central Florida, this part of the Florida coast is known for surfing, boogie boarding and other fun water sports. Palm trees welcome as you drive west toward the coastline.
Vero Beach. This beautiful beach in the sunshine state is a popular spot for its peaceful beaches, museums, and many spots that nature lovers can't wait to explore.
A few more popular Atlantic beaches to spend a beach day visiting are West Palm Beach, New Smyrna Beach (shark capital of the USA), Ormond Beach, Jacksonville Beach, Ponte Vedra Beach, and Amelia Island.
Florida's east coast beaches are definitely worth a visit if you're looking for warm weather, crystal clear water, and some of the best views in the country. From Daytona Beach to Miami Beach, there's something for everyone from nature lovers to shell seekers to sea turtles to great entertainment on this stretch of coastline.
My top three reasons why Florida's east coast beaches should be at the top of your travel list? Here you go:
1) The Beaches! Of course, you knew I was going to write that first, didn't you?  Obviously, one of the biggest attractions on Florida's east coast are the pristine beaches. Beautiful sand and blue waters, these are some of the most beautiful beaches in the world. 
2) The Weather: another big draw is the amazing weather. Year-round moderate temperatures in the 70s and 80s in the southeastern part of the state make it a perfect place to escape during winter months. Visiting during summer? Keep an eye on hurricane season which is from May through October.
3) Water sports. If you love to be in the water surfing, boogie boarding, kayaking and more, you will probably prefer the beaches of Florida's east coast. There are bigger waves on this side of the state.
Now, let's take a look at the beautiful white sand beaches on the Gulf coast side of Florida. I have to admit, I am partial to Gulf beaches. Here are my top picks:
On the Emerald Coast, you will find some of the most gorgeous beaches.
Panama City Beach. Of course, right? This popular spot on the panhandle has been my number one beach destination for over 20 years. The warm water in the summer along with white sand beaches does me in every time. I can never wait to go back.
Fort Walton Beach. Also on the Panhandle, this is a popular spot with shallow water and soft sands to walk on. The calmer waters and warmer water temperature in the summer makes this one of the best places to take young kids.
St. Petersburg. Moving south down the west coast, brings us to St. Pete. Let me tell you these beaches are absolutely gorgeous not only during the summer months but all year long. Located in the central part of the Sunshine state on the Gulf Coast side near Tampa and Clearwater.
Also near St. Pete, you will find Treasure Island. No not the Vegas Treasure Island but a barrier island with great restaurants, sand dunes, crystal clear water and so much more. It's also the perfect place for a romantic getaway.
Siesta Key Beach. This is one of the most popular beaches not only in Florida but in the USA. And for good reason too. This barrier island is off the coast of beautiful Sarasota. Definitely one of the best beaches to enjoy a beach day.
Sanibel Island. As we continue down the coast we come to one of my favorite areas in Florida. The southwest area. So many beautiful beaches in the area, but my top pick is Sanibel Island and nearby Captiva Island.  Iconic beaches, warm gulf water, it's always a great time to visit no matter what time of year it is.
Fort Myers Beach. Beautiful soft sands continue on in this beach on the Gulf Side. This beach is known for its white sands, out of this world sunsets, great restaurants and a small old Florida town vibe.
My top three reasons why Florida's Gulf Coast beaches should be at the top of your travel list? Here you go:
The beaches! There is nothing better than white sugar sand beaches to walk on.
The water. Love the turquoise clear warm waters of the Gulf.
Activities. Whether you are looking for seashells, fishing, or snorkeling, you will quickly see why this part of the state is my go to.
This or that:
Florida's Gulf Coast is known for its crystal clear waters, white sand beaches, and lush vegetation.
If you are looking for a quieter beach vacation, the Gulf is where you want to visit. Less crowded and more secluded.
Nature lover? Again the west side of the state is brimming with places to explore.
If you prefer:
If you are a history buff? The Atlantic Coast of the continental United States, is known for its historical towns, seafood, and more. Florida's eastern coast is at the top of the list.
Like to party? You would probably prefer the Atlantic side with the larger cities such as Miami, Fort Lauderdale, Cocoa Beach, St. Augustine and Jacksonville.
And then again? You may want an on the go Florida beach vacation one time and the next visit prefer to relax and unwind. You can do both. That's what I do 😉
Which side is your favorite? Florida Gulf vs Atlantic Beaches? Let me know! For help planning your beach vacation, grab my list of 190+ beaches in Florida.
Ready to plan your vacation? I love & use TripAdvisor.
Upcoming Trip?
I like to use Booking for booking not only my hotels, but my tickets and rental cars as well. Makes life so much easier with only having to log into one location for my information.
Be sure to grab my travel tips to save you time and money. You'll also be entered into the weekly drawings.
Register here: Get 100 Travel Tips EVERY traveler should know PLUS entered into the weekly drawing.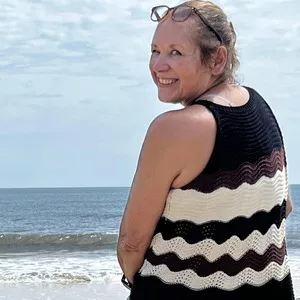 About Denise
Denise Sanger lives a life split between her love for fitness and her passion for travel particularly to the BEACH. Denise also has a love of marketing and lives in beautiful Suwannee County, Florida. You can find out more about Denise here: About Denise