The Best Dog Friendly Beaches In Florida For Fun
This article may contain affiliate links. Whenever you buy something through one of these links, I may earn a small commission without any cost to you. I really appreciate it as it supports this site and my family. Thank you!
A dog's best friend is you AND the beach, and you will find some of the best dog friendly beaches in Florida. Your four-legged friends will be in the car before you are when they know it's beach time.
Dog beaches are a great places to burn off energy. Many beaches also have a nature trail, picnic areas, and free parking. Others have a fenced area just for the dogs to play off leash.
But before we get into the best dog-friendly beaches in Florida, there are a few things you need to know.
I am sorry, but I have witnessed first-hand irresponsible dog owners on the beach with their dogs. Mid-summer in the afternoon when it is too hot is not the time to take your fur friend to the beach.
Thank you for reading this post. Don't forget to subscribe! This way you never miss an update, travel deals, discounts and more!! Subscribe to the right------>
Matter of fact in Jacksonville, they have laws stating that dogs have to be off the beach by a certain time. Why we have to tell you it's too hot for dogs is beyond me but there you have it.
Thank goodness, most of us are responsible dog owners. I am not speaking to those that are.
But keeping in mind the few simple things below will keep your furry friend safe and happy while also keeping the best beaches open for dogs to frolic and play.
Be sure to always clean up after your dog to maintain these beautiful pristine beaches of Florida. Many beaches do not offer doggie bags so also be sure to have with you.
In addition, trash cans should be should always be used for pet wasted. Do not bury pet poop on the beach.
Sea turtles as well as other shore animals and birds call our beaches home. We must protect them at all times.
Dog Safety On The Beach
First, make sure that the beach you plan to go to allows dogs. Not all beaches allow dog access so be sure to check. If you are in Florida, below are the beaches at the time of this writing that you can take your fur friend with you.
Always bring plenty of water, treats and a collapsible bowl for your pup to stay hydrated. Salt water is a no no for dogs. You need to stay hydrated as well.
Be sure to check the weather before you leave. Too hot or humid do not take your dog as they can overheat very quickly.
Plan ahead. Bring toys, bags for picking up waste, and a blanket or towel to rest on. Also check for leash laws and if your dog is off leash, keep him/her in sight at all times. You would not believe the number of dogs I have seen alone in a beach parking lot, no owner to be found.
Now that we have that covered, let's talk about the beaches!
I have broken the list down by location in the state of Florida starting with the northeast, working down the Atlantic Coast to the Florida Keys then up the Gulf of Mexico into the Panhandle.
This is a work in progress and I will be adding more dog friendly beaches so be sure to bookmark this page.
Dog Friendly Beaches Northeast Florida
Jacksonville Dog Friendly Beaches
Dog Wood Park. Located in Jacksonville's Mandarin area, Dog Wood Park offers dog owners a beach and parkland to keep their furry friends entertained.
The dog beach is on a freshwater lake and is open from sunrise to sunset. It fenced-in dog beaches on the lake one for big dogs and one for smaller dogs.
Shade tents, picnic tables, waste bags, dog showers, irrigation system for clean sand, agility course complete with obstacles like tunnels and ramps and even a nature trail.
Truly a great place in Jax that your pup will not want to leave.
Huguenot Memorial Dog Beach. This park used to have access for dogs on the beach, but I am getting mixed information. Check before you go.
Dogs can be in this park on the St Johns River which offers beautiful views that are perfect for any pet lover looking to spend time outdoors with four legged family members.
Kathryn Abbey Hanna Park Dog Beach & Off Leash Area. I love this park on the water. Great option for pets but they do have an entrance fee.
Kathryn Abbey Hanna has over 500 acres of recreational areas that include a dedicated doggy swim zone as well as bike paths, trails and more. One of the best places to take your dog.
Other dog beach options are these Jacksonville Beach locations:
Atlantic Beach Dogs can swim unleashed with their owner but must be on-leash on the beach.
Neptune Beach, Jacksonville Beach, Mickler's Landing, Ponte Vedra Beach. Dogs are permitted any hour from October 1–March 31, but hours restricted during the hot summer months.
Mayport Beach Naval Air Station does require dogs be leashed at all times.
St. Augustine Dog Friendly Beaches
Vilano Beach Dog Park. This is one of the most popular beaches located on the northeast side of St. Augustine and just north of Vilano Beach.
The dog beach is located in a dog park that covers two acres and includes dog toys, shade trees, chairs for owners, plenty of open land to explore and more.
Crescent Beach Dog Park. This dog beach has soft white sand and is located on A1A. Near Anastasia Island, allows off-leash access to over half a mile of white sand beaches as well as pet-friendly amenities such as benches and water fountains for dogs.
Frank B. Butler County Park. Located about 12 miles south from downtown St Augustine known to locals simply as Butler Beach. This dog beach offers free access, free parking, showers and more.
St. Augustine Beach. The main beach in St. Augustine. This is really one of the best dog friendly beaches in the sunshine state. Restrooms, picnic tables pavilions and lifeguards during season.
Anastasia State Park. Not only a great beach for the dogs, this is one of the prettiest state parks in Florida. Before hitting the beach, be sure you are on one that is dog friendly as not all areas of the beach allow dogs.
Matanzas Beach offers beautiful views of the Matanzas Inlet with easy access to the Intracoastal Waterways for boaters. This is also a great beach to take the puppies.
Flagler Beach including Mala Compra Road Beachfront Park, and North Flagler Beach should also be on the list. Dogs must be on leash but will enjoy playing in the soft sand.
There are quite a few dog friendly beaches in this area, but these are the top picks:
Smyrna Dunes Park Beach. This park has water on three sides, but dogs can only be in the riverfront and inlet.
When I was there, the dogs were having an absolute blast playing in the water. Plenty of room to explore and chase balls.
Lighthouse Point Park Beach. This is a great beach to take your dogs, but you must keep them on a six-foot leash.
Lot of shoreline to enjoy as well as views of the lighthouse. Also offers a nature trail you can explore with your dogs.
Indian River Lagoon Park Beach. This beach is south of New Smyrna Beach. Lots of water to enjoy, but you must keep your dogs leashed. Picnic area, restroom, and even a fishing pier.
Canova Beach Park is located in Indian Harbor Beach with restrooms, pavilions, swimming, fishing and a beach the whole family can enjoy including your four legged fur friends. Located on the Space Coast near Melbourne and about 20 minutes away from Cocoa Beach.
Canaveral National Seashore. This park allows dogs on the lagoon side but not on the beach. They can also be on the trails, paths and park roads but must be on leash at all times.
They used to allow dogs on the beach but stopped in the 80s due to dogs off leash running wild which resulted in many dog fights, and dogs biting humans.
In addition, they were causing issues with the protected wildlife. This is the irresponsible owner issue mentioned above.
Daytona Beach, Flagler Beaches And The Palm Coast Beach Area.
In addition to the beaches mentioned above in nearby New Smyrna Beach, you can take your dogs to the following dog-friendly beaches:
Bethune Beach Park is a popular park not only for dogs but families as well but dogs generally are not allowed on the beach.
They can be on the boardwalk and trails but must be leashed at all times. Watch for dolphins and manatees off the boardwalk.
Michael Crotty Bicentennial Park includes a fun swimming beach for dogs as well as watering stations, benches, shade trees and trails to explore.
Dog Friendly Beaches Southeast Florida
Jupiter Beach. This is probably the best dog beach in the southeast Florida region. No fee and dogs may be off leash but under owner's control at all times in the designated area.
Supported by the Friends of Jupiter Beach is a fantastic place for dogs as long as they are well-socialized. Friends of Jupiter Beach keeps this dog beach clean.
Hollywood Beach is definitely one of my favorites and is also near Fort Lauderdale. Add in that they offer a dog friendly even with restrictions is pretty amazing.
Dogs are allowed on the beach Friday, Saturday and Sunday evenings. Off-leash play is allowed, but there is an entry fee for non-residents.
Haulover Beach in Miami is another fantastic option in the Miami Beach area. Dogs can be off leash on this beach and there are two separate areas for dogs to play. One for large dogs and the other for smaller dogs.
There are a few more dog friendly beaches in this part of the state but unfortunately also many dog owner problems, so I am not adding them to this at this time.
Florida Keys Dog Beaches
There are actually quite a few dog friendly beaches in the Florida Keys.
Key West Dog Beach is located on the westernmost tip of Key West, this dog beach is an off-leash dog park but there are no restrooms, etc at this beach and it is a rocky beach.
Smathers Beach. This is one of the larger beaches located in Key West. Dogs may not be on the sandy part of the beach but can be walked on the sidewalk while you enjoy the Atlantic Ocean Views.
Bahia Honda State Park. On the Gulf side of the Keys, again dogs may not be on the beach but they can be on the trail on leash.
Coco Plum Beach in Marathon is a dog friendly beach. Enjoy walking your dogs on the beach then let them play in the shallow water even suitable for small dogs.
Southwest Florida including Fort Myers Beach, Sanibel Island (check before visiting due to hurricane damage)
Lee County Dog Beach is located in Fort Myers and is also known Bonita Beach Dog Park, is located along the edge of Lover's Key State Park in Fort Myers Beach, FL.
See Bonita Beach Dog Park to follow. Great off leash beach with calm, shallow water and waves.
Bonita Beach Dog Park is fairly new and quite nice. Offers three places for dogs to play. Small, medium and large dogs can play with the same size dogs in these areas. This beach is located in Bonita Springs near Fort Myers.
Gulfside City Park and Algiers Beach both located on Sanibel Island are dog friendly, but dogs must be on leash.
Again this area as of this writing is recovering from a hurricane. Please check before booking a beach vacation with your pooch in this area.
West Central Florida Dog Beaches
Siesta Key, one of the best Gulf Coast Beaches, but there are no dog friendly beaches here. There are, however, several near Sarasota County that allows dogs.
First to clarify the two DeSota names you may hear so be sure you are heading to the correct Fort De Soto Park
First one is Fort DeSota Dog Beach outside of St. Petersburg while the other is De Soto National Memorial Beach in Bradenton.
Fort DeSoto Dog Beach is located on the southernmost tip of Tierra Verde, near Paw Playground. This beach has been previously named one of the best dog beaches in the United States.
Two huge areas on the beach for dogs to explore. Dog cleanup bags are provided by the Friends of Fort De Soto through donations and membership fees.
De Sota National Memorial Beach is in Bradenton and you can take your dogs on the beach here also. But dogs must be on a leash at all times.
Brohard Paw Park is located in Venice has a fenced in play area that leads directly to the gulfside beach where dogs are allowed. Keep an eye on the signs to be sure you are in a beach area dogs are permitted.
Davis Island Dog Beach is located in Tampa and jhas a great fenced off area with a sandy beach for dogs to play and swim off leash. Picnic tables, parking and an area to rinse dogs off.
Honeymoon Island State Park is also dog friendly and dogs are allowed in the designated dog beach area at the southern end of the park. This park is located in Dunedin which is about an hour from downtown Tampa.
Port St. Joe and Cape San Blas Area Dog Friendly Beaches. There are actually quite a few dog friendly beaches in this area.
These include Salinas Park and Cape Palms Park. There are also many pet friendly businesses including hotels, restaurants and shops also here.
St. George Island Public Beaches: Just east of Apalachicola, St George Island offers two dog friendly beaches. East Gulf Beach and Dr Julian Bruce Park. Here dogs can go for a romp on the beach or take a dip in the surf off leash.
Dog Friendly Beaches In Florida On Panhandle
Moving north along the Gulf Coast to the Florida Panhandle which also offers several dog-friendly beach options for you to enjoy with your pooch.
Folks have heard that St. Andrew's State Park is not only beautiful but allows dogs on the beach. That is not true.
This state park located near Panama City Beach but does not allow dogs on the beach, but you can have dogs in the park on a leash.
Dog Beach At Pier Park in Panama City Beach is the perfect place and pet friendly.
On the right side of the pier, dogs may be on the beach but do need to be on leash.
Soft white sand and beautiful blue water for you and your fur friend to play and enjoy.
Navarre Beach. The only dog-friendly beach near Navarre Beach is about 20 miles away. It is Pensacola Beach East Dog Park and it is the east end of the park. Dogs must be on-leash at all times.
Santa Rosa County does have a few dog beach options. Grayton Beach, between PCB and Destin allows resident's dogs on the beach, and they must be on a leash at all times.
Nearby Miramar Beach also allows dogs on the beach in the evening only. Check current hours before heading to the beach.
Many say that Gulf Islands National Seashore does allow dogs. They do not. Dogs are allowed in the park but not on the beach.
When visiting dog friendly beaches in Florida or any state with your fur friends be sure to always be in control of your dog at all times. The best time to take your dog to the beach is early morning or later in the evening when they are not as crowded.
Some beaches have water stations but not all. Be prepared and have water and a water bowl in your bag as well as waste bags and anything else you may need. The go enjoy!
Upcoming Trip?
I like to use Booking for booking not only my hotels, but my tickets and rental cars as well. Makes life so much easier with only having to log into one location for my information.
Be sure to grab my travel tips to save you time and money. You'll also be entered into the weekly drawings.
Register here: Get 100 Travel Tips EVERY traveler should know PLUS entered into the weekly drawing.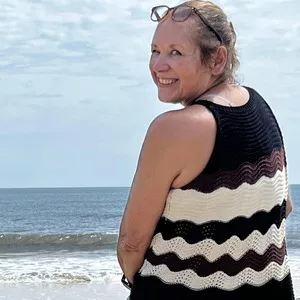 About Denise
Denise Sanger lives a life split between her love for fitness and her passion for travel particularly to the BEACH. Denise also has a love of marketing and lives in beautiful Suwannee County, Florida. You can find out more about Denise here: About Denise