Best West Central Florida Beaches for a memorable vacation.
This article may contain affiliate links. Whenever you buy something through one of these links, I may earn a small commission without any cost to you. I really appreciate it as it supports this site and my family. Thank you!
Best West Central Florida Beaches
Beautiful West Central Florida beaches located on the Gulf of Mexico are what amazing vacations are made of. No matter what area you plan to visit, you will find some of the most beautiful beaches in the world.
On Florida's Gulf Coast, you will find palm trees, white sand beaches and clear water. Whether you like to walk the miles of beaches in this part of the United States or prefer beautiful nature trails to see the local wildlife, you'll find what you are looking for here.
The most popular beaches on this part of the coast are Clearwater Beach and St. Pete Beach. Continue up the coastline on US 98 and you will find yourself in Panama City Beach or Pensacola Beach on the panhandle.
The Tampa Bay region is well known as one of the best places in Florida to vacation. Easy to get to with the St. Petersburg/Tampa International Airport nearby.
Thank you for reading this post. Don't forget to subscribe! This way you never miss an update, travel deals, discounts and more!! Subscribe to the right------>
Below are the best West Central Florida Beaches, and any would be the perfect place for a vacation:
Clearwater Beach
One of the prettiest beaches to visit is Clearwater Beach. This beach is a public beach for all to enjoy.
Beautiful white sugar sand and shallow waters makes this one of the best beaches for families to vacation. If you like to keep moving, be sure to enjoy the Beach Walk Promenade.
This beach has been voted favorite beach many times, so can be crowded. It is the only beach that provides lifeguards 365 days of the year. Another reason it is the perfect place for families.
St. Pete Beach
I absolutely love St. Pete Beach. Similar to Clearwater Beach but St. Pete beach is longer and narrower.
Water activities including stand up paddleboards, kiteboarding, windsurfing, and parasailing are all available to enjoy on this beach.
Love to fish? The perfect place to fish is the fishing pier at St. Pete Pier.
After a fun day on the beach, explore the more than 50 shops at John's Pass Village and Boardwalk.
Shopping, restaurants and more wait to be explored. Finish your stroll with a scoop of homemade ice cream.
Treasure Island
Treasure Island is a barrier island off the Gulf Coast. Crystal clear blue waters, white sugar sand beaches, plenty of restaurants and shopping makes this one of the area's most popular beaches.
Choose a hotel or a vacation rental right on the beach and start your morning with a cup of coffee, watching the world wake up. Enjoy water sports? You will have many options on this little island.
Watch for dolphins, manta rays and sea turtles from the shoreline. Looking for a quieter beach to relax? Sunset Vista Trailhead Park is a quieter portion of beach and perfect for watching the beautiful Gulf sunset.
Caladesi Island State Park
When you really want to get away, this is the place to go. Caladesi Island State Park is only available by boat.
This park is located on one of the few untouched islands in the Gulf of Mexico and a nature lovers paradise. Explore the island on the many nature trails available for walking or hiking.
You will find gopher tortoises, along with raccoons and snakes in this unique habitat. Enjoy the mangroves and watch for dolphins playing in the surf offshore.
Be sure to enjoy the beautiful beach with its small waves. Perfect place to swim.
There are clean restrooms and picnic tables along with a café for food or gifts. Or pack your lunch and bring it with you on the ferry.
Honeymoon Island State Park
Honeymoon Island State Park is one of the most popular state parks in Florida. Four miles of beach to explore and a beautiful three-mile trail through slash pines to hike.
Be sure to look up. Eagles, osprey and great horned owls soar through the beautiful blue skies Then watch for ground animals include gopher tortoises, raccoons and armadillos on the hiking trail.
You can also catch the ferry to Caladesi Island State Park from this untouched state park. Whether you like to beach comb, hike, bike, kayak or camp, you will find it on this island.
Sanibel Island
Sanibel Island is definitely a must-visit for beach lovers and seashell collectors. Sanibel Island and Captiva Island are both known for their low-key, quiet, beaches.
Shell beaches for miles of beach combing and J. N. "Ding" Darling National Wildlife Refuge make up most of the island. Bring a bucket and look for shells at low tide.
Before you leave the island be sure to visit the wildlife refuge. This refuge is part of the largest undeveloped mangrove ecosystem in the United States.
Look for bald eagles, gopher tortoises, white pelicans and other wildlife on the island. In the water, you will see dolphins, manatees, and sea turtles.
Be sure to follow the posted signs as nesting sea turtles are protected.
Marco Island
Marco Island is also a barrier island in the Gulf of Mexico. This island is linked to the coast by a bridge that connects it to Naples.
Enjoy the long, white sandy beach on the island's west coast. Beautiful resort hotels on the south side of the island.
Tigertail Beach Park has a tidal lagoon that is perfect for kayaking and paddleboarding. Walk out to the sandbar and look for shells and sand dollars.
If you love to be outdoors in nature, Marco Island will make the perfect place for you to vacation.
Anna Maria Island
Another absolutely beautiful barrier island on the Gulf Coast is Anna Maria Island. It used to be relatively unknown, but it did not take long for folks to learn about its sugar-white beach coastline, emerald green and blue Gulf waters.
There are many reasons to visit this spectacular island, from its scenic beaches to out of this world sunsets. Add in old world Florida charm and laid back friendly lifestyle, and you too will make this an annual visit.
Vacation rentals are available throughout the island. Even better? You will not need a car. Not only is this island walkable, there is a free trolley to hop on and off.
Egmont Key
One more island I want to mention is Egmont Key. On this island you will find Egmont Key State Park.
This secluded island is located at the mouth of Tampa Bay and known for saltwater fishing. A boat or ferry is the only way to get to this unspoiled island.
It is known for its wildlife refuge, but also for its secluded, pristine beaches.
Relax and collect shells, then be sure to visit the historic lighthouse also on the island.
History includes acting as a camp for captured Seminole Indians during the Third Seminole War, to later being occupied by the Union Navy during the Civil War.
In the late 1800s as the Spanish-American War threatened, Fort Dade was built on the island and remained active until 1923.
Note there is no drinkable water on this island, so you must bring it with you along with sunscreen and food.
This article focused on the best West Central Florida Beaches. Be sure to bookmark this page because a similar article for the best East Central Florida beaches.
This will include Daytona Beach, Cape Canaveral and Kennedy Space Center, and Cocoa Beach is almost complete.
Don't miss out! Sign up for my weekly drawings for beach gear, hotel vouchers and more. Twice a week, we select a lucky winner for a gift card, beach wear, Boho Beach Chic outfit and more. It's FREE. No purchase necessary. Register here: Enter to Win, then keep an eye on your emails!
Click here for help to planning your West Central Florida Beach Vacation
Upcoming Trip?
I like to use Booking for booking not only my hotels, but my tickets and rental cars as well. Makes life so much easier with only having to log into one location for my information.
Be sure to grab my travel tips to save you time and money. You'll also be entered into the weekly drawings.
Register here: Get 100 Travel Tips EVERY traveler should know PLUS entered into the weekly drawing.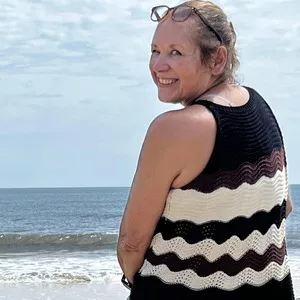 About Denise
Denise Sanger lives a life split between her love for fitness and her passion for travel particularly to the BEACH. Denise also has a love of marketing and lives in beautiful Suwannee County, Florida. You can find out more about Denise here: About Denise