Best Things To Do In Panama City Beach For Couples
This article may contain affiliate links. Whenever you buy something through one of these links, I may earn a small commission without any cost to you. I really appreciate it as it supports this site and my family. Thank you!
Thinking about taking a vacation to Panama City Beach on Florida's Panhandle? You will be happy you did because PCB is a great getaway destination. Even better? There are plenty of things to do in Panama City Beach for couples.
Panama City Beach is the perfect destination that offers couples plenty of romantic and fun activities. It is the one destination my husband and I return to each year for our anniversary.
Located on the Sunshine State's Panhandle, the emerald waters and beautiful white sandy beaches along the Gulf of Mexico invites you to sit and relax.
Don't have time to read the whole article? Check rates and availability on the best Panama City Beach resorts here: Top PCB Resorts For Couples
Thank you for reading this post. Don't forget to subscribe! This way you never miss an update, travel deals, discounts and more!! Subscribe to the right------>
From serene beach sunset strolls to exciting water sports like jet skis parasailing and more, below are 10 of the best things to do in Panama City Beach for couples. I've also pulled together a list of all articles to help you plan the perfect PCB vacation.
Below Are The Top Things To Do In Panama City Beach For Couples
Sunset Beach Walks
Is there anything more romantic than strolling along the beach, holding hands as you watch the sun set into the Gulf. A Panama City Beach Sunset looks like a painting only God could create. The sky turns into a canvas of vibrant hues, creating a stunning backdrop for romantic conversations and stolen kisses.
Dolphin Tours
Book a dolphin-watching tour and catch a glimpse of these fun animals as they jump, flip, and even come near the boat and swim on their backs. Many local tour operators offer boat trips that take you out into the Gulf, allowing you and your partner to experience the joy of spotting dolphins together.
This is the one I recommend, and you can combine it with the sunset and make it even more special. Check current rates and availability here: Sunset & Dolphin Catamaran Cruise with Island Time
Spa Day
Enjoy a couples' spa day. Unwind with massages, facials, and other wellness treatments, and leave feeling refreshed and reconnected.
Horseback Riding
Enjoy a different perspective of Panama City Beach's coast. Take a guided ride along the beach and see more of the beach than you might have walking.
Helicopter Tours
Helicopter tours a great way to really see PCB. Soar above the coastline, catching panoramic views of the shimmering waters and beautiful white sandy beach.
Check rates and availability on the top hotels for couples: Best Panama City Beach Hotels For Couples
Romantic Dinners
Seafood? Steak? Vegetarian Options? You will find them all in Panama City Beach. Indulge in a variety of dining experiences at the numerous waterfront restaurants that Panama City Beach has to offer. Enjoy fresh seafood, fine wines, and candlelit romantic dinners with the sound of waves as your music.
Beachfront Picnics
Think outside the box and pack a picnic basket with lunch or dinner and enjoy a romantic meal on the beach. The gentle waves and cool breeze is a perfect way to enjoy any meal.
Water Sports
Love to keep it moving on vacation? Panama City Beach has fantastic and fun water activities. Enjoy for kayaking, paddleboarding, scuba diving, snorkeling and more. Exploring the underwater world together is an amazing experience you will never forget.
Sunset Catamaran Cruises
Sailing at sunset as you watch as the sun dips below the horizon, is the perfect backdrop for a romantic date. These sailing cruises often include live music, drinks, and snacks.
Shell Island Getaway
An uninhabited island is so much fun to explore with that special someone. Escape to Shell Island, only accessible only by boat. You and that special someone can enjoy snorkeling, shelling, and sunbathing on the white sandy shores, away from the crowds.
Check rates and availability on the best vacation rentals for couples here: Panama City Beach Vacation Rentals By Owners
Panama City Beach is one of the best beach destinations in Florida for couples. Stunning natural beauty, plenty of things to do including romantic activities, and everyone is friendly. It's no wonder that this Gulf Coast destination is a favorite among couples and will be one of yours too.
Whether you're strolling hand in hand along the beach, enjoying fun water sports, or indulging in a romantic dinner with a view, Panama City Beach is the perfect destination for new love, couples looking to reconnect or as an anniversary getaway.
Below are additional articles on my site to help you plan your Panama City Beach vacation:
Upcoming Trip?
I like to use Booking for booking not only my hotels, but my tickets and rental cars as well. Makes life so much easier with only having to log into one location for my information.
Be sure to grab my travel tips to save you time and money. You'll also be entered into the weekly drawings.
Register here: Get 100 Travel Tips EVERY traveler should know PLUS entered into the weekly drawing.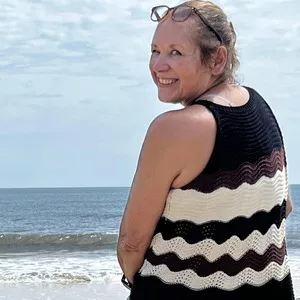 About Denise
Denise Sanger lives a life split between her love for fitness and her passion for travel particularly to the BEACH. Denise also has a love of marketing and lives in beautiful Suwannee County, Florida. You can find out more about Denise here: About Denise