Best Travel Outfits For The Plane: Comfortable Choices For Women
This article may contain affiliate links. Whenever you buy something through one of these links, I may earn a small commission without any cost to you. I really appreciate it as it supports this site and my family. Thank you!
Updated: July 2023. Traveling can be exciting, but finding the right travel outfits for the plane or any journey can sometimes be a challenge. Especially for women.
I'm not sure about you but for me when traveling, whether flying or driving, I need to be comfortable. If I'm not comfortable, I twitch, fidget and move constantly making it feel like the flight or drive is twice as long as it actually is.
Whether it's a long weekend or a week trip, I have you covered with these tips for travel outfits for the plane for women.
How Do You Dress Comfortable For Travel?
My last flight was a long one with a layover in Atlanta and I arrived looking as fresh as I did in the morning. Here are a few tips for comfortable travel outfits for the plane:
Thank you for reading this post. Don't forget to subscribe! This way you never miss an update, travel deals, discounts and more!! Subscribe to the right------>
The first and most important tip, at least for me is choosing clothes and fabrics. When it comes to choosing travel outfits, comfort should be your top priority.
What Is The Best Outfit To Wear On A Plane?
Look for fabrics that are breathable and stretchy, such as cotton or jersey. Avoid materials that wrinkle easily, as you want to look put-together even after a long flight.
What Should I Wear On A Plane After 50?
For style, go for loose-fitting tops and bottoms that allow room for you to move but not overly baggy. Avoid tight or restrictive clothing that can make you feel uncomfortable during long hours of sitting.
Remember, comfort doesn't mean sacrificing style. There are plenty of fashionable options that prioritize both comfort and style.
What Do People Wear On Long Flights?
Long flights? One word. Layers.
It is important to be prepared for changing temperatures, especially when traveling or on a plane. Layering is key to staying comfortable throughout your journey.
Begin by choosing a lightweight, breathable base layer such as a tank top or t-shirt. This will help regulate your body temperature and wick away sweat.
Next, add a long-sleeved shirt or cardigan for added warmth. Opt for a lightweight, packable jacket or sweater that you can easily remove or put on as needed. Hoodies can be bulky so look for long sleeve cotton tops that you can easily carry in your carry-on bag.
Don't forget to bring a scarf or shawl that can double as a blanket or pillow during the flight. By layering up, you'll be ready for any temperature changes and stay comfortable throughout your travel experience.
Keep It Simple.
Next to keep things simple, I wear the same outfit going back home as I do initially. Unless you get filthy which is hard to do when flying, hang your outfit up as soon as you arrive, and it'll be ready for you to slip back on.
The next tip is to opt for stretchy and wrinkle-resistant clothes. When choosing travel outfits for the plane, it's important to prioritize comfort and convenience.
Simply choosing stretchy and wrinkle-resistant clothing can make a big difference in your travel experience. The best materials are spandex or elastane blended with cotton or polyester for ease of movement.
Additionally, wrinkle-resistant fabrics like jersey or knits can help you look polished and put-together even after hours of sitting on a plane. These types of clothing are also great for packing, as they take up less space and don't require ironing.
Coordinate Colors
I mean hello? Who wants to iron on vacation? By choosing stretchy and wrinkle-resistant clothing, you'll be able to travel in style and comfort without sacrificing convenience.
Next tip? Mix and match. If you stick to a simple color scheme like blue and white or black and white, it's easy to only pack a carry-on bag when flying.
What Kind Of Shoes Are Best For Flying
Onto the next tip which is to wear supportive shoes especially if your flights will take you most of the day.
Don't wear heels. You'd be surprised how often I see women trying to run to catch a flight in heels. That's an accident waiting to happen on airport tile floors.
Cute shoes amazingly comfortable and won't slow you down when running to catch your next flight. Whether you're navigating through airports, exploring new cities, or simply walking long distances, having comfortable and supportive footwear is crucial.
Look for shoes that provide cushioning and arch support to prevent foot fatigue and discomfort. Sneakers or walking shoes are often a popular choice, as they offer both comfort and style.
Another option to consider is packing a pair of slip-on shoes or sandals. This makes it easy to slip them on and off during security checks or when you want to give your feet a break.
Think of it as an investment. Yes, good shoes will be more expensive than discount options, but your feet will be much happier when traveling.
How To Look Chic All Day Long When Traveling
And the final tip? Accessorize with scarves, jewelry and accessories. Adding accessories like scarves and statement jewelry can instantly elevate your travel outfits and add a touch of style.
Scarves are versatile and can be worn in multiple ways – as a headband, around your neck, or even tied to your bag for a pop of color. They can also provide an extra layer of warmth during chilly flights.
Statement jewelry, such as bold earrings or a statement necklace, can instantly transform a simple outfit into a chic and fashionable look. Opt for pieces that complement your travel wardrobe and add a personal touch to your overall style.
Add fun accessories like a bright purse or tote. My new favorite? A boho backpack that I created. Absolutely makes life SO much easier.
Instead of having a purse on your shoulder, a backpack is still convenient but out of the way.
The backpack I use is pictured right and have received so many compliments on. I even have the matching weekender bag I use for the gym.
And there you have it. You can easily create a travel capsule wardrobe from these tips and be always ready to go on your next adventure. Below are the links to shop for the items mentioned in this article.
Upcoming Trip?
I like to use Booking for booking not only my hotels, but my tickets and rental cars as well. Makes life so much easier with only having to log into one location for my information.
Be sure to grab my travel tips to save you time and money. You'll also be entered into the weekly drawings.
Register here: Get 100 Travel Tips EVERY traveler should know PLUS entered into the weekly drawing.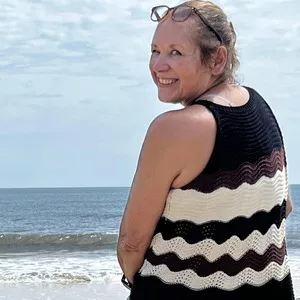 About Denise
Denise Sanger lives a life split between her love for fitness and her passion for travel particularly to the BEACH. Denise also has a love of marketing and lives in beautiful Suwannee County, Florida. You can find out more about Denise here: About Denise