Best travel clothes for women over 50: comfort, And style.
This article may contain affiliate links. Whenever you buy something through one of these links, I may earn a small commission without any cost to you. I really appreciate it as it supports this site and my family. Thank you!
UPDATED 2/2023. Travelling can be tricky. Especially when you are a woman over 50 or a woman at any age, actually. Not easy for us as it is for me.
With long hours spent on a plane or in the car, comfort becomes top priority. But being comfortable doesn't mean you have to sacrifice your fashion style.
This is exactly why I've written this best travel clothes for women. To give you options. Options that work for you.
I do not want to be dressed up. I love my Boho vibe. But I do want to look decent yet still be comfortable. It always surprises me when I see people flying in their pajamas.
Matter of fact? It still surprises me when I see folks wearing pajamas while shopping. I don't think I have ever left my house in my pajamas, but I am of the "older" end of the Boomer generation.
The first time I flew in an airplane was right after high school more than 50 years ago. My husband was working for AA at the time, and we were lucky to have flight benefits.
But we had to dress nicely. Not only were we representative of the company, we were often lucky to be moved to first class seats. Winning if you ask me so dress nice I would.
Fast-forward to the last time I flew which was a few months ago. Life could not look more different than it did when I first started flying.
No one really looked pulled together except those you could tell were flying for business. Crammed together in seats too tight.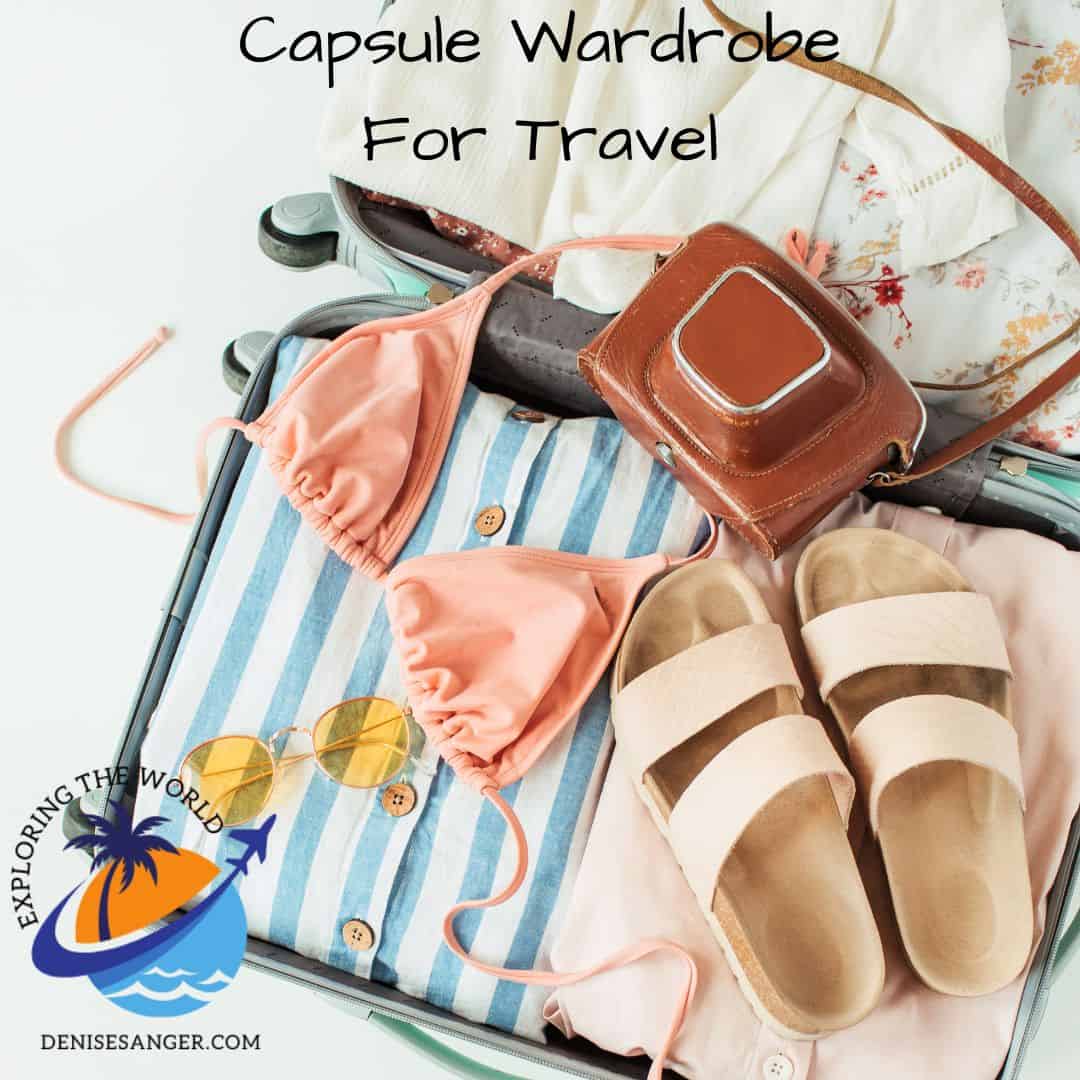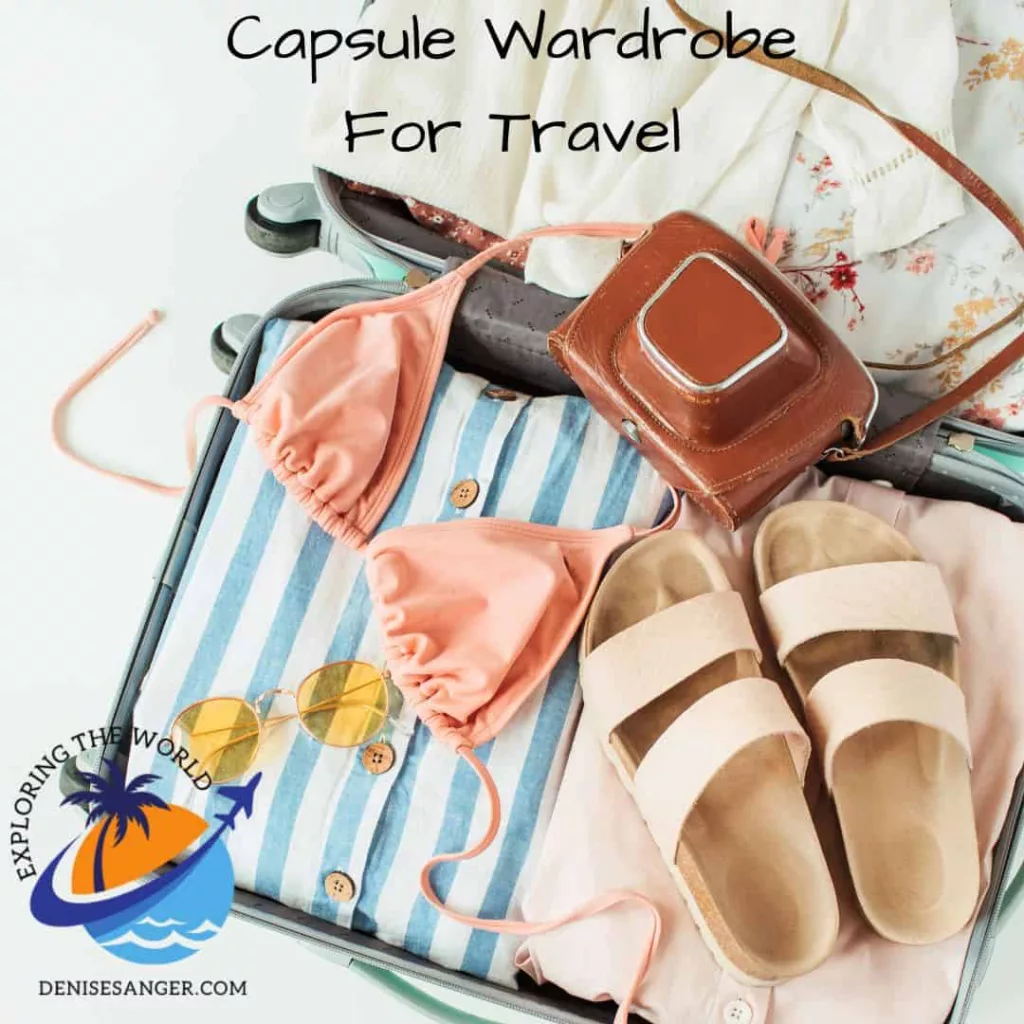 Business casual aside, my friends and I, we do agree one of the most important things is to be comfortable especially while traveling.
Baggy clothes do not feel comfortable to me. Matter of fact, they feel sloppy, almost uncomfortable.
I know many will not agree with that last sentence. While other women tell me that is exactly how they feel and would not be comfortable flying in pajamas.
Of course to each their own. I would never tell someone what they should or should not wear. I know I would not appreciate someone telling me what I should or should not wear.
If you feel the same way I do and prefer to be comfortable yet look pulled together, this article is for you. The easiest and best travel clothes for women over 50 are pulled together in a travel capsule wardrobe ready to go when you are.
What is a travel capsule wardrobe?
A capsule wardrobe of any type is a collection of basic yet key, functional clothing. And it is probably the best way not only to organize your travel wardrobe, but your whole wardrobe.
When I was working in corporate and often away on a business trip, my wardrobe consisted of five suits, three pairs of pants in dark colors, three dresses and a few basic tops.
In my closet, you would find these clothes hanging next to each other. I would pull the first outfit in line on the rack for Monday and work back from there. The second week, I would simply swap out the tops and accessories.
For two weeks, I had outfits that I could literally pull out of the closest, slip on with shoes and accessories and walk out the door.
Once worn, that outfit would go to the back of the line if it did not need to go to the cleaners. Then I would wear the next outfit in line the following day.
Fast-forward to my current life of teaching fitness and yoga classes as well as being a travel blogger on the road, and capsule wardrobes still work the best. Just much more comfy.
How many pieces of clothing Should A Capsule Hold For The Best travel clothes for women over 50?
The answer varies depending on who you ask or what you read. In general capsule wardrobes may have as few as 10 pieces for those that live minimally, but often more in the range of 20 to 30 pieces.
In the summer, fewer pieces may work while during the colder, winter months you may need more pieces.
The best travel clothes are often those made of natural fiber or material such as cotton as they are most breathable.
Unfortunately cotton can wrinkle. Who wants to pull a wrinkly dress out of their travel bag when getting ready for dinner on vacation?
A good idea is to include some synthetic pieces such as polyester as they make the best travel clothes as far as not wrinkling.
I'm not a proponent of polyester but in addition to not wrinkling like cotton, they also tend to be lightweight and odor resistant.
A pair of pants in a poly blend will look much better when you arrive than a linen pair of pants. There are many options for travel pants from black pants in merino wool to travel pants that can also be used for other activities such as hiking to leggings.
I often travel in my yoga leggings or hiking pants. These pieces travel very well, and they have lots of pockets. If pants do not have pockets, I do not buy them.
I can easily put my ticket, phone, cash and anything else I may need quickly in the pockets. Plus they are very light, dry quickly and affordable.
How do you make a capsule wardrobe from scratch?
If you are beginning to pull a capsule wardrobe together whether it is for a travel wardrobe, business wardrobe or day to day, take a look at your current style.
For those like me that are more minimal and tailored, a frilly, lace blouse probably would not be used much in our wardrobes.
A good idea is to take a hard look at your closet. What do you wear most often? What do you not wear at all or very rarely?
Designing your capsule of the best travel clothes for women over 50
First, start with color. I tend to gravitate toward blues and blacks as far as pants, shorts and skirts for my base layer.
Adding neutral colors such as these plus brown and even white, beige and pink, makes mixing and matching easy.
Pops of color instantly livens up these neutrals and are perfect for tropical vacations or cruise wear.
Skinny jeans? If you are comfortable in them, absolutely. If not, even though they may be in fashion today, you will not wear them. It's that simple. Comfort is number one.
I have an active lifestyle and my choices may not work for you. For me comfortable travel clothes take precedence over fashion any day.
How about shoes? How many pairs should you pack? Again, it depends on what you will be doing on your vacation.
If like me, you tend to be active, you may need to pack several pairs of shoes. I often choose my workout sneakers along with a dressy pair of sandals and flip flops for summer vacations.
Winter is a different ball game. I do try to avoid going north during the cold weather winter months but being a Cleveland girl, it often happens as mom still lives in Cleveland.
Again, I will have my workout shoes but also a pair of comfortable of black boots that will go well with any outfit.
Pulling it all together
Cruise fashion is different from resort fashion which is way different for what you would need for a week in a cabin in the mountains. Think about your trip and what you will need.
Start with a packing list. Write down how many days you will be traveling and how many days you will be on vacation.
I choose black pants or blue jeans for the days I am traveling. They are both great options that can also be mixed in and worn on your actual vacation.
The best travel outfits may be worn different ways for different events. If you have great style, it will be easy for you to pull together a wardrobe of stylish travel clothes.
If you dread packing, starting with a packing list is definitely the way to go, so you can decide how many outfits you will need. You can grab mine to print out here: What To Pack
If you are packing for a cruise, you may need a dress for the formal night. On the cabin vacation, you may not need anything dressy at all.
Next what is your body type? If a comfortable waistline is important, on your travel days you would not want to wear a super tight pair of jeans.
What do you normally wear when you not only are comfortable but are also feeling your best? The perfect travel outfit and the best travel clothing are those that make you feel good and look good.
A favorite clothing line of mine is Sketchers. Not only are their shoes amazing, their pants give me a great fit. And most of their clothes are wrinkle resistant.
What should you have in your travel clothes capsule?
Ready to pull it all together? Perfect! Separate your clothing items by day wear and night wear. Think of your color scheme and what will hold up to the rigors of travel.
Did I mention underwear yet? The best travel underwear stays in place! You do not want to be dealing with pulling underwear out from where it may have moved while sitting on a plane or in the car.
Comfortable pants and top, or I have found a travel dress that has a flattering fit on you is another great option.
Choose one that is the perfect length and long enough, so you do not need to worry about bending over. Dresses are often the best choice for travel to warmer climates.
For cold weather trips, a good pair of jeans with a nice fit and a leather jacket may be a great way to go from plane to taxi or from the car to the hotel. Add a color scarf for that pop of color.
Here are some great travel tips for clothes that will keep you comfortable and stylish on your next adventure.
1. A casual maxi dress is perfect for travel any time of the year. Throw on a cardigan or jacket for cooler weather and add a colorful scarf or shawl for extra warmth.
2. A pair of comfortable pants, like yoga pants or leggings, can be dressed up or down depending on the occasion. Pair them with a cute top and jacket for a put-together look. Fabletics has a great intro offer for yoga pants and leggings. Check them out here: Fabletics Leggings
3. A skirt is a great option for travel, especially if you'll be doing a lot of walking. Choose a comfortable material like cotton or dark blue denim, and pair it with a cute top.
4. If you'll be doing a lot of sightseeing, consider wearing comfortable sneakers or flats. You can also pack a pair of sandals or dress shoes for evening outings.
5. Finally, don't forget to pack a few essential accessories. A hat can protect you from the sun, and a scarf can keep you warm on cool evenings.
A travel-sized bag is perfect for carrying your essentials, and a pair of sunglasses will help shield your eyes from the glare.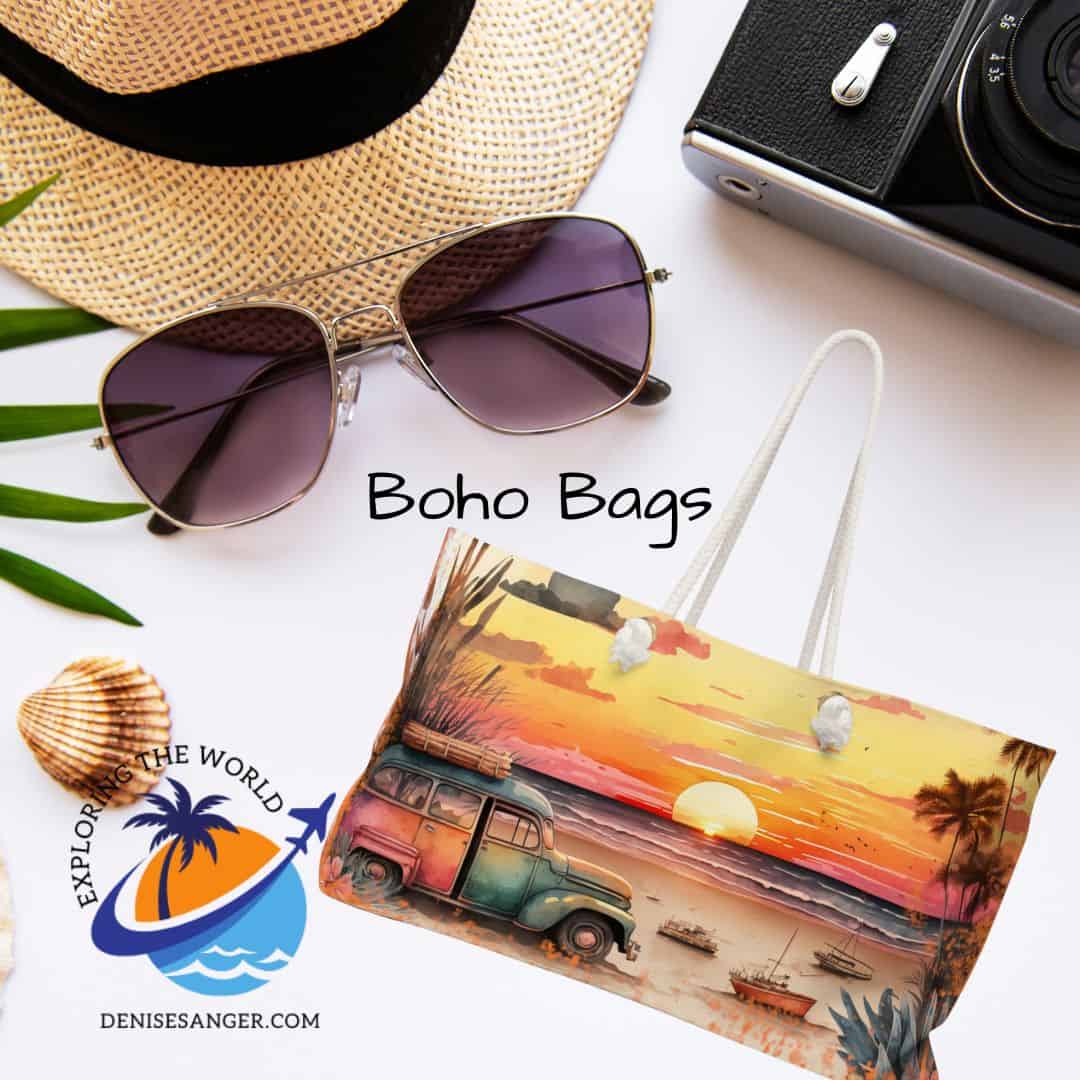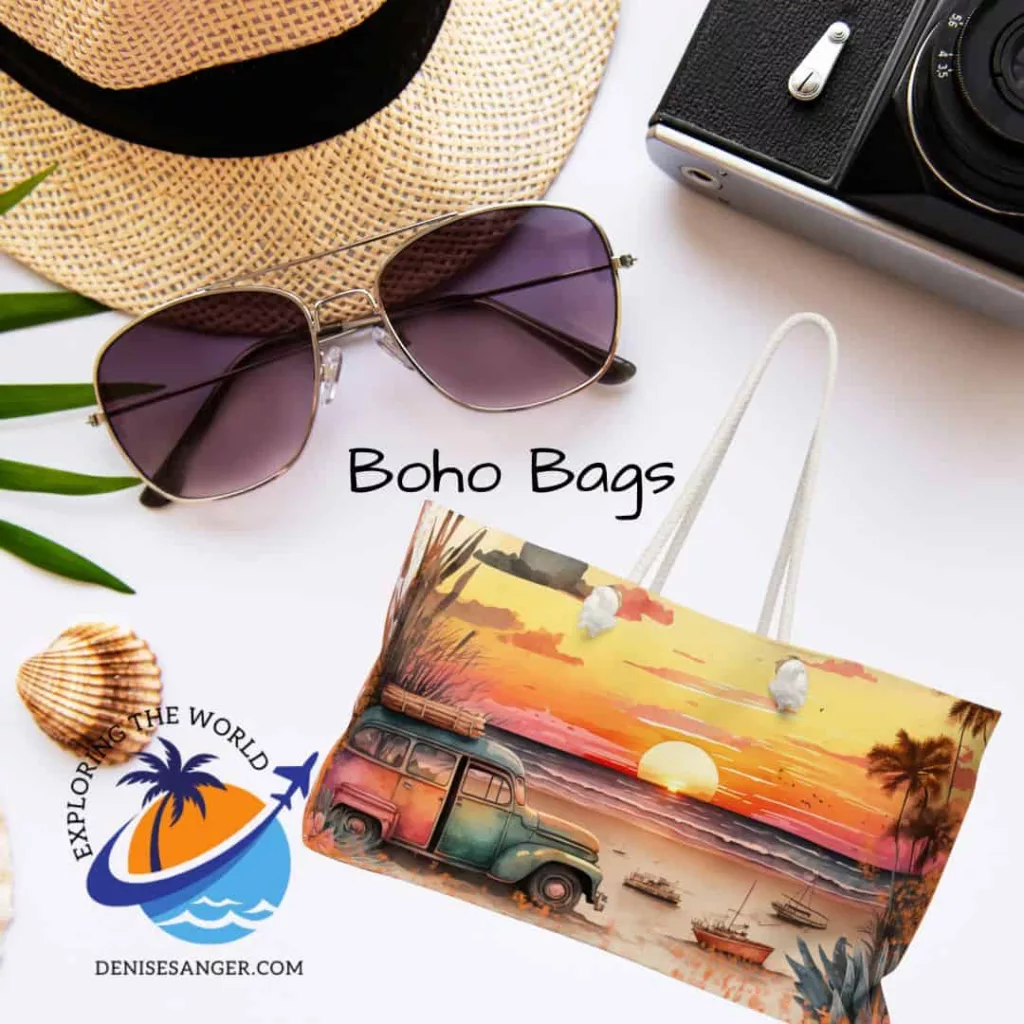 Finally, think purse or tote. The best travel purse is one that is good quality so that it will last a long time.
I'm a Boho Bag gal myself. The bigger, the better because I can squeeze so much into those bags.
I have everything I may need on the plane or in the car nearby but can slip the handles of the bag over my suitcase and wheel away.
A good bag or purse that has many pockets both inside and outside the bag is best. That allows you to easily secure your phone, lip balm, ticket and more within easy reach when you need it until you get to your final destination.
With these travel outfit ideas and helpful tips, you'll be comfortable and stylish on your next trip. Pack your bags and get ready for an adventure. You deserve it.
Upcoming Trip?
I like to use TripAdvisor for booking not only my hotels, but my tickets and rental cars as well. Makes life so much easier with only having to log into one location for my information.
Be sure to grab my travel tips to save you time and money. You'll also be entered into the weekly drawings.
Register here: Get 100 Travel Tips EVERY traveler should know PLUS entered into the weekly drawing.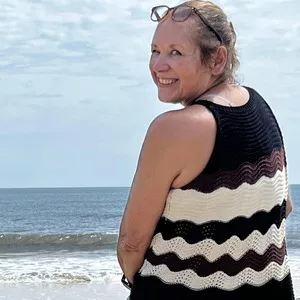 About Denise
Denise Sanger lives a life split between her love for fitness and her passion for travel particularly to the BEACH. Denise also has a love of marketing and lives in beautiful Suwannee County, Florida. You can find out more about Denise here: About Denise