Best gifts for travelers 2023
This article may contain affiliate links. Whenever you buy something through one of these links, I may earn a small commission without any cost to you. I really appreciate it as it supports this site and my family. Thank you!
Best Gifts For Travelers This Year
UPDATED: August 2023. It's still crazy, but things are getting better, and many folks are traveling. And that means finding the best gifts for travelers on your list this year.
If someone you love is on your gift giving list or like me, you need an update, below are some of the best gifts for travelers this year. Not only practical, but super cute too.
Here are the top 10 picks and more below:
Travel-Friendly Jewelry Case: A compact jewelry organizer with individual compartments to keep necklaces, earrings, and rings tangle-free and protected during travels.
Portable Charger: A high-capacity portable charger to keep devices powered up while on the go, ensuring they stay connected and entertained.
Thank you for reading this post. Don't forget to subscribe! This way you never miss an update, travel deals, discounts and more!! Subscribe to the right------>
Travel Scarf with Hidden Pocket: A stylish scarf that doubles as a storage solution, featuring a hidden pocket for storing passports, cash, or small essentials.
Foldable Travel Yoga Mat: For wellness-conscious travelers, a foldable and lightweight yoga mat allows them to maintain their practice wherever they go.
Packing Cubes Set: These organizing cubes help keep clothing and accessories neatly separated within suitcases, making packing and unpacking a breeze.
Compact Camera or Smartphone Lens Kit: Perfect for capturing stunning travel photos, a clip-on lens kit can enhance the capabilities of a smartphone camera.
Noise-Canceling Headphones: A pair of high-quality noise-canceling headphones ensures a peaceful journey by blocking out unwanted background noise.
Travel Journal or Notebook: A beautifully designed journal provides a space for recording memories, thoughts, and experiences during their travels.
Collapsible Water Bottle: An eco-friendly option, a collapsible water bottle takes up minimal space when empty and can be filled up after passing through airport security.
Language Learning Device: For those exploring new cultures, a portable language translator or learning device can help bridge communication gaps and enhance their travel experience.
For me, I've been spending a lot of time throughout Florida including my favorite beach in Panama City Beach exploring and honestly have enjoyed the downtime.
Most important to me? COMFORT. The best gift I have ever received is this cute 2-piece travel outfit below. So comfortable! I've been using it for years for travel.
One of the things most important for me when I travel is safety. That includes keeping my paperwork and other valuables safe. I did that by purchasing a travel safe that I love.
It's small enough to fit in my travel or carry on bag. Because I'm at the beach as often as I am, I chose a travel safe I could latch to my chair if I didn't want to leave it in the room or house. Peace of mind for less than $50.
Next I absolutely HATE plastic water bottles. I've seen first hand the damage plastic has caused on our planet and in our oceans. I purchased a stainless steel water bottle several years back and still use it daily.
Again, it's just as important as the travel safe that my stainless steel water bottle fit in my carry on or luggage. You cannot bring your water bottle full through security, so it's important it fits. In the USA, I fill up my bottle at a fountain after I've cleared TSA.
Next no matter how hard I try to limit myself to one piece of luggage, preferably a carry-on, I often end up needing another bag for the return trip home.
My choice is an inexpensive bag that I can fold flat to slip into the side of my luggage. This is the one I've been using for a while.
Not only can it slip easily into my carry-on, I can use it while on vacation. Then, if I have too much to repack for the journey home, this doubles for extra storage and can be carried on the plane as a personal item.
I carry this bag in my own travel store and have used it myself for many years now. It includes its own carrying case and as I mentioned above, I slip it into the side pocket as back-up. This has saved me many times over the years.
For women, I always say toss in a few inexpensive funky accessories like earrings, Boho sandals or chunky bracelets for vacations at the beach.
Something as simple as a little pop of color from a ring or ankle bracelet can elevate an everyday normal outfit to a new level.
Here are a few of my always packed in my bag ready to go accessories:
Chunky bracelets for when I really want to funk my outfit up.
Finally? We all need that gift that puts a smile on our face. This does it for me EVERY time. Because you know what? It sure does!
I'll continue to add on to this list of best gifts for travelers so be sure to bookmark and check back.
Upcoming Trip?
I like to use Booking for booking not only my hotels, but my tickets and rental cars as well. Makes life so much easier with only having to log into one location for my information.
Be sure to grab my travel tips to save you time and money. You'll also be entered into the weekly drawings.
Register here: Get 100 Travel Tips EVERY traveler should know PLUS entered into the weekly drawing.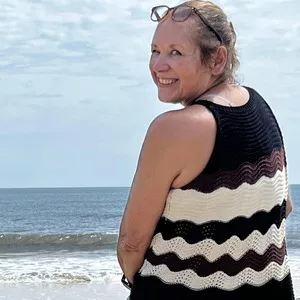 About Denise
Denise Sanger lives a life split between her love for fitness and her passion for travel particularly to the BEACH. Denise also has a love of marketing and lives in beautiful Suwannee County, Florida. You can find out more about Denise here: About Denise