Kayaking at King's Landing, Apopka, Florida
This article may contain affiliate links. Whenever you buy something through one of these links, I may earn a small commission without any cost to you. I really appreciate it as it supports this site and my family. Thank you!
The morning sunrise was absolutely gorgeous but a wee bit nippy as we headed out to Apopka, Florida – roughly three hours south of where I live in North Central Florida. My friends and I had been looking forward to this kayaking trip. We had to reschedule the first one due to a tropical storm on the weekend we originally planned. (If you love to kayak/canoe, be sure to read: A Trip to Hagen's Cove, Florida)
When we got off the Florida Turnpike and landed in the middle of a city, I thought to myself where in the world will we be kayaking? A few minutes later as we turned into the state park where Kings Landing was located, I knew we were in for a wonderful day.
This was a very budget friendly trip. We had kayaks so our only cost outside of gas to get to the Wekiva River was $20 for putting in and getting out of the river and the shuttle back to where we parked the truck. We also packed our lunches for an impromptu picnic at Buck's Camp – a primitive campground.
The Wekiva River is full of twists and turns. The trip is completed with the current which makes it enjoyable for all kayak or canoe levels. I myself ended up backwards several times but was easily able to turn around and get back on track.
Thank you for reading this post. Don't forget to subscribe! This way you never miss an update, travel deals, discounts and more!! Subscribe to the right------>
The paddle from start to finish is roughly 8.5 miles. We completed it in about four hours and enjoyed the wildlife we saw along the way including Blue Herons, hawks, an owl, several gators and more. One gator was HUGE! You can bet I paddled VERY quickly when I saw him sunning on the bank of the river.
Toward the end of the trip as you head under the bridge, you can hear music playing. There is a really nice set up at the marina with a few places to get a drink and sit on the river watching the kayakers come in. The folks at Kings Landing was waiting for us to help us out of the river. THAT was the most challenging part of the trip to be honest.
I paddled my kayak up onto a fairly steep part of the river bank into a fake grass area which left no choice but to step into the river to get out. I saw a few folks go down as they were trying to get out of their canoes and kayaks but luckily I wasn't one of them.
Kings Landing and the Wekiva River is a MUST stop for kayaking and canoe enthusiasts but also fantastic for a family or friends trip. Yes I most definitely will be back.
Chat soon,
Denise
Upcoming Trip?
I like to use Booking for booking not only my hotels, but my tickets and rental cars as well. Makes life so much easier with only having to log into one location for my information.
Be sure to grab my travel tips to save you time and money. You'll also be entered into the weekly drawings.
Register here: Get 100 Travel Tips EVERY traveler should know PLUS entered into the weekly drawing.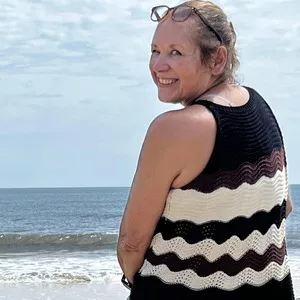 About Denise
Denise Sanger lives a life split between her love for fitness and her passion for travel particularly to the BEACH. Denise also has a love of marketing and lives in beautiful Suwannee County, Florida. You can find out more about Denise here: About Denise