Things to do in Cape San Blas Florida
This article may contain affiliate links. Whenever you buy something through one of these links, I may earn a small commission without any cost to you. I really appreciate it as it supports this site and my family. Thank you!
UPDATED: August 2023. The stunning Gulf County Pine Peninsula of Cape San Blas is a must-see for any traveler who enjoys the outdoors and especially beaches. The number of things to do in Cape San Blas Florida will keep you busy all vacation.
Cape San Blas Florida is a popular destination for its white sand beaches, sunny weather and clear waters.
This portion of Florida's Gulf Coast in the United States has an abundance of wildlife and magnificent views that will leave you wanting more.
The peninsula runs westward from the Gulf Coast of Florida to separate St Joseph Bay with beautiful views towards Tampa on one side or Mexico's Gulf of Mexico West coast if you're more adventurous!
Thank you for reading this post. Don't forget to subscribe! This way you never miss an update, travel deals, discounts and more!! Subscribe to the right------>
Don't have time to read the whole article? Check here for current rates and availability: Cape San Blas Vacation Rentals
Is Cape San Blas worth a visit?
Yes! The beaches of Cape San Blas aren't just breathtakingly beautiful they are perfect for a quiet beach day. There's no need to worry about the crowds that take over some Florida beaches; in Cape San Blas, you'll have huge stretches of sand to yourself.
Is Cape San Blas a private beach?
No. Cape San Blas is not a private beach. But it will feel more secluded the farther north you go.
Is the water clear on Cape San Blas?
Miles of white sand beaches with crystal clear blue-green water is what you will see as you catch a glimpse of this beautiful beach.
With its clear turquoise waters and gentle waves, Cape San Blas is the perfect spot for a relaxing day. But if you're looking for some more fun things to do, there's plenty to keep you occupied.
What beaches are near Cape San Blas?
Cape San Blas is connected to Florida by a strip of land. This beautiful beach town is near St. George Island, Port St. Joe, and Apalachicola and a short drive south of Mexico Beach.
Things to do in Cape San Blas Florida
Before you begin exploring, stop at the Gulf County Welcome Center located in downtown Port St Joe. From the welcome center, you can look out over St. Joseph Bay.
Check here for current rates and availability: Cape San Blas Vacation Rentals
In addition to being a beautiful part of the sunshine state, there are many fun activities and points of interest in Cape San Blas. Be sure to schedule time to visit not only Cape San Blas but the surrounding area as well.
And did I mention food? Stop at the Indian Pass Raw Bar for oysters, shrimp and other seafood and dinner options.
Forgotten Coast Sea Turtle Center
Also located in Port St. Joe is the Forgotten Coast Sea Turtle Center. One of the best things here? The sea turtles.
Check here for current rates and availability: Cape San Blas Vacation Rentals
This center has a very important mission. It is to support and promote the health, stability and stewardship of coastal and marine resources in Northwest Florida. They also monitor sea turtle nesting activity on the St. Joseph Peninsula.
Cape San Blas Lighthouse
Cape San Blas Lighthouse was one of four lighthouses built between 1849 and 1885.
Originally located on the island it was moved to Port St. Joe due to beach erosion. It survived Hurricane Michael and is now located at George Core Park, Port St. Joe on the bay side and open to visitors.
St. Joseph Peninsula State Park
Located on Cape San Blas is St. Joseph Peninsula State Park. The beach in this northwest Florida park was voted best beach in America is 2002.
Beautiful wild sand dunes await your visit to this Florida State Park. Located at 8899 Cape San Blas Road, Port St. Joe FL 32456 this is the perfect place for nature lovers to explore.
Beautiful nature trails wind their way through three different environments as you make your way to St. Joseph Bay. This park did suffer damage from Hurricane Michael and the campgrounds are not open at this time.
Kayaking and canoeing are favorite activities due to the clear shallow waters. Be sure to check tide charts before launching from the boat ramp.
The beach is also popular for those looking for the perfect shell. The best time to beach comb is at low tide. Sand dollars, bald eagles overhead and other fun things makes this an ideal stop for the entire family.
Check here for current rates and availability: Cape San Blas Vacation Rentals
This is also a great place for swimming and snorkeling. The surrounding waters are clear and shallow.
Beaches of Cape San Blas
Of course, I have to tell you about the beaches! This area is a great place for a beach vacation.
The Cape San Blas area is full of some of the best with beaches with blue water on the Gulf Side. These beaches are public access beaches many with picnic areas with picnic tables for easy family lunches or dinner.
The clear shallow water makes this a great place for paddle boards and other fun water sports and outdoor activities as well as family vacations. Love horseback riding? You can do that right here on this pristine beach.
Love scallop season? Scallop season happens in the fall with locals and visitors scalloping in the waters of the St. Joseph Bay and Gulf County. You will need a saltwater Florida fishing license.
Cape San Blas Vacation Rentals has homes that cater to this time of year as well as
Loggerhead Run Bike Path Salinas Park
The 8.7 mile Loggerhead Trail is a paved trail that runs along the cape. It begins at Salinas Park on the Gulf side.
Located right on 30A, you will also find pickleball courts, picnic pavilions, public beach access and also Salina Park Gulf Side is where you will begin horseback riding on the beach.
St. Joe Beach
St. Joe Beach is another beautiful beach with shallow waters.
10-minute short drive from Port St. Joe will have you in the perfect place for a gorgeous sunset ride. This beach is also dog friendly.
Bring your beach chairs. You will definitely enjoy this stop on your beach vacation.
Guided Tour
I always love to take a guided tour the first time I visit an area or city. Sunset cruise, dolphin cruise, fishing charter and more can easily be booked in Port St. Joe.
Upcoming Trip?
I like to use Booking for booking not only my hotels, but my tickets and rental cars as well. Makes life so much easier with only having to log into one location for my information.
Be sure to grab my travel tips to save you time and money. You'll also be entered into the weekly drawings.
Register here: Get 100 Travel Tips EVERY traveler should know PLUS entered into the weekly drawing.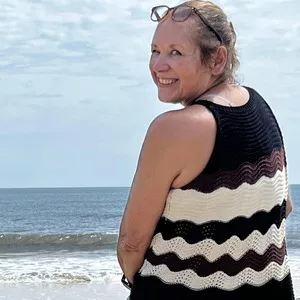 About Denise
Denise Sanger lives a life split between her love for fitness and her passion for travel particularly to the BEACH. Denise also has a love of marketing and lives in beautiful Suwannee County, Florida. You can find out more about Denise here: About Denise