Scalloping In Florida: A Guide To The Best Spots And Tips For A Successful Trip
This article may contain affiliate links. Whenever you buy something through one of these links, I may earn a small commission without any cost to you. I really appreciate it as it supports this site and my family. Thank you!
Scalloping in Florida is a popular pastime that draws thousands of visitors each year. The Sunshine State is home to some of the best scalloping grounds in the country, with crystal-clear waters teeming with these delicious bivalves.
Scallop season in Florida typically runs from July to September, with many coastal towns and cities hosting festivals and events to celebrate the harvest.
At the bottom, I have listed helpful information for scalloping as well as what to do in the surrounding areas to make a vacation of it.
The activity involves snorkeling or diving in shallow waters to collect scallops by hand. Each year, I am fascinated by the folks that are either in their own boat or on a scalloping trip with a tour guide spending hours on the water.
Thank you for reading this post. Don't forget to subscribe! This way you never miss an update, travel deals, discounts and more!! Subscribe to the right------>
At Hagen's Cove which is north of Steinhatchee and near Keaton Beach, folks are able to walk out to scallop as the water is quite shallow.
The grass boat ramp makes it easy to put in a kayak or paddleboard. Many have buckets on top of their kayaks or boards for collecting that sweet Florida Bay Scallop.
Scalloping is not only a fun activity, but it can also be a sustainable one. Florida's scallop populations have been carefully managed to ensure their long-term survival.
Regulations limit the number of scallops that can be harvested per person per day, and certain areas may be closed to scalloping to allow the populations to recover.
Why Scalloping is Popular in Florida
Scalloping is a popular activity in Florida due to its unique combination of adventure and relaxation.
Florida's pristine waters, warm climate, and diverse marine life make it an ideal destination for scalloping enthusiasts.
One of the main reasons why scalloping is so popular in Florida is the abundance of scallops in the waters. The Gulf of Mexico is home to a large population of bay scallops, which are known for their sweet and succulent meat.
This makes it easy for scallopers to find a good spot and catch a decent amount of scallops. A great place to search for these scallops are in the grass flats offshore or near islands.
Another reason why scalloping is so popular in Florida is the experience itself. Scalloping is a fun and exciting activity that can be enjoyed by people of all ages. It is legal to get up to two gallons of whole bay scallops in Florida.
It's a great way to spend time with family and friends, and it's also a great way to get some exercise and fresh air. The calm and clear waters of the Gulf of Mexico also make it a relaxing and peaceful experience.
Scalloping is also a sustainable activity, as scallops are a renewable resource that can be harvested without harming the environment.
The Florida Fish and Wildlife Conservation Commission has strict rules and regulations in place to ensure that scallops are harvested responsibly and sustainably.
Overall, scalloping is a popular activity in Florida because it offers a unique and enjoyable experience in a beautiful and diverse natural environment.
Whether you're a seasoned scalloper or a first-timer, Florida's waters are waiting to be explored as you being your scalloping adventure.
When is Scalloping Season in Florida
Scalloping season in Florida typically runs from July 1st to September 24th, but it can vary slightly depending on the area.
The Florida Fish and Wildlife Conservation Commission (FWC) sets the dates each year based on a variety of factors, including the health of the scallop population and water quality.
It's important to check with the FWC for the exact dates and any updates or changes to the season.
During scalloping season, many coastal towns in Florida offer guided tours and boat rentals for those who want to try their hand at scalloping.
It's a popular activity for families and groups of friends, and can be a fun way to spend a day on the water.
It's important to note that scalloping regulations vary by county, so it's crucial to check the local rules and regulations before heading out.
For example, some counties require a fishing license, while others do not. 
Additionally, there are limits on the number of scallops that can be harvested per person per day, and the size of the scallops that can be kept.
Overall, scalloping season in Florida is a great time to get out on the water and enjoy the beautiful coastline.
Florida has the best scalloping spots for you to explore. Be sure to take advantage of your trip and enjoy Florida scallops and other fresh seafood at one of many local restaurants.
Interesting facts? Florida's scallops, which are a bivalve mollusk have 30 little blue eyes they use to sense shadows. You will mainly find these little guys in a bed of seagrass in 4 to 10 feet of water on the West Coast of Florida.
Another thing to know is there are two kinds of scallops. Scallops closer to shore are bay scallops versus sea scallops that tend to be farther offshore.
Scallops move, however. Some years you will find them in shallow warm water. Other years you will need to get your limit in deeper water.
Also, the shells you find the most on shore are scallop shells. When you consider that 2 gallons of scallops equals roughly a pint of scallop meat, you will have quite a few shells from a bag of scallops.
To get a gallon bay scallop meat to put in a lemon butter sauce to enjoy, you will definitely need to keep your eyes open.
Clean and polish those to use in your table setting or any other craft.
Where to Scallop on the Gulf Coast of Florida
Best Places to Scallop
Florida's Gulf Coast is a prime destination for scalloping enthusiasts. The following are some of the best places to scallop:
Crystal River
Crystal River is a popular destination for scalloping located in Citrus County. The crystal clear water of the springs that feed into the freshwater rivers of Crystal River and Homosassa River make these two locations a great spot to hit your daily bag limit.
The best time to scallop in Crystal River is from mid-July to September. This area also has fantastic restaurants not only for scallops but fresh seafood.
Homosassa River
The Homosassa River is also located in Citrus County another great place to scallop. The shallow waters of Homosassa River are fed by Homosassa Springs and are perfect for scalloping.
The best part? This area is absolutely gorgeous and like Crystal River a manatee destination.
Cape San Blas
Cape San Blas is a beautiful location in Gulf County for scalloping. The clear waters of Cape San Blas make it easy to spot scallops, so you can hit your daily limit.  This is one of the prettiest locations in the state.
St. Joseph Bay, Port St. Joe
Port St. Jose located on St. Joseph Bay in Gulf County is another popular destination for scalloping. The shallow waters of St. Joseph Bay are perfect for scalloping.
Fun place to float above the seagrass beds as you search for your two gallons of scallops you are allowed.
Tampa Bay
Tampa Bay is a great location for scalloping. The clear waters of Tampa Bay make it easy to spot scallops. The best time to scallop in Tampa Bay is from mid-July to September.
Florida Panhandle
The Florida Panhandle is a great location for scalloping. The water clarity of the Florida Panhandle are perfect for scalloping.
You can scallop in Pensacola all the way along the Panhandle down to Apalachicola.
Keaton Beach and Hagen's Cove
Keaton Beach and Hagen's Cove are popular destinations for scalloping. These small old Florida beach towns are located in Taylor County as is Steinhatchee.
The shallow waters of Keaton Beach and Hagen's Cove are perfect for scalloping.  
Nearby Steinhatchee has accommodations for those that would like to stay and make a vacation out of their scalloping trip.
Rules for Scalloping in Florida
Scalloping is a fun and exciting activity that many people enjoy in Florida. However, there are rules and regulations that must be followed to ensure the safety of everyone involved and to protect the environment.
Here are some important rules to keep in mind:
In Florida, you are required to have a saltwater fishing license to scallop. 
Scalloping season typically runs from June to September.  
Only 2 gallons of whole scallops or 1 pint of bay scallop meat per person per day may be harvested.  
Scalloping is only allowed in designated areas, so be sure to check with local authorities before heading out.  
You can bring your snorkel gear for shallow water hunting. For deeper waters, divers must display a dive flag while in the water to indicate their presence to boaters.  
Carry a small dip net as well as a mesh bag. This way the water will drain out from the sea scallops.
Boaters must keep a safe distance from divers and dive flags.  
It is illegal to sell scallops without a commercial license.  
All scallops must be shucked on the boat or on shore, and the shells must be returned to the water.  
Do not harvest scallops that are smaller than 1 1/2 inches in length.  
Be sure to properly dispose of all trash and other waste.
By following these rules and regulations, everyone can enjoy a safe and fun scalloping experience in Florida.
If you have never scalloped before, you may want to venture out your first time with a scalloping boat tour.
Upcoming Trip?
I like to use Booking for booking not only my hotels, but my tickets and rental cars as well. Makes life so much easier with only having to log into one location for my information.
Be sure to grab my travel tips to save you time and money. You'll also be entered into the weekly drawings.
Register here: Get 100 Travel Tips EVERY traveler should know PLUS entered into the weekly drawing.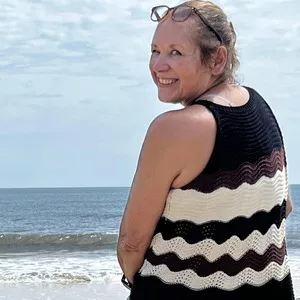 About Denise
Denise Sanger lives a life split between her love for fitness and her passion for travel particularly to the BEACH. Denise also has a love of marketing and lives in beautiful Suwannee County, Florida. You can find out more about Denise here: About Denise