Ultimate Guide To Kennedy Space Center, Tickets, Tours
This article may contain affiliate links. Whenever you buy something through one of these links, I may earn a small commission without any cost to you. I really appreciate it as it supports this site and my family. Thank you!
Thinking about a visit to Kennedy Space Center? It is one of the best trips and tours you will ever experience. I know because I've done it twice. This article is your guide to Kennedy Space Center.
From the moment you park your car in the parking lot and enter the Rocket Garden until the moment you leave, the Kennedy Space Center Visitor Complex is truly a great way to immerse yourself in everything NASA and space.
I have been to this amazing place on Merritt Island twice now and still have not been able to get through it all. The U.S. Astronaut Hall of Fame honors our astronauts and the space program. The wall of honor will take many of us back to the first United States manned launch.
The Space Shuttle and Shuttle Launch experience really had my jaw hanging open. I could not fathom how that spaceship made it into space. It is made of very light material that you have to see for yourself.
Thank you for reading this post. Don't forget to subscribe! This way you never miss an update, travel deals, discounts and more!! Subscribe to the right------>
Ready to see why you should experience a Kennedy Space Center Explore Tour? Let's dig in!
Exploring the Wonders of Space: A Guide to Kennedy Space Center in Central Florida​
Nestled along the picturesque coastline of Florida is truly a place of historical significance for our country. At Kennedy, you can see technological marvels and the dreams of those that have gone before us and helped us explore beyond our planet's boundaries.
NASA's Kennedy Space Center (KSC) is a testament not only to human ingenuity but our determination as well. It is the center of space exploration history that many have witnessed the launch of historical missions that continues to inspire future generations of astronauts.
Whether you're a space enthusiast like my mom or simply curious about the world outside of Earth, a visit to the Kennedy Space Center Visitor Complex promises you an up-close look at the history of space exploration.
Introduction to Kennedy Space Center (KSC)
​The John F. Kennedy Space Center is not merely a launch site; it's much more. From mankind's unyielding determination to reach for the stars and to "go where no man has gone before" as the quote reads. 
The Space Center's origins date back to the early days of the Space Race. Kennedy Space Center played a pivotal role in every major NASA space mission then and continues to do so today.
From the iconic Apollo moon landings to the groundbreaking Space Shuttle program, the center has been at the forefront. When you visit, allow at least a full day to explore. A weekend would be even better because there is that much to see. 
KSC Visitor Complex
​Upon arriving at the Kennedy Space Center Visitor Complex, the first thing you will see is the Rocket Garden. As you walk through the gates, you'll find yourself surrounded by many attractions that will provide you with an immersive journey through the history and future of space exploration. 
The first thing we did after I research prior to our first visit was to look for the Kennedy Space Center bus tour. We wanted to explore that area first.
You may have other places for your visit. Below is a breakdown of the various attractions. John F. Kennedy Space Center is not like the nearby Orlando theme parks. It is, however, close enough for a day trip if Florida vacation allows enough time.
Be sure to allow time to walk around the Rocket Garden. The rockets displayed here are from early Mercury and Gemini rockets to the towering Saturn IB.
Space Shuttle Program
​Starting with the Space Shuttle program which truly marks a significant chapter in human space flight history. The Visitor Complex showcases the awe-inspiring Space Shuttle Atlantis exhibit that provides visitors with an up-close view of the real shuttle Orbiter. 
The exhibit sheds light on the incredible achievements and challenges faced by astronauts during their shuttle missions. Shuttles have visited the International Space Center 37 times.
When you see the shuttle close up, you will be in awe. The shuttles are what Hubble Space Telescope and the International Space Station.
At this exhibit, you can simulate docking and landing the shuttle.
Apollo Program
​Next, take a step back in time when you explore the Apollo/Saturn V Center. This area is a tribute to the Apollo missions that landed humans on the moon. 
The Apollo/Saturn V Center houses the monumental Saturn V rocket. This rocket is an astounding engineering feat that propelled the Apollo astronauts toward their lunar destination.
As you stand under the rocket, which is the largest rocket ever flown, you will be amazed at how it put humans on the moon. Neil Armstrong was the first human to step foot on the moon. The world literally stopped as they heard on TV, the eagle has landed.
Be sure to experience the live presentation as well as the many interactive games and displays. You will also see actual mission artifacts inside the center.
Launch Complexes and Facilities
​The heart of KSC's operations lies in its launch complexes and facilities. As you walk in the footsteps of astronauts, you'll tour the iconic launch pads where many space missions began.
The literal size of the Vehicle Assembly Building gives you a glimpse of what is involved in assembling these colossal rockets. The VAB is one of the largest buildings in the world.
It is also home to one of the largest American flags. This American flag is 209 feet tall and 110 feet wide and painted on the side of the building. 
Oversized vehicles take the rockets to launch pads. One launch pad is about 3.5 miles away while the other is about 5 miles away.
Astronaut Encounter
​Meeting an astronaut face-to-face is a rare privilege. The Kennedy Space Center gives you the opportunity to do that.
Depending on who is on-site the day you visit, you will hear firsthand experiences of the challenges and rewards of living and working in space. You can check the special events for the day you plan to visit.
Space Launches and Events
​The Kennedy Space Center remains a hub of activity with a schedule of upcoming rocket launches today with many special space-themed events. Other things to explore during your visit are:
IMAX Theater and Educational Programs
​IMAX movies truly transport you to distant galaxies. You will feel as if you are with the astronauts and experiencing their lives with them.
The Visitor Complex also offers a range of educational programs designed to not only inspire the next generation of scientists, and engineers. Space enthusiasts and historians will enjoy this experience as well.
Dining and Shopping
There are plenty of spots to grab a bite. The Visitor Complex has several options to choose from. After you eat, be sure to stop in the space shop for a souvenir. Gift shops are also located throughout the complex.
Planning Your Visit​
To make the most of your visit, I recommend purchasing your admission tickets in advance. Also, check the launch schedule to see if there will be any launches when you plan to visit. 
Another thing to consider if you are taking the bus tour is to be aware of when the last bus tour operates. 
If you will be taking the kids to Disney World, the distance to the Space Center is roughly
Tips for a Great Experience
​This is Florida. It is important to stay hydrated, I also recommend you take time to prioritize the guided tours and interactive exhibits you want to see. If you can stay more than one day, I would recommend you do that.
Future of Space Exploration at KSC
​Looking ahead, the Kennedy Space Center continues to evolve, remaining a central player in NASA's space exploration endeavors.
As the Artemis program aims to return humans to the moon and push toward Mars, Kennedy Space Center remains ready. 
Cape Canaveral Space Force Station operates today as the gateway to space. Stepping into the Kennedy Space Center is more than a visit. It is a complete immersion into everything space.
From the lunar surface of the moon to the Milky Way to meeting a veteran NASA astronaut, it reminds us that humanity's reach extends far beyond our planet. Something we all need to remember. 
Information to help you plan your Kennedy Space Center Visit:
Upcoming Trip?
I like to use Booking for booking not only my hotels, but my tickets and rental cars as well. Makes life so much easier with only having to log into one location for my information.
Be sure to grab my travel tips to save you time and money. You'll also be entered into the weekly drawings.
Register here: Get 100 Travel Tips EVERY traveler should know PLUS entered into the weekly drawing.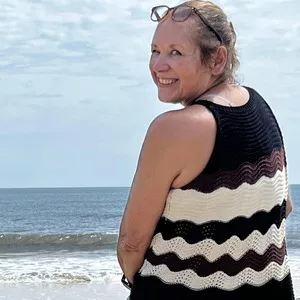 About Denise
Denise Sanger lives a life split between her love for fitness and her passion for travel particularly to the BEACH. Denise also has a love of marketing and lives in beautiful Suwannee County, Florida. You can find out more about Denise here: About Denise