Ultimate Weekend Packing List: Essentials for a Stress-Free Getaway
This article may contain affiliate links. Whenever you buy something through one of these links, I may earn a small commission without any cost to you. I really appreciate it as it supports this site and my family. Thank you!
Planning a weekend trip but not sure what to pack? This Ultimate Weekend Packing List article is what you need to get started.
Whether you are planning a getaway with friends or a romantic trip to reconnect, weekend getaways offer the perfect opportunity to escape the hustle and bustle of everyday life.
But if you really want to enjoy your mini-vacay, you want to make sure you have everything you need for the trip. When you pack the right things in your bag from this list, you won't worry about what you may have forgotten.
But in the big scheme of things, if you forget a thing or two it's not a big deal. Ask at the hotel desk or make a quick stop at the store.
Thank you for reading this post. Don't forget to subscribe! This way you never miss an update, travel deals, discounts and more!! Subscribe to the right------>
Your weekend vacation is about spending time with the person/people you are traveling with. Let's make it stress-free for you.
Let's go through this ultimate weekend packing list that includes things to pack for a weekend trip.
Packing For A Weekend Trip
First things first. Where are you going? When preparing for a weekend trip, we first need to consider the destination's weather forecast and your planned activities.
Check the weather about a week before the trip then recheck it a day or so prior to leaving. This will help you pack what you will need.
Next, what will you be doing? If you're hiking or exploring a state or national park, comfortable shoes and outdoor gear are essential.
If you will be spending more time in a city getaway, versatile clothing options that you can layer and take off as needed would work better.
Next consideration is how long will you be gone? Packing the right size bag for your weekend adventure is important.
Try a weekend-sized backpack, duffel, or tote that comfortably fits your essentials. If you are flying, you will also be able to carry most of these size bags on the plane.
To maximize space, pack smart. Rolling your clothes and use packing cubes.
Weekend packing list: Clothes
You know the basics. First, pack enough underwear and socks for each day of your trip.
Bring versatile tops, such as T-shirts or Boho tops that can be easily layered yet are still pretty. Choose bottoms such as jeans, shorts, or skirts depending on the weather and activities you plan to do.
Packing Outerwear/Jackets
Even in warmer destinations and weather, you should still include a jacket, sweater or hoodie. Choose a light jacket for mild weather or a heavier one for colder destinations. A cozy sweater or hoodie is perfect for cool evenings.
Shoes
Also bring comfortable shoes for your activities. Whether it's sneakers, hiking shoes, or sandals, comfort is key. If you need something dressier for a special dinner, be sure to pack the shoes will need to wear with your outfit.
Toiletries and Personal Care:
1. Toiletry Bag Essentials:
Pack a toiletry bag with your essential personal care items. Include a toothbrush, toothpaste, and floss. Choose travel-sized shampoo, conditioner, and body wash to save space. Don't forget your razor and shaving cream.
Skincare and Makeup:
Next skincare. Pack the moisturizer, sunscreen, and lip balm you normally use to protect your skin. This is not the time to try a new product. If you wear makeup, bring along a minimal selection like foundation, mascara, and a versatile lip color.
Medications and First Aid
If you use prescription medications, you need to be sure those are packed as well as an additional five to 7 days worth of those medications.
When it comes to prescription meds, it's better to have extra with you as you never know when a travel delay may occur.
Also pack a basic first aid kit with band-aids, antiseptic wipes, and pain relievers.
Travel Documents.
Just as important as your medication is your identification. Whether it's a driver's license, passport, or ID card, you must ensure you have it at all times.
Next, keep reservation confirmations for your hotel, transportation, and planned activities organized and easy to reach.
Electronics
First your phone AND charger/cord. This way you will be able to stay connected. Also consider packing a portable charger or power bank to stay connected throughout your trip.
Entertainment
Bring along entertainment options such as an e-reader, tablet, or a good old-fashioned book. Be sure to also bring headphones, so you can listen to music or watch a movie without disturbing others nearby.
Miscellaneous Items
Snacks and Water. I always pack a reusable water bottle to carry with me as I prefer not to use plastic if I can. Also include a few non-perishable snacks like granola bars or trail mix can provide energy while you are out and about.
Small Bag or Daypack. Next include a smaller bag or daypack inside your larger travel bag. These are ideal for trips and outings. It can hold your water, snacks, camera, and a light jacket.
There you have it! Simply a little preplanning goes a long way. Save this article or print it out to use.
By packing for your destination and planned activities, you'll have everything you need when you arrive. This will also keep your luggage much more manageable and easy to carry.
Whether you're exploring a new city, hiking in the wilderness, or simply relaxing in a cozy cabin, check this article and list one last time before you leave. Then go have a great time!
Tip: I use my Complete Digital Travel Planner for EVERY trip. Not only does it absolutely ensures I have everything I need, it also helps me remember the special moment of the trip.
You can print it out over and over. Get it here: Complete Travel Planner Digital Vacation Holiday Travel Organizer
The information below will also help you in planning a Stress-Free vacation:
Upcoming Trip?
I like to use Booking for booking not only my hotels, but my tickets and rental cars as well. Makes life so much easier with only having to log into one location for my information.
Be sure to grab my travel tips to save you time and money. You'll also be entered into the weekly drawings.
Register here: Get 100 Travel Tips EVERY traveler should know PLUS entered into the weekly drawing.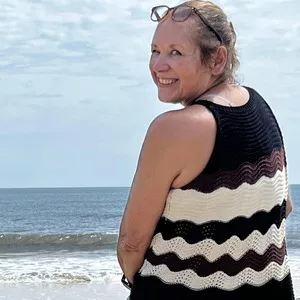 About Denise
Denise Sanger lives a life split between her love for fitness and her passion for travel particularly to the BEACH. Denise also has a love of marketing and lives in beautiful Suwannee County, Florida. You can find out more about Denise here: About Denise