Best Fall Beach Vacation Ideas in the United States (2023)
This article may contain affiliate links. Whenever you buy something through one of these links, I may earn a small commission without any cost to you. I really appreciate it as it supports this site and my family. Thank you!
UPDATED August 2023. Fall beach vacation? Absolutely!!! This article lists the best fall beach vacation ideas for you in the USA.
For me, there is never a bad day at the beach. Even standing on the beach in Atlantic City in January with snow on the ground was breathtaking.   
When Autumn arrives, many folks start to go into hunker down mode. But with the craziness lately in the world, nothing sounds better to me than a beach vacation.
Below are the best fall beach vacation ideas for this year:
Thank you for reading this post. Don't forget to subscribe! This way you never miss an update, travel deals, discounts and more!! Subscribe to the right------>
Fall Beach Vacation Ideas
Gulf of Mexico beaches. The Gulf of Mexico stays warmer into Fall making any of the beaches perfect for a fall getaway.
Florida Beaches
My favorites are Clearwater, Bonita Springs, St. Petersburg, Siesta Key, Pensacola, Panama City Beach and more.
This year my top pick goes to Sanibel Island and Captiva Island. These two islands have had a tough go of after being hit directly by a hurricane.
They have slowly been rebuilding. The reason I mention these two first is that tourist dollars help with the rebuild.
The next pick is also on the Gulf and it is St. George Island. This island was literally just named the #1 beach in the USA by Dr. Beach.
On St. George Island you have it all. Beautiful white sand and turquoise waters. But you also have the wildness inside the State Park located on the island.
Alabama and Texas Beaches
Gulf Shores in Alabama, Galveston in Texas. And of course my number one – Panama City Beach. Yes I am partial to Gulf Coast beaches.
The main reason is the white sandy shoreline and turquoise waters. Both Gulf Shores and Galveston are perfect destinations for Autumn.
Florida Atlantic Ocean Coastline
Atlantic side of Florida beaches. Not to be shoved aside, there are many gorgeous beaches up and down the east side of Florida.
My favorites are Miami Beach, Hollywood Beach, Delray Beach, Fort Lauderdale Beach, Vero Beach, St. Augustine Beach and of course beautiful Jacksonville beaches.
There are many beaches you are able to drive your vehicle directly onto the beach including Daytona Beach and Jacksonville Beach. But keep in mind the 4-wheel drive requirement is there for a reason.
Every time I've visited one of these beaches, someone is stuck in the sand. I personally prefer beaches without cars on them but can see how it'd be easier for a family to have their vehicle nearby when spending a day at the beach.
South Carolina and North Carolina
Myrtle Beach, SC. This is actually one of my favorite beaches all year long. Not quite as hot during the summer as Florida but also not as cool as the northeast in the fall.
Myrtle Beach offers you the best of both worlds. Beautiful beaches and fall pumpkin patches. Be sure to hit the boardwalk while you are in town.
Outer Banks North Carolina is truly breathtaking no matter what time of year it is. Locals though will tell you that fall is the best time to visit.
Like Myrtle Beach, the weather is fairly mild until December. You can enjoy the beach during the day then hit a fall festival or if you are in town for Halloween, hit the Pirate Festival.
Rhode Island
Moving up the east Atlantic coast there truly isn't anything as pretty as fall in the north. The brilliant colors of yellow, orange and red along the shore line are breathtaking.
In my opinion? Beach vacations in the northeast just might be even better than summer vacations. The coolness of the air allows for beautiful bonfires on the beach in the evening while days spent strolling along the boardwalks and shorelines create many wonderful memories.
One of my favorites is located in Newport, Rhode Island. Smaller crowds, no fees charged for parking at the beaches and beautiful colors of the trees greet you as soon as you enter the state.
Maine
Beautiful, rugged Maine is a must-see with your own eye's destination in Fall. It may be too cold to swim, but that won't stop you from walking on the shore.
Old Orchard Beach is my pick. Yes it is off season, but the scenery is breathtaking, and the town is quiet.
USA West Coast Beaches
Can't forget the beautiful west coast of the country! So many beaches so little time comes to mind when you visit California up through the northern part of the state of Washington.
I know the water is cooler in the Pacific than it is on the East Coast, but it's still absolutely as gorgeous. Although I love all the beaches along the pacific, I am partial to Oregon beaches. Fall can actually be the warmest time for beaches in Oregon.
Water is warmer BUT there are few crowds to deal with. Even better? Prices for hotels and other accommodations significantly reduce making Oregon a very budget friendly fall trip.
My favorite? Cannon Beach. It's spectacular.
Hawaii
Normally, Maui would be on this list. My heart goes out to this state as they get through the next few months from the devastation of the wildfires.
I really do not have much information to share with you as of this writing, but you can help by contacting The Maui Strong Fund. This organization is transparent in how funds are being used. Their website is https://www.hawaiicommunityfoundation.org/maui-strong
Best Fall Beach Vacation Ideas Planning Information
Upcoming Trip?
I like to use Booking for booking not only my hotels, but my tickets and rental cars as well. Makes life so much easier with only having to log into one location for my information.
Be sure to grab my travel tips to save you time and money. You'll also be entered into the weekly drawings.
Register here: Get 100 Travel Tips EVERY traveler should know PLUS entered into the weekly drawing.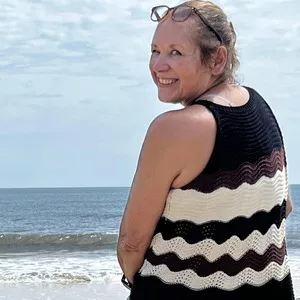 About Denise
Denise Sanger lives a life split between her love for fitness and her passion for travel particularly to the BEACH. Denise also has a love of marketing and lives in beautiful Suwannee County, Florida. You can find out more about Denise here: About Denise