15 Best Thanksgiving Weekend Vacations In Florida (2023)
This article may contain affiliate links. Whenever you buy something through one of these links, I may earn a small commission without any cost to you. I really appreciate it as it supports this site and my family. Thank you!
Florida is known for its beautiful beaches, warm weather, and family-friendly attractions. But did you know it is also one of the best places to spend Thanksgiving? Below are the Best Thanksgiving Weekend Vacations In Florida for you to enjoy.
Thanksgiving will be here before we know it, and many families are looking for a unique way to celebrate the holiday.
The number one destination is New York City for Thanksgiving vacations. You probably know why with the huge Macy's Thanksgiving Day Parade, Christmas Trees, and amazing light displays.  
If you're willing to watch the Thanksgiving parade on TV, one of the biggest draws of a long weekend for Thanksgiving vacation in Florida is the weather.
Thank you for reading this post. Don't forget to subscribe! This way you never miss an update, travel deals, discounts and more!! Subscribe to the right------>
While other parts of the country may be experiencing dreary, rainy, and cold temperatures or snow, Florida shines bright. 
This is why it is a top destination for those looking to escape the winter weather and enjoy some time in the sun not only at Thanksgiving but all winter long.
Plus many hotels and resorts offer special Thanksgiving packages that include a traditional Thanksgiving feast plus fun activities for the whole family to enjoy.
Whether you're looking to spend your Thanksgiving lounging on the beach, exploring the local attractions, enjoying a traditional Thanksgiving dinner feast.
Or maybe you want to walk or run in a Turkey Trot race, or are looking forward to those Black Friday deals, it's the perfect time to visit the Sunshine State.
With all these fun things to do, it's no wonder Thanksgiving celebration vacations in Florida are becoming more and more popular each year.
Below are the best places to go and in this article, you will find helpful links to help you plan your holiday getaway.
Best Thanksgiving Weekend Vacations in Florida Destinations
Thinking about traveling this year for the Thanksgiving holiday, but want to stay in the United States? Here are 15 of the best Thanksgiving weekend getaways in Florida:
Miami. Another city that never seems to sleep. In Miami, you can spend the day on white-sand beaches and the nights enjoying fine dining and live entertainment. South Florida has beautiful weather all year long and is a great option for a Thanksgiving vacation.
Orlando. Airports in Central Florida are direct flights from many cities. Yes, you can visit theme parks, including Walt Disney World and Universal Studios, but don't stop there. Orlando is a great place for many other activities too. You can enjoy a round of golf on a premier golf course, take in live music at a fun brewery or lounge, then cap the night with pumpkin pie at a fantastic restaurant.
Tampa, St. Pete Beach. Sugar-white sands and emerald green waters invite you to sit and relax for a while. Later explore the city's museums, parks, and historic sites. Several restaurants will be serving delicious Thanksgiving meals for you to enjoy later. If you have time, visit the fun Busch Gardens Amusement Park.
Key West. The Florida Keys are heaven on Earth. During the day, you can relax on the beach, take a sunset cruise, or visit the Hemingway House. In the evening, hit Duval Street and enjoy the palm trees swaying in the wind as you watch the football games in a fun bar.
St. Augustine. Enjoy discovering the city's rich history and walk the cobblestone streets including around the Castillo de San Marcos and the Fountain of Youth. Then enjoy the evening out and about as this city comes alive during the holidays as the palm trees are decorated with tiny white lights. It is the perfect place for the entire family.
Naples. Another gorgeous part of the Sunshine State is the Southwest side. Play golf, go shopping, or take a sunset sail where you can see dolphins leaping out of the water. Outdoor activities abound. Hike, bike, kayak, and more.
Sarasota. This is a gorgeous beach town that is perfect to visit at this time of year. Make time to see the Ringling Museum of Art, the Mote Marine Laboratory, or the Sarasota Jungle Gardens. Siesta Key is a hop, skip and jump away to include tropical paradise vacation.
Fort Lauderdale. Thanksgiving gives you the perfect opportunity to check out not only Fort Lauderdale but other nearby beach towns like Delray Beach or Hollywood Beach. Great place to not only enjoy the beaches but shopping and dining too. Also, Delray Beach has its annual downtown Delray Beach Thanksgiving Weekend Art Festival too at this time. Not only local artists but several outside the area that never miss this festival. You can get some holiday shopping done while on vacation
Daytona Beach. You might think this popular destination is only for race enthusiasts, but there is more to this town than the Daytona 500. Take a drive on the beach or check out nearby New Smyrna Beach which is a bit more low-key.
Clearwater and Clearwater Beach. Relax on the beach, visit the Clearwater Marine Aquarium, or take a sunset sail as you enjoy the small-town charms this area has to offer in its own unique ways.
Panama City Beach. PCB is my favorite place all year long including for a Thanksgiving getaway. Mild temperatures mean you can enjoy the beaches, go fishing, or visit the Gulf World Marine Park.
Amelia Island. You will love exploring the historic downtown area as well as Fort Clinch State Park. Search for shark teeth on the beach as you enjoy a sunny Florida day in Northeast Florida. Be sure to make time to hit the surrounding islands of Big Talbot and Little Talbot for a few more outdoor adventures. You can even enjoy horseback riding on the beach.
Palm Beach. A bit more upscale than the other destinations but a great city to get into the spirit at the start of the holiday season. Enjoy shopping you cannot find elsewhere and then for turkey day, have a great dinner at one of the amazing nearby restaurants that are open.
Pensacola. Near Panama City Beach, this area is loaded with fun outdoor activities and a great weekend destination. Visit historic landmarks and other nearby beaches of Fort Walton Beach and Perdido Key Beach and enjoy the small town vibe of this public holiday. Plenty to do and see or a great place to kick back and relax.
Fort Myers. Another great outdoor destination with beautiful weather year-round. Go birdwatching at the J.N. Ding" Darling National Wildlife Refuge, visit the Edison and Ford Winter Estates, or head over to Sanibel Island to look for shells. 
There you go. 15 Best Thanksgiving Weekend Vacations In Florida. No matter where you choose to spend Thanksgiving weekend in Florida, you're sure to have a great time.
The following information will help you plan the perfect Thanksgiving Vacation:
Upcoming Trip?
I like to use Booking for booking not only my hotels, but my tickets and rental cars as well. Makes life so much easier with only having to log into one location for my information.
Be sure to grab my travel tips to save you time and money. You'll also be entered into the weekly drawings.
Register here: Get 100 Travel Tips EVERY traveler should know PLUS entered into the weekly drawing.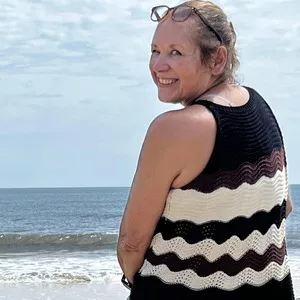 About Denise
Denise Sanger lives a life split between her love for fitness and her passion for travel particularly to the BEACH. Denise also has a love of marketing and lives in beautiful Suwannee County, Florida. You can find out more about Denise here: About Denise