Best things to do at Amelia Island Florida
This article may contain affiliate links. Whenever you buy something through one of these links, I may earn a small commission without any cost to you. I really appreciate it as it supports this site and my family. Thank you!
UPDATED 4/2023. All things Amelia Island. What to do. Where to stay. What to see. Ready? Let's explore!
Discover the Charm of Amelia Island: A Hidden Gem in Florida!
Amelia Island is a beautiful barrier island located off the coast of Florida. It is known for its pristine beaches, rich history, and unique culture.
Visitors to Amelia Island can enjoy a variety of outdoor activities, such as swimming, fishing, kayaking, and hiking.
The island is home to several state parks, including Fort Clinch State Park, which offers miles of hiking trails and a historic fort with volunteers dressed in clothing from when the fort was a military fort.
Thank you for reading this post. Don't forget to subscribe! This way you never miss an update, travel deals, discounts and more!! Subscribe to the right------>
The Amelia Island State Park is another popular destination, where visitors can go horseback riding on the beach or take a guided kayak tour through the salt marshes.
In addition to its natural beauty, Amelia Island has a rich history that dates back to the 16th century. The island was once a hub for the shipping industry and was home to several plantations.
At the end of this article, I have included links to fun things to do in the surrounding area as well as places to stay and other great tips.
Getting to Amelia Island
Amelia Island is a beautiful and serene destination that attracts visitors from all over the world. If you're planning a trip to this island paradise, you'll need to know how to get there.
The easiest way to get to Amelia Island is by flying into Jacksonville International Airport, which is located just 30 minutes away. From there, you can rent a car, take a shuttle, or book a taxi to take you to the island.
If you prefer to drive, Amelia Island is easily accessible from major highways, including I-95 and A1A. Once you reach the island, you can park your car and explore the island on foot, by bike, or by taking one of the many tours available.
For those who prefer to travel by boat, Amelia Island has several marinas and yacht clubs that offer docking facilities. You can also take a ferry from nearby Fernandina Beach to Cumberland Island, which is just a short distance away.
Whether you choose to fly, drive, or boat, getting to Amelia Island is easy.
History of Amelia Island
Amelia Island is a beautiful barrier island located in northeastern Florida. The island has a rich history dating back to the 16th century when it was inhabited by the Timucuan Indians.
In the 18th century, the island was under the control of the Spanish, who built a fort called San Carlos to protect their interests.
The island was also a popular spot for pirates, including the infamous Blackbeard, who used the island as a base for his operations.
During the American Revolution, the island was briefly occupied by the British, who used it as a base for their operations in the southern colonies.
After the war, the island was returned to Spanish control and remained under Spanish rule until Florida was ceded to the United States in 1821.
Amelia Island played an important role in the Civil War, with Union forces occupying the island in 1862 and using it as a base for their operations in Florida and Georgia.
After the war, the island became a popular destination for tourists and has remained a popular vacation spot to this day. Staff reenact life in 1864 on Saturdays including periodic costume, music and drills.
Today, visitors can explore the island's history further by visiting the Amelia Island Museum of History.
Top Attractions On The Island
Amelia Island is a beautiful destination that is perfect for those who want to relax and enjoy the natural beauty of the area on their vacation.
There are many attractions on the island that are worth visiting, including:
The Museum of History, which showcases the rich history of the island and its people.
The Fort Clinch State Park, which is a great place to explore and learn about the Civil War history of the area.
The Lighthouse, which is a must-see for anyone who loves lighthouses and wants to learn about their history.
The Fernandina Beach Historic District, which is a charming area full of historic buildings, shops, and restaurants.
The Amelia Island State Park, which is a beautiful place to go hiking, fishing, or just relax on the beach.
Also check out these Fun spots:
Beach lovers? You will love the 13 miles of white sand beaches while history lovers will definitely want to visit Fernandina Beach on the north side of the island.
Before you leave Fort Clinch State Park, be sure you hit the beach to hunt for shark's teeth and seashells. You might also catch a glimpse of the resident wildlife including tortoises and the beautiful painted bunting birds that call this park home.
Haunted? You betcha! If you love historic haunted mansions and more, take a guided carriage ride at night. You might catch a ghostly glimpse of a previous town resident.
Make sure you allow plenty of time for exploring while at Fernandina Beach including historic downtown. Grab a map and take an unguided tour through town.
There you will find Florida's oldest saloon, The Palace Saloon, which is also one of the first to have Coca-Cola on the menu.
Here are my must-visit stops while on the island:
Fernandina Beach. I know this doesn't shock my fellow beach lovers that my number one is the beach.
Fort Clinch State Park. See above.
Amelia Island historic district. Be sure to visit Fantastic Fudge.
Amelia Island State Park. Give yourself time to look for seashells to add to your collection as well as shark's teeth.
Marlin & Barrel Distillery. Be sure you stock up to hold you until your next visit.
Amelia Island Museum of History. Located in what used to be a jail complete with former jail cells.
Bosque Bello Cemetery. Step back into old world Florida as you walk through oak trees heavy with Spanish moss. History lives in this beautiful cemetery.
Amelia Island Lighthouse. Could not leave this lighthouse off my list. Not easy to tour though as it's only open a short time during the weekend.
Accommodations
Amelia Island is a popular destination for tourists due to its stunning beaches, rich history, and charming atmosphere. Visitors to the island have a range of choices when it comes to of accommodation options.
One of the most popular resorts on the island is the Omni Amelia Island Resort. This luxurious resort offers stunning ocean views, multiple swimming pools, a championship golf course, and a full-service spa.
Guests can choose from a variety of room types, including oceanfront rooms, suites, and villas.
For those seeking a more intimate experience, the Addison on Amelia Island is a charming bed and breakfast located in the historic district of Fernandina Beach. Walk everywhere from this BNB.
The inn offers seven uniquely decorated guest rooms, each with its own private bathroom. Guests can enjoy a gourmet breakfast each morning and relax in the inn's beautiful gardens.
In addition to resorts and hotels, vacation rentals, ranging from cozy cottages to spacious beachfront homes are also available. These rentals offer the perfect option for families or groups of friends looking for a home away from home.
Stunning natural beauty, history and endless opportunities for fun and adventure, Amelia Island is the perfect destination for anyone who loves the great outdoors.
Upcoming Trip?
I like to use Booking for booking not only my hotels, but my tickets and rental cars as well. Makes life so much easier with only having to log into one location for my information.
Be sure to grab my travel tips to save you time and money. You'll also be entered into the weekly drawings.
Register here: Get 100 Travel Tips EVERY traveler should know PLUS entered into the weekly drawing.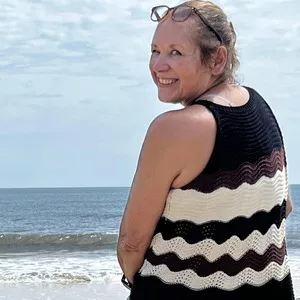 About Denise
Denise Sanger lives a life split between her love for fitness and her passion for travel particularly to the BEACH. Denise also has a love of marketing and lives in beautiful Suwannee County, Florida. You can find out more about Denise here: About Denise