BEST Things to Do in Apollo Beach Florida on Vacation This Year
This article may contain affiliate links. Whenever you buy something through one of these links, I may earn a small commission without any cost to you. I really appreciate it as it supports this site and my family. Thank you!
BEST Things to Do in Apollo Beach Florida on Vacation
Unknown to me, there are actually TWO beaches named Apollo Beach in Florida. I honestly didn't know that so when I started researching for a trip, I was stumped by what I was seeing.
There is one Apollo Beach on the Gulf side near the Tampa Bay Area in Hillsborough county. This Apollo Beach claim to fame is the Big Bend Power Station.
You will also find Tampa Electric's Manatee Viewing Center. The manatees visit this area to warm up during winter months. Big Bend Power Station discharges water it uses to cool the power plant into the canal. Manatees gravitate to the canal to warm up.
Coming soon will be an article on Apollo Beach in the Tampa Bay Area. What I'm going to talk about though in this article is the best things to do Apollo Beach located on the Atlantic coast. This beach is in Volusia County near New Smyrna Beach. 
Thank you for reading this post. Don't forget to subscribe! This way you never miss an update, travel deals, discounts and more!! Subscribe to the right------>
Apollo Beach is a great place to visit especially on vacation. A few of the best things in the area include surf fishing, a lot of wildlife and a natural seashore.
24 miles of absolutely gorgeous beach, it's truly an unknown and hidden gem. Apollo Beach is located just north of the Canaveral National Seashore in New Smyrna Beach. The sands of this beach are made of crushed coquina shells.
Enjoy walking the nearly 5 miles long stretch of beach is beautiful which is made even better by the sparkling waters. Below is a list of some fun things to do on your visit:
Canaveral National Seashore
In addition to being near New Smyrna Beach, Apollo Beach is located on the Canaveral National Seashore which is a National Park. This beach located on a barrier island is perfect for beach lovers.
Apollo Beach is one of the best small beach towns and enjoys 5 miles of beautiful sandy beaches. Inside the park, you will find parking lots specifically for this beach. But go early as they fill up fast during the busy winter months.
There are restrooms at this beach but you will not find restaurants or shops to keep the area natural. Looking to bare it all? You're at the right beach. Head to parking lot number 5 for the nude clothing optional beach.
Ponce de Leon Inlet Lighthouse & Museum
Enjoy a step back in time when you visit one of the most unique places in the area. The Ponce de Leon Inlet Lighthouse was constructed in 1887. It has been guiding those at sea for over 130 years.
In 1998, this lighthouse was declared a national historic landmark. Enjoy a great view of the blue waters at the world's most famous beach, Daytona Beach, along with Ponce Inlet and surrounding waterways.
Botanical Gardens
There are several botanical gardens near Apollo Beach. Visit Dunlawton Sugar Mill Gardens or Ormond Memorial Art Museum and Garden, both located on the coast.
At both parks, you will find a picnic area with picnic tables, benches, and restrooms. Dunlawton Sugar Mill Gardens is a historical site as the battle of Dunlawton Plantation happened there.
Ormond Memorial Art Museum and Garden, was founded at the end of World War II. The memorial garden is the perfect destination for those that love the outdoors along with history. Be sure to enjoy the habitat trails when you visit.
Canal Street Historic District
After you've explored the beach and the botanical gardens, make your way over to the Canal Street Historic District. A short drive from Apollo Beach, you will find amazing shopping and restaurants serving meals or shops with ice cream.
Walk-friendly, tree-lined streets offer an amazing blend of things to do including parks and historic buildings, specialty shops and service businesses, fine dining, art galleries, cultural attractions and the New Smyrna Beach Museum of History.
Events include sip and stroll, Canal Street Nights, Art & Artisan Stroll Gallery Walk, Heritage Day and Museum Open House, Canal Street Classic Car Show, and more!
Be sure to check the event calendar before you go. You'll find free parking in this walking friendly area.
New Smyrna Beach
One of the best places you should be sure to hit is New Smyrna Beach. Be sure to check out the New Smyrna Speedway, New Smyrna Museum of History and Turtle Mound National Historic Site.
Turtle Mound National Historic Site is where the earliest evidence of man at Canaveral National Seashore is found. There has never been a complete excavation of Turtle Mound. By protecting it for the future, we will be able to gain more insight into the way of life of the Timucuan people.
Daytona Beach
In nearby Daytona Beach, less than an hour's drive, you'll enjoy one of the most interesting beaches in the United States. Daytona Beach is a city on Florida's Atlantic coast.
It's known for Daytona International Speedway, which hosts February's iconic Daytona 500 NASCAR race. The beach has hard-packed sand where driving is permitted in designated areas.
Near the boardwalk's rides and arcades, Daytona Beach Bandshell stages free summer concerts. Steps from the beach, you'll find Daytona Lagoon water park which offers go-karts, laser tag and waterslides. Fun for the whole family.
After you explore the beach, be sure to check out the other fun things I found here:  26 Fun Free Things To Do In Daytona Beach
Fun facts about Apollo Beach, New Smyrna Beach Area:
Does Apollo Beach have an actual beach?
Yes. Apollo Beach is on Florida's East Coast and is popular with sunbathers, swimmers, fishermen and , yes, nudists around parking lot 5.
What is the crime rate for the Apollo Beach area?
Apollo Beach crime rates are 42% lower than the national average. Your chance of being a victim in this area is 1 in 402.
Is Apollo Beach a good place for a weekend trip?
Absolutely. Spend Saturday on the beach and then head out to explore the Canal Street Historic District Saturday night. Get the early so you have short walks wherever you decide to shop, eat or explore.
Looking for more beaches to explore? Click here for a List Of All Beaches in Florida 190+ Reasons To Relax
For hotel, flight and other deals for New Smyrna Beach, click here: New Smyrna Beach Vacation Information
Upcoming Trip?
I like to use Booking for booking not only my hotels, but my tickets and rental cars as well. Makes life so much easier with only having to log into one location for my information.
Be sure to grab my travel tips to save you time and money. You'll also be entered into the weekly drawings.
Register here: Get 100 Travel Tips EVERY traveler should know PLUS entered into the weekly drawing.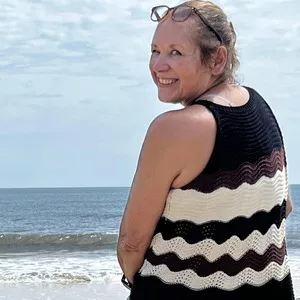 About Denise
Denise Sanger lives a life split between her love for fitness and her passion for travel particularly to the BEACH. Denise also has a love of marketing and lives in beautiful Suwannee County, Florida. You can find out more about Denise here: About Denise