25 Best Beaches With The Clearest Blue Water In Florida
This article may contain affiliate links. Whenever you buy something through one of these links, I may earn a small commission without any cost to you. I really appreciate it as it supports this site and my family. Thank you!
25 Best Beaches With The Clearest Blue Water In Florida
Are you looking for the best beaches with the clearest blue water in Florida? I completely understand. I do the same thing myself.
There is something comforting about being able to look down and see your feet in the water. That's one of the things that really bothers me when kayaking on some rivers in Florida. I literally cannot see even one inch into the water.
The Suwannee River in particular is a brown tannish color.
The Suwannee River begins in the Okefenokee Swamp in southeastern Georgia then flows south and southwest to the Gulf of Mexico. And when I tell you that you cannot see anything, I'm not kidding. The color of dark coffee, the river derives its tannic color from decaying vegetation in the Okefenokee Swamp and maintains a black tint as it flows south.
Thank you for reading this post. Don't forget to subscribe! This way you never miss an update, travel deals, discounts and more!! Subscribe to the right------>
And because of this you cannot see anything at all in the river. I like to see what is underneath me!
The same goes for the many beautiful beaches in Florida. When I walk into the Atlantic Ocean or the Gulf of Mexico, I like to see my feet. If I cannot, I again wonder what is there that I am not seeing.
If this sounds like you, I have you covered. Florida has over 800 miles of coastline and gorgeous beaches but not all beaches are the same.
In my opinion the further north you go on the Atlantic Ocean side or often in the middle of the state on the Gulf of Mexico side, you'll find steel gray waters. On the east coast, the further south you go, it seems the clearer the water is.
However on the Gulf coast, you will find crystal clear water on the Florida panhandle is crystal clear while several points south are also the darker blue to gray making it difficult to see. One trip in particular to Fort Myers, I was in the water when a wave hit me and my sunglasses flew off my head. That fast I looked for them but could not see them anywhere.
The list below is a list of the 25 best places to find beaches with the clearest water in Florida and where they are located.
Best Beaches With The Clearest Blue Water Florida Keys
The Florida Keys. Many call the Florida Keys heaven on earth and a popular destination for vacationers. And for good reason. As you drive over first the three-mile bridge then the seven-mile bridge as you make your way to Key West, the water is breathtaking.
From Key Largo all the way to Key West, you will find blue water and beautiful beaches. I personally prefer the Gulf side over the Atlantic Ocean side. Shallow water. Palm trees. And calm waters.
Best Beaches With The Clearest Blue Water In Florida Gulf of Mexico
Clearwater Beach. The perfect name for the beautiful clear turquoise waters. Many beaches on the Gulf have breathtaking white sand beaches including Clearwater Beach.
After spending a fun day in the sun and warm waters, Clearwater also offers many fun places to explore. Nearby St. Petersburg and Tampa provide you with a short drive to the beach. Easy to fly in and out of the convenient Tampa/St. Pete International Airport.
The best things to do in Clearwater Beach? Well we know the beach is number one with beautiful white sand but there are so many other things to do. You are also very close to Tampa beaches, Treasure Island and Sand Key Beach.
Shopping, dining, and museums provide many options. Be sure not to overlook the Clearwater Marine Aquarium or the nature trails at Moccasin Lake Nature Park.
Siesta Key Beach. If you have not made a trip yet to Siesta Key, you are missing out. This beach is beyond beautiful!
Siesta Key is also located on the Gulf of Mexico but further south than Clearwater Beach. Siesta Key, Longboat Key and Lido Key are all barrier islands which separate Sarasota Bay from the Gulf of Mexico.
Siesta Key stretches for eight miles along the coast of Sarasota County and is one of the most popular beaches in the USA. Folks say the white sand is brighter than any other beach. White sugar sand you want to sink your toes into.
When visiting Siesta Key, be sure to take time to hit Longboat and Lido Keys along with Crescent Beach and Turtle Beach. All are just as gorgeous.
After spending the day on the beach, enjoy shopping, delicious dining and use the Siesta Key Breeze Trolley to get around. It's free!
Longboat Key, Florida. As mentioned above in the Siesta Key section, Longboat Key is also a barrier island in the Gulf. Plus? It's absolutely breathtaking.
Your meals will not be any fresher than those you enjoy in Longboat Key. Many of the beach cafes serve fresh caught fish right off the fishermen's boats.
While in this beautiful city, be sure to include time to visit Beer Can Island. Driftwood lines the shores of the beach and the view is out of this world.
Sanibel Island, Florida. I absolutely LOVE Sanibel Island. It is magnificent. Sanibel Island is only three miles wide and roughly 13 miles long.
This island is a shell seekers dream and nature lovers paradise. More than half the island is made up of wildlife refuges with the largest being J. N. "Ding" Darling National Wildlife Refuge.
Be sure to visit Lighthouse Beach located on the east end of the island. There you will find the historic 1800s lighthouse. Parking is available in the parking lot for $5/hour.
Besides searching for the perfect seashell, be sure to enjoy snorkeling and bird watching. Water sports? Absolutely. Paddleboarding, kayaking, boating, swimming and diving are all available on beautiful Sanibel Island.
Smathers Beach, Key West. Many beaches in the Florida Keys are rocky but not Smathers Beach. The sand on this beach was actually imported into Key West.
The is largest beach in Key West at two miles long with many things to do and beautiful crystal clear water. When my girls were young, we walked out on this beach and could see the many shells as we looked down. Even picked up a large conch shell!
Laid back. Beautiful and several spots you can get out of the sun into shade if you need too. Vending trucks are available with snacks, beverages, chairs, and rafts. Public restrooms and showers available.
Anna Maria Island. This family friendly beach is located a bit south of Sarasota. Quieter than many of the nearby beaches, you will feel as if you are in your own private paradise.
Another barrier island on Florida's Gulf Coast, it's one of the larger island beaches with 22 miles to enjoy. You will find some of the clearest water at this beach. You can literally see the floor of the Gulf as you walk into the water.
Enjoy the slow beach lifestyle as you stroll through the quaint town. Explore the shops and art galleries as well as the delicious dining available.
History buff? Several piers date back to the early 1900's. Be sure you take the time to explore Coquina Beach and Coquina Baywalk. Take time to explore the many nature trails you will find including Coquina Trail This trail provides an easy stroll as it winds along the shore of the beach.
Best Beaches With The Clearest Blue Water In Florida Panhandle Beaches
Destin, Florida. You know the panhandle is my favorite part of Florida and for good reason. Beautiful, clear blue waters and white sand beaches are the best offered in Florida.
Although Destin is often referred to as the beach with the clearest water, I think all of the beaches in this area have clear water. What makes Destin different? Choctawhatchee Bay.
Choctawhatchee Bay acts as a filter for the water by keeping the darker sediment and letting the clear waters flow back to Destin.
Destin is the most visited beach on the Panhandle and for good reason. In addition to the gorgeous beach, you'll find some of the best shopping, golfing, and dining in the area.
Although the sand may look like sugar, it comes from the Appalachian Mountains believe it or not. The ground quartz sand flows south to Destin by the Apalachicola River making it some of the whitest sand in the world.
Panama City Beach, Florida. If you have been with me any time, you know PCB is by far my favorite beach in the world. Gorgeous powder sand beaches and clear turquoise waters you cannot wait to put your feet in makes this the perfect place for a vacation.
Panama City Beach also benefits from the Choctawhatchee Bay but many think the water is not as clear as Destin. I disagree. You can walk out quite a distance and still see your feet on the bottom of the Gulf as you look down.
But there is more! PCB is home to the largest concentrations of Atlantic Bottlenose dolphins anywhere. Many times sitting on the balcony of the VRBO we rent, we enjoy watching dolphins as they frolic and fish in the surf.
Convenient. Panama City Beach has more than 100 public beach access points. Be sure to visit St. Andrew State Park. It is ranked one of the top 10 beaches in the United States. It is located on Shell Island where you will be able to explore lake, deciduous forest, sand dunes and the Gulf.
Rosemary Beach, Florida. The beautiful beaches on the Panhandle continue with Rosemary Beach located on 30A, and it does not disappoint. This beach in the Sunshine State is quickly becoming a favorite vacation spot.
One of the best things about Rosemary Beach is the sandbar located about 30 yards off shore. This makes it a great place for swimming as it is protected from ocean currents and riptides.
It may be difficult for you to get to this magnificent beach if you are not staying at one of the condos or resorts. There is no public beach access.
To get to Rosemary Beach by plane, you would fly into nearby Panama City Beach. You can Uber, taxi or rent a car to get you to your destination roughly 13 miles from PCB.
Santa Rosa Beach, Florida. Also located on Florida's Panhandle, Santa Rosa Beach is Destin's sleepy next door neighbor. As with Rosemary Beach, there is no public beach access. As a matter of fact, you will find you need a code to get through the gates on to the beach.
One thing you will notice in Santa Rosa Beach are the live oak trees with the saw palmettos. These were planted more than 20 years ago and add a beautiful yet unique look to the city.
Another thing you might notice is that there are no high rise buildings. This helps the beaches not feel crowded and easier to enjoy a delicious dinner in town.
Navarre Beach, Florida. Navarre Beach is also located on the Panhandle and not only has beautiful clear waters but an island with amazing views and marine life.
Full of natural charm, you will find that this beach is not at all commercial. If you prefer beach days that are quiet, clean, untouched and unspoiled, this is the beach for you.
Boca Grande, Florida. Boca Grande is a small community on Gasparilla Island in southwest Florida. Also still on Florida's Gulf Coast.
Beautiful white sugar sand beaches, clear blue water and amazing shopping and dining in the historic downtown section of the city. Love to fish? Then this is the beach for you as it is well known for its world class fishing.
When visiting this gorgeous beach town, be sure to hit Banyan Street where you will find it lined with 31 banyan trees. These trees have stood the test of time against many hurricanes in the 90+ years they have been standing.
Love water sports? Boca Grande delivers. Enjoy paddle boarding, kayaking, boating, diving, swimming and of course fishing.
Best Beaches With The Clearest Blue Water In Florida Atlantic Coast
Jupiter, Florida. Moving over to the Atlantic side you'll find some of the clearest water in Jupiter. Jupiter is located on the southeast side of Florida overlooking the Loxahatchee River. You will also find the red 1860 Jupiter Inlet Lighthouse when you visit with its magnificent views.
As the northernmost city in the county of Palm Beach, Jupiter has amazing weather year round, plenty of waterfront activity and sea turtles. You will find plenty of loggerhead turtle nests on the 120 miles of beachfront of Jupiter.
In addition to the beautiful weather and things to do, Jupiter is pet friendly and a golfer's paradise. Plus you just may spot a celebrity. Tiger Woods, Venus Williams, Michael Jordan are often spotted here.
Singer Island, Florida. Singer Island is also located in Palm Beach County and actually the point is the easternmost portion of Florida.
People watch and suntan on the beach then cool off in the clear waters. Singer Island also has many parks, marinas, hiking and nature trails along with bike paths. Perfect for those that love to spend their time outdoors.
Palm Beach, Florida. This beach town is known as a get away for the ultra wealthy. But don't let that stop you from going.
Clear blue waters with public beach access makes this a location anyone can enjoy. 47 miles of coastline to explore. Love to shop?No budget? Here you will find plenty of upscale boutiques to browse.
Huge estates and home to many wealthy individuals makes this a people watching town. As for me? I prefer other areas to vacation but I am including this for those that prefer a more upscale vacation.
Delray Beach, Florida. A bit south of Palm Beach, you will find gorgeous Delray Beach. When I lived in South Florida, I enjoyed this beach quite often.
One of the best things about Delray Beach is its small town feeling. Quite refreshing for this part of the coast.
Beautiful clear water, fantastic restaurants and a jamming nightlife for those that want to go out and hit the town. Definitely one of my favorite locals in South Florida.
Hollywood Beach, Florida. Another favorite of mine and one that my family spent many summers enjoying. Water may not be as clear as other beaches but don't let that stop you from visiting.
Warm waters in the summer can stay clear depending on the tides. If it is calm, you will be rewarded with a clear view of your feet and many seashells. My sister found a huge conch shell on the beach that has a permanent spot in her home till this day.
Miami Beach, Florida. So many reasons to visit Miami. South Beach. Lincoln Road. And beautiful Miami Beach.
Miami Beach is beautiful with its sugar sand, large seashells and marine life. Again like the other beaches on this part of the Florida east coast, the clarity of the water will depend on the ocean currents.
Fun fact about Miami Beach many aren't aware of is that it is bordered by two national parks. You will find Everglades National Park along with Biscayne National Park.
This makes Miami the only city in the USA with two national parks on its borders. Bring a lunch as there are plenty of picnic areas to enjoy your meal and the view.
As with Palm Beach, keep your eyes peeled as you never know who you may see. Miami Beach brings a lot of celebrities to town for the same reason you are there. Beautiful weather. Beautiful beaches. And plenty of things to do.
New Smyrna Beach, Florida. Moving up the east coast a bit and you will find yourself near Daytona Beach when you visit New Smyrna Beach.
I recently visited this gem and was surprised by the number of cars parked on the beach. There is literally two-way traffic that runs along the New Smyrna Beach coastline.Get there early or you will not get a parking spot.
In addition to the clear waters, keep your eyes open as New Smyrna Beach is also the shark capital of the USA. Possibly the world. Many shark bites are reported on this beach.
I hope you've enjoyed this list of Best Beaches With The Clearest Blue Water In Florida. Looking for more beaches to explore? Click here for a List Of All Beaches in Florida 190+ Reasons To Relax
The BEST way to enjoy any of these beaches? Rent a home or condo. Get more info here: Vacation Rentals Florida
Upcoming Trip?
I like to use Booking for booking not only my hotels, but my tickets and rental cars as well. Makes life so much easier with only having to log into one location for my information.
Be sure to grab my travel tips to save you time and money. You'll also be entered into the weekly drawings.
Register here: Get 100 Travel Tips EVERY traveler should know PLUS entered into the weekly drawing.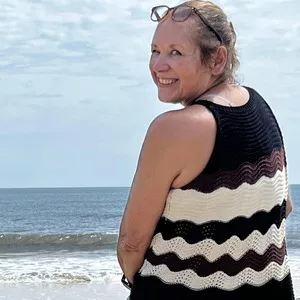 About Denise
Denise Sanger lives a life split between her love for fitness and her passion for travel particularly to the BEACH. Denise also has a love of marketing and lives in beautiful Suwannee County, Florida. You can find out more about Denise here: About Denise