Best beaches for seashells in Florida.
This article may contain affiliate links. Whenever you buy something through one of these links, I may earn a small commission without any cost to you. I really appreciate it as it supports this site and my family. Thank you!
I'm a lucky girl living in Florida. At any time, I'm about 1-1/2 hours from either the Gulf Coast or the Atlantic Coast. Travel is my thing, but the beach is my happy place and one of my favorite things to do on the beach is collect seashells.
There are so many shells throughout my home and on my porch and each one tells a story. I have shells that are half black from a trip to Sanibel Island after the oil spill in the Gulf. From Hollywood Beach, I've got a huge conch shell that sits in the guest bathroom. From St. Augustine Beach, I have shells of all shapes and sizes. The beautiful thing about St. Augustine Beach is that it's seldom as crowded as other beaches.
If you love to collect seashells as much as I do, these are the best beaches for seashells in Florida:
There are two islands that are fantastic for shelling. The first is Ten Thousand Islands and the second is Sanibel Island. You probably have heard of Sanibel Island. That's both a blessing and a curse for shell seekers. But what I do is I'm up early – at sunrise – walking the beach before everyone else descends on the white sand. I've collected some of my most prized shells on Sanibel Island. Here in Florida, Sanibel Island is called the elbows and a@@ beach. Why? That's what you see first of the many people bent over collecting shells.
Marco Island has several beaches a shell collector should be sure to visit. Be sure to stop at both South Beach and Tigertail beach. I promise you won't be disappointed.
Captiva Island. Very close to Sanibel Island and definitely a good beach for shell collectors. This whole area – Sanibel, Marco and Captiva Islands are a shell seekers paradise.
Shell Island, Panama City Beach. Every year, we make it a point to rent a pontoon boat and head over to Shell Island. Shell Island is an uninhabited island so be sure to remove anything you take with you to the shore.
Amelia Island. Another one of my annual visits and which I'll be heading to shortly for camping on the beach. Not only shells, but shark teeth as well can be found over near Fort Clinch on Amelia Island.
What should you take with you for a day collecting seashells?
The wonderful thing about a seashell collecting hobby is that it doesn't take much equipment. I carry a mesh bag that allows the sand to fall out along with my phone for pics and a bottle of water. After all, all that bending and picking up can be good exercise and we must stay hydrated. 🙂
Thank you for reading this post. Don't forget to subscribe! This way you never miss an update, travel deals, discounts and more!! Subscribe to the right------>
Upcoming Trip?
I like to use Booking for booking not only my hotels, but my tickets and rental cars as well. Makes life so much easier with only having to log into one location for my information.
Be sure to grab my travel tips to save you time and money. You'll also be entered into the weekly drawings.
Register here: Get 100 Travel Tips EVERY traveler should know PLUS entered into the weekly drawing.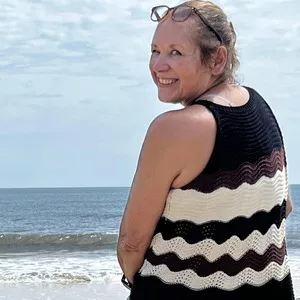 About Denise
Denise Sanger lives a life split between her love for fitness and her passion for travel particularly to the BEACH. Denise also has a love of marketing and lives in beautiful Suwannee County, Florida. You can find out more about Denise here: About Denise