Top Beaches Near Tallahassee Florida What you Need To Know
This article may contain affiliate links. Whenever you buy something through one of these links, I may earn a small commission without any cost to you. I really appreciate it as it supports this site and my family. Thank you!
The Secret's Out: Exploring the Hidden Gems at the Best Beaches Near Tallahassee Florida
Tallahassee may not be the first city you think of when planning a beach vacation, but this vibrant Floridian capital is actually quite close to some of the best beaches on the Florida Gulf Coast of Mexico. It is actually home to friendly beaches and towns.
Stunning surroundings hide some incredible spots and secret gems just waiting to be discovered. From untouched white shells perfect for shelling in Alligator Point to coastal marvels with bright colors and diverse aquatic life at St. George Island, and up through the Panhandle over to Panama City Beach.
There are so many of the prettiest beaches in this area hidden away along Florida's southeastern coast and miles of coastline.
Where is Tallahassee Florida?
Tallahassee is the capital of Florida and located in Leon County, in the northwestern panhandle of the state. It is situated along Interstate 10 and is approximately midway between Pensacola and Jacksonville.
Thank you for reading this post. Don't forget to subscribe! This way you never miss an update, travel deals, discounts and more!! Subscribe to the right------>
The city covers an area of over 90 square miles and is home to numerous parks, lakes, and the Gulf of Mexico. It has a humid subtropical climate, with hot summers and mild winters.
How to get to Tallahassee Florida?
Tallahassee is easily accessible by plane, with the Tallahassee Regional Airport located just 8 miles away from downtown. There are also flights available to and from Jacksonville International Airport roughly 2.5 hours away.
The city can also be reached by car via I-10 or U.S. Route 27, both of which run through the city.
Hidden Beaches Near Tallahassee Florida
There are a few hidden beaches near Tallahassee that often get overlooked by locals and visitors alike. These beaches n ear Tallahassee Florida offer a quiet, uncrowded escape from the hustle and bustle of everyday life and are perfect for a relaxing day spent swimming, sunbathing, and enjoying the view.
Wakulla Springs State Park
One such beach is Wakulla Springs State Park. This Florida state park located in Wakulla County features a large, sandy beach on the banks of Wakulla Springs.
This beautiful park is a short drive from Tally and is one of the largest and deepest springs in the state. The clear, freshwater spring-fed river makes for perfect swimming and floating, and the lush, green forest that surrounds the beach provides plenty of shade.
Pack your lunch or grab something from the restaurant in the lodge and eat lunch at one of the picnic tables near the spring or picnic areas located throughout the park.
Grayton Beach State Park
Next to talk about is Grayton Beach State Park. This beach is on the list of the best beaches in the United States and is a perfect day trip from Tallahassee.
Grayton Beach State Park is a great spot for beach activities. This state park offers over two miles of pristine white sand beaches and emerald waters perfect for swimming, fishing, kayaking, paddleboarding and more.
With its crystal clear water, you can also spot a variety of marine life including sea turtles and dolphins. Grayton Beach State Park is one of the most beautiful Florida State Parks that offers camping. But you will need to reserve well in advance.
Bald Point State Park
Bald Point State Park is a great spot for birdwatching and other wildlife. Located just 17 miles south of Tallahassee and offers stunning views of the Apalachicola Bay.
It's not only a great spot to enjoy some beach activities but is also an excellent place for nature lovers. With its three miles of shoreline, Bald Point is home to a wide variety of migratory birds that come here throughout the year.
The Gulf Coast marshland provides great habitat for various species, including bald eagles, roseate spoonbills, American oyster catchers and more. Bald Point State Park is located on Alligator Point.
Alligator Point
If you're looking for a shelling haven, look no further than Alligator Point. This narrow peninsula on Florida's Panhandle is well-known among beachcombers for its abundance of seashells and even horseshoe crab shells. In fact, the sand here is virtually paved with them!
Alligator Point is also a great place to see dolphins and other marine life. There's even a small lighthouse on the point that makes for a picturesque backdrop.
Each fall, bald eagles and other migrating raptors along with monarch butterflies are commonly seen heading south for the winter here and in St. Mark's Refuge.
Keaton Beach
The Florida beach, Keaton Beach, is a bit farther south of Tallahassee. Its shallow waters make it perfect for families. Yes this is the beach that the girl was bitten by a shark while scalloping a few miles offshore. The summer months of June through September.
The small town of Keaton Beach is located about an hour drive north of Steinhatchee and after Hagen's Cove where I love to kayak. In addition to fun water sports, this area is also well known for scallop season.
St. George Island State Park
There's no question that St. George Island, a beautiful barrier island, is an incredible coastal spot. With its white-sand beaches and crystal-clear waters, it's easy to see why this spot is a popular destination and the perfect place for vacationers.
But what many people don't know is that St. George Island also has one of the state's most beautiful parks and beaches at the far east end of the island. A boat ramp is available from the park to launch kayaks or canoes.
The island also has crystal-clear water and a number of reefs and shipwrecks that are home to a variety of fish along with a fishing pier that extends 600 feet into the Gulf of Mexico.
St. Marks National Wildlife Refuge.
Another great option is St. Marks National Wildlife Refuge. This beach is located on the Gulf of Mexico and is known for its beautiful white sand beaches, crystal-clear waters, and abundance of wildlife. It's perfect for fishing, birding, kayaking, and paddleboarding along the tidal creeks, river, and coastal marshes.
St. Marks Lighthouse is located at the end of Lighthouse Road. Although you cannot climb the stairs for safety reasons, you can go inside the lighthouse and see how it has been restored.
One more thing to mention, like Alligator Point mentioned above, the monarch butterflies also migrate through the refuge. Plenty of parking, nature trails,
St. Andrews State Park.
St. Andrews State Park is a great spot for snorkeling and kayaking. This state park has two miles of shoreline on both sides of its entrance channel, making it an ideal spot for swimming, snorkeling, and kayaking.
You can see a variety of marine life, including seahorses, green turtles, and manta rays. Plus, St. Andrews State Park has numerous sand dunes without of this world sunset views on the Florida Gulf Coast.
St. Joseph Peninsula State Park
St. Joseph Peninsula State Park is located on the Gulf of Mexico near Port St. Joe, about an hour from Tallahassee. Often called the Forgotten Coast, this area truly has some of the most beautiful beaches folks do not know about.
St. Joseph Peninsula is most well known for its sandy white beaches and tall dunes on the Gulf of Mexico side and marsh on the St. Joseph Bay side. The area is one of many popular spots for water sports of all types including snorkeling, paddleboarding, kayaking, jet skiing, diving and more.
Carrabelle Beach
Carrabelle Beach also called Old Carrabelle Beach and often spelled Carabelle Beach is on the Gulf side of the state and may be the closest beach to take your dog swimming. Yes it is a dog-friendly beach.
Located across the road from a RV park, Carrabelle is also home to the Crooked River lighthouse. This lighthouse was built to replace the lighthouse on Dog Island which was destroyed by a hurricane.
This is one of my favorite areas to visit during the summer months. But Tate's Hell State Forest also located nearby along this wild coast of Florida, is not a forest to hike during summer. Very little shade.
The public beach offers picnic shelters, restroom, and soft white sand and warm gulf water during the hot summer months.
Islands
Although there are several islands offshore, many people ask if this is near Perdido Key. It is not. Perdido Key is on the panhandle between Pensacola and Alabama.
For those that are looking for an island getaway feel, check the Florida Keys in the south, Amelia Island in the northeast or the islands of Sanibel or Captiva on the southwest side. Note the southwest side is recovering from a hurricane.
Hope you've enjoyed these Beaches Near Tallahassee Florida.
Upcoming Trip?
I like to use Booking for booking not only my hotels, but my tickets and rental cars as well. Makes life so much easier with only having to log into one location for my information.
Be sure to grab my travel tips to save you time and money. You'll also be entered into the weekly drawings.
Register here: Get 100 Travel Tips EVERY traveler should know PLUS entered into the weekly drawing.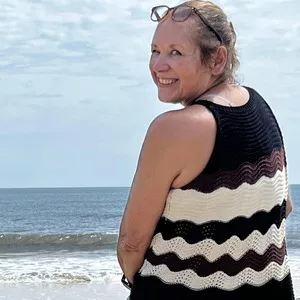 About Denise
Denise Sanger lives a life split between her love for fitness and her passion for travel particularly to the BEACH. Denise also has a love of marketing and lives in beautiful Suwannee County, Florida. You can find out more about Denise here: About Denise