A Visit To St. George Island Florida Top Things To Do And Great Places To Stay
This article may contain affiliate links. Whenever you buy something through one of these links, I may earn a small commission without any cost to you. I really appreciate it as it supports this site and my family. Thank you!
Located just off the coast of Florida, St. George Island is a picturesque destination that attracts visitors year after year. With its stunning beaches, charming atmosphere, and abundance of outdoor activities, it's no wonder why families like mine make it a regular vacation spot.
Just a short drive from Tallahassee, where my daughters live, St. George Island offers a perfect getaway for relaxation and fun in the sun. This barrier island is located in Franklin County on the Gulf of Mexico is a short drive from the Sunshine State capitol.
Where is St. George Island?
St. George Island is located in the Gulf of Mexico, off the coast of Florida. It is part of a chain of barrier islands that run from Cape San Blas to Apalachicola.
The island is approximately 22 miles long and 2 miles wide, with a population of around 1,000 people. It is a popular tourist destination for those that know about it.
Thank you for reading this post. Don't forget to subscribe! This way you never miss an update, travel deals, discounts and more!! Subscribe to the right------>
White-sand beaches, crystal-clear waters, and abundant vegetation all greet you as you drive over the bridge onto the island.
How to get to St. George island?
The closest airport to St. George Island, is Tallahassee International Airport. From there, rent a car and drive east on Highway 98 until you reach the island. The drive will take about two and a half hours.
Love road trips? This is definitely one for the books. To drive to St. George Island off I-10, take the Bob Sikes Cut-Off. The Cut-Off is located about 15 miles east of Pensacola and will take you directly to the island.
Crossing the bridge over the bay to the island is beyond breathtaking. St. George Island is roughly 22 miles long and holds some of the most beautiful beaches in the United States.
The drive is a beautiful one, with views of the Gulf of Mexico on one side and forested wetlands on the other. Once you reach the island, there are several ways to explore it.
Once you are on the island, you can drive or bike or catch a ride on the St. George Island Shuttle. The shuttle makes stops at several points around the island, including the beach, grocery store, and park.
St. George Island Things To Do
On our last drive, we stopped at Carabelle Beach which is a dog friendly beach. Other trips, however, brings me from Apalachicola across Apalachicola Bay over the St. George Island Bridge onto St. George Island.
Whichever way you choose to get there, be ready for the breathtaking views you will see along the way. Below are the top things you will want to do while on the island.
St. George Island, Florida Things To Do
St. George Island Lighthouse
There are plenty of things to do on vacation on St. George Island, Florida. One great activity everyone loves to do is to visit the St. George Island Lighthouse.
The lighthouse was built in 1856 and is still operational today. It's open for tours from 10am to 4pm daily, and it's a beautiful sight to see.
The higher you climb the circular stairs, the more narrow it becomes. Once you finish your stair climb, save a bit of energy for the final push into the lighthouse.
We climbed to the top 92 steps to be exact and then climbed up a ladder into the top of the lighthouse. WHAT A VIEW!
As you glance out through the glass, you will see miles of undeveloped beaches, beautiful homes along with St. George Island Vacation Rentals. On the eastern end of the island, you will find Dr. Julian G. Bruce St. George Island State Park.
Dr. Julian G. Bruce St. George Island State Park.
The state park on the island is a great place for wildlife viewing, or a nature hike or bike ride on the many nature trails. There are also several trails that lead down to the beach.
On the Gulf side of the park, you will find clear gulf waters and white sand beaches. On the bay side, you find unspoiled nature and a variety of activities nature lovers cannot wait to explore.
Bring your binoculars! The Bay side shoreline is very active during the summer months. Watch for glimpses of loggerhead sea turtles and shorebirds such as the snowy plover, least tern, willet and black skimmer. All build their nests within the park.
Love to camp? Bring your tent, RV or rent a cabin. Fair warning. This state park is booked year round so start planning your trip early.
Fishing
Another fun activity is to go fishing. There are plenty of great fishing spots around the island, and you're likely to catch some big fish. Be sure to bring your tackle box and sunscreen, as the sun can be quite strong here.
The waters around the island are clear and also perfect for shelling, swimming and boating.
If you're looking for something a bit more relaxing, you can always go swimming or sunbathing on one of the serene beaches here. The sand is white, and the water is crystal clear, making for a perfect day at the beach.
Be sure to take time and enjoy fun water activities including paddleboarding, kayaking or canoeing.
Shopping And Dining
Be sure to make time to check out all the great restaurants and shops in town. There's something for everyone here, so be sure to explore all of your options.
Our favorite and the restaurant we always go back to is the Blue Parrot Oceanfront Café. Like its name, it sits ocean front, and you can watch the waves while enjoying a tropical cocktail with an umbrella.
I'm not the one to ask about the menu though as I always get their delicious burger and fries. But everyone that I have taken to this great place has loved their meals.
You can leave your car parked in the public lot. It is a short walk from the café to the historic lighthouse. Get hours and menu information here: Blue Parrot Oceanfront Café.
In addition to the Blue Parrot, there are a few other places to eat on St. George Island but not many. I have not visited yet this year (2023) but these restaurants were there my last visit.
Paddy's Raw Bar, located on the Bay gives you a water view with your delicious meal. Choose local Apalachicola oysters, seafood, chicken, burgers and more. You can check hours and current menu here: Paddy's Raw Bar
One more I'd like to mention is The Beach Pit. I have visited it for breakfast and it was good. They do have lunch and dinner also. You can check hours and current menu here: The Beach Pit
Did someone say donuts? I thought I heard it. If you love donuts, be sure to stop at Weber's Little Donut Shop.
Little pillows of fluffiness that are so delicious you won't be able to stop at one. Get their current hours here: Weber's Little Donut Shop Reminder, this little donut shop is on an island. Be patient as you will probably have to wait. Also bring cash.
Where to stay on St. George Island.
This is a whole other conversation. Again I want to remind you that you are planning a vacation on an island. There will not be the usual chain hotels, but there are several fantastic options to choose from.
First is St. George Inn. Beautiful southern charm located steps from the beach. Check the photo for how quaint this hotel is (photo from Tripadvisor). This Inn is located right in the middle of it all. Very walkable to restaurants and shops. Get current rates here: St. George Inn
Next on the list is Island Suites. This is actually a BNB located right on the sandy beach. Very convenient location near attractions. You can get additional information here: Island Suites
Personally? My preference is a vacation rental. Many come with a golf cart making it easy to get around the island. Not only do you get the whole house to yourself, most are right on the water. Look at this vacation rental Stella Di Mare (Photo from VRBO) Can it get any better?
What's better than walking to the balcony or porch with your coffee in the morning? Check out the options here: St. George Island Vacation Home Rentals
Finally, St. George Island State Park offers cabins and camping for RV's and tent. Keep in mind this Florida State Park is very popular and not easy to get a reservation. Plan ahead.
Tips to make your St. George Island Florida vacation a memorable one
Shhh. Don't tell anyone but there are a few secrets and tips for vacationing on St. George Island that will make your trip even better. Here are a few of them:
Rent a golf cart. Fun to get around the island but also the best way to see everything. There are plenty of places to rent golf carts, but you will want to reserve yours in advance.
More active? Rent a bicycle and explore the island. The island is small enough that you can easily explore the full island by bike. There are several bike rental companies on the island.
Vacation during off-season. This is exactly when I visit. The island is busier during the summer months which is why I prefer fall and winter. If you're looking for a vacation that would be the time for you to visit also. You will enjoy all the beaches and restaurants, but without the crowds.
Book a beach house. If you really want to feel like you're on vacation, book a beach house for your stay. There are so many options from multi-story luxury beach homes to a small quaint beach cottage. Check with St. George Island Vacation Rentals.
Take a fishing charter or one of the many boat tours. Excellent fishing is definitely a popular activity on St. George Island, and there are plenty of fishing charters to choose from. Whether you're an experienced fisherman or a beginner, you will find something perfect for you.
There are no high rises or chain stores on this natural barrier island. You will find a gift shop or two, art galleries, antique shops, and some of the best beaches in Florida.
Other things to keep in mind
After booking your vacation stay on St. George Island, Florida, there are a few things to keep in mind to make the most of your trip.
The first is that many of the roads on the island are narrow and can be difficult to drive on. It is extremely important to pay attention to the signs.
Next, many of the restaurants and shops on the island don't open until 10 or 11am. If you're looking for an early breakfast, you'll need to go into town or pick up groceries for your beach house or hotel.
These Links Will Help You Plan The Perfect St. George Island Vacation
Upcoming Trip?
I like to use Booking for booking not only my hotels, but my tickets and rental cars as well. Makes life so much easier with only having to log into one location for my information.
Be sure to grab my travel tips to save you time and money. You'll also be entered into the weekly drawings.
Register here: Get 100 Travel Tips EVERY traveler should know PLUS entered into the weekly drawing.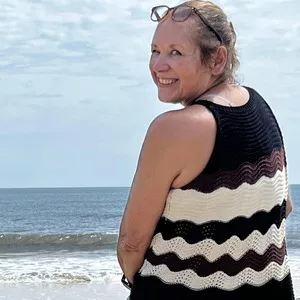 About Denise
Denise Sanger lives a life split between her love for fitness and her passion for travel particularly to the BEACH. Denise also has a love of marketing and lives in beautiful Suwannee County, Florida. You can find out more about Denise here: About Denise