Beaches in Destin Florida: The Best Beach Access Points And How To Find Them
This article may contain affiliate links. Whenever you buy something through one of these links, I may earn a small commission without any cost to you. I really appreciate it as it supports this site and my family. Thank you!
Dreaming of sun, sand, and surf? Below Is A Beach Lover's Guide to Destin Florida: The Best Beaches to Explore And How To Access Them.
I have included a table of contents to make it easier for you if are looking for a specific Destin Beach. In addition, you fill find links at the bottom of this article with things to do, deals, and where to go nearby while on your Destin Vacation.
Look no further than Destin, Florida, a popular vacation destination on the Florida Panhandle known for its stunning white-sand beaches, coastal dunes and emerald waters. This area of the Sunshine State offers the most beautiful beaches. 
Destin offers a variety of beaches to choose from including private and public beaches. Visitors are sure to find the perfect spot for their beach vacation to unwind and soak up the sun along the Emerald Coast.
Thank you for reading this post. Don't forget to subscribe! This way you never miss an update, travel deals, discounts and more!! Subscribe to the right------>
Enjoy your drive along the beautiful scenic highway. The natural beauty not only of Destin but all of the Florida Panhandle is a must see.
Destin is home to some of the best beaches not only in the United States but the world. Each beach area offering their own unique charm and activities.
Some of the most beautiful beaches in the area include Henderson Beach State Park, Crystal Sands Beach, and Miramar Beach. These pristine locations provide both relaxation and entertainment for beach goers of all ages.
At Henderson Beach State Park, nature lovers will appreciate the lush, preserved coastline and wildlife sightings, while families will enjoy the beach's safe swimming conditions and convenient amenities.
Spend the day in this great place as there are picnic areas and picnic tables to enjoy lunch or a snack.
Crystal Sands Beach is known for its super-soft, sugar-white sand and clear waters, perfect for a peaceful beach day.
Meanwhile, Miramar Beach offers a bustling atmosphere with beachfront restaurants, shops, and water sports opportunities galore. It is the perfect place for those that like plenty of things to do.
Where is Destin?
Located in the northwest region of Florida, Destin is a popular vacation destination known for its beautiful beaches and emerald green waters.
The closest airport to Destin is the Destin-Fort Walton Beach Airport (VPS), which offers direct flights from several major cities. 
Visitors can also reach Destin by car, with major highways such as I-10 and I-75 providing easy access to the area.
Top Beaches in Destin Florida
Destin, Florida, is known for its stunning white-sand beaches and crystal-clear waters.
This paradise offers a variety of beaches for travelers and locals to explore. In this section, we will discuss some of the top beaches in the area.
Henderson Beach State Park
Henderson Beach State Park features a pristine shoreline with sugar-white sand and emerald-green waters.
Visitors can enjoy sunbathing, swimming, and picnicking, while the park also offers a nature trail for those interested in exploring the local flora and fauna.
This beach is also a City of Destin public beach access point.
Miramar Beach
Miramar Beach is a bustling ocean side destination with a wide variety of activities and attractions.
The beach itself is famous for its soft sand and calm surf, while the surrounding area offers amenities such as shopping, dining, and entertainment options. 
This beach is a top choice for those seeking a lively beach experience. Public access is at Miramar Regional Beach Access.
Norriego Point
Located at the end of Holiday Isle, Norriego Point is a picturesque sandy beach that offers stunning views of both the Destin Harbor and the East Pass leading out to the Gulf of Mexico.
The calm waters of the East Pass, protected by the Destin Jetties, make it an ideal spot for swimming and other water activities. 
Whether you're looking to relax on the beach or explore the surrounding waters, Norriego Point is a must-visit destination in Destin, Florida. Note: East Point public beach access requires a walk to reach.
Crab Island
Crab Island, located in Destin, Florida, has become a must-visit destination for tourists and locals alike. This sandbar, which was once an island, is now a shallow area with emerald green waters and floating bars.
Visitors can enjoy obstacle courses and soak up the sun in the 1-4 ft shallow waters. This beach and island may only be accessed by boat.
Crab Island has gained national attention, being featured on HGTV and Good Morning America, and has become one of the most popular attractions and best places to visit on the Gulf Coast.
Despite its transformation over the years, Crab Island remains a beloved spot for boaters and beach goers to anchor down and have a good time.
Okaloosa Island
Located along Florida's Emerald Coast, Okaloosa Island is a popular destination for its stunning beaches with crystal-clear waters and soft, white sand.
The western end of the island is perfect for families, with beach parks featuring picnic areas and playgrounds, as well as a boardwalk lined with restaurants and shops.
For those seeking a quieter escape, the eastern tip of the island offers more secluded and peaceful beaches.
John Beasley Park
Located in a prime spot for beach access, John Beasley Park is a popular Destin beaches destination for locals and tourists alike.
With its pristine white sand and crystal-clear waters, it's no wonder why this area has become so well-known. 
The park offers a variety of amenities, including two pavilions, restrooms, and boardwalk access to the beach. For those who enjoy swimming or fishing, this is the perfect spot.
With 200 parking spaces available (including 8 handicap spaces), visitors are encouraged to carpool during peak season to ensure everyone can enjoy this beautiful location.
James Lee Beach
Located on the border of Walton and Okaloosa counties, James Lee Beach is a popular destination for locals and tourists alike.
This beachside park boasts an impressive array of amenities, including three pavilions, 41 picnic tables, beautiful sand dunes with nine dune walkovers, a playground, and restrooms with changing rooms. 
With 166 parking spaces available, visitors can easily spend a day enjoying the sun, sand, and surf. Okaloosa County owns and manages this beautiful Destin area park.
Crystal Sands Beach
Crystal Sands Beach is a popular spot for those in search of a more tranquil beach experience. This serene location boasts soft sand and calm waters, perfect for a relaxing day by the sea.
Beach goers can also take advantage of nearby amenities such as shopping and dining options. This beach also one of several public beach access points. 
Baytowne Wharf Beach
Baytowne Wharf Beach is located within the Sandestin Golf and Beach Resort, offering an exclusive getaway with a range of leisure activities for visitors.
The beach's calm waters make it suitable for families with young children, while nearby resort facilities provide options for dining, shopping, and recreational activities.
Beach Activities and Attractions
Destin, Florida, offers visitors a variety of beach activities and attractions to suit all tastes and interests.
This coastal paradise is known for its sugar-white sands, emerald-green waters, and a wide array of experiences for holidaymakers.
Water Sports
One of the main attractions in Destin is the number of water sports available for enthusiasts. Some popular options include:
Parasailing: soar high above the Gulf of Mexico, taking in breathtaking views.
Paddleboarding: glide across the crystal-clear waters on a stand-up paddleboard.
Kayaking: explore the calm waters and coastal wildlife up close with a leisurely paddle.
Jet skiing: satisfy the need for speed with a thrilling jet ski ride over the waves. There are several places to rent jet skis.
Snorkeling and scuba diving: discover the diverse marine life like sea turtles, dolphins and the underwater beauty of the Emerald Coast.
Public Beach Accesses
Destin, Florida offers a variety of public beach access points for visitors to enjoy many with a nearby parking lot, outdoor shower, public restrooms, and bike racks.
Many of these locations offer free parking. Be sure to check out Destin's website for the closest parking area.
Some of the popular options include Scenic Gulf Drive Beach Access, Crystal Beach Access, and Henderson Beach State Park.
Other options include Barracuda Street Beach Access, Eglin Matterhorn Beach Access, and Geronimo Street Beach Access.
Visitors can also check out Miramar Regional Beach Access, Norriego Point Beach Access, and O'Steen Beach Access.
Additional options include Pompano Street Beach Access, Princess Beach Access, Seascape Beach Access, and Shirah Street Beach Access. 
For those looking for a park setting, Shores at Crystal Beach Park Access is a great option, while Tarpon Street Beach Access and The Crab Trap Beach Access offer additional beach access points to explore.
Beach Wheelchairs
These are the 5 beach wheelchair easy access points that right now I am aware of that you can find a beach wheelchair to rent.
These points are open from 10:30AM to 5:30PM every day from March 1st through September. 
Seagrove: 3468 E Co Highway 30-A Santa Rosa Beach, FL 32549
Seaside: 1931 E Co Highway 30-A Santa Rosa Beach, FL 32549
Inlet Area: 438 South Orange Street: Inlet Beach Tower 1
Miramar Beach: 2375 Scenic Gulf Drive Miramar Beach, FL 32550
Gulfplace: 4447 W. Co. Highway 30-A Santa Rosa Beach, FL 32549
Nearby Beaches To Visit
When in the World's Luckiest Fishing Village as Destin is fondly called, be sure to stop at these pristine beaches nearby including my #1 beach, PCB:
Navarre Beach
Panama City Beach
Blue Mountain beach
Topsail Hill Preserve State Park
Fort Walton Beach
Grayton Beach State Park
Beachside Dining
After a day of fun in the sun enjoying the warm waters or maybe just relaxing in beach chairs, visitors can enjoy a range of beachside dining options in Destin.
These establishments offer delicious local seafood and spectacular ocean views. 
Accommodations Near the Beaches
Destin, Florida, boasts a variety of accommodations to suit every beach lover's preferences and budget. Options include resorts, vacation rentals, and camping options near the beautiful beaches of Destin. Check the link below for details.
Beach Safety
The white sand beaches of Destin, Florida are truly stunning, but there are a few safety precautions visitors should be aware of.
It's essential to pay attention to beach flag warnings, which range from green to double red flags. A green flag indicates calm conditions, while a red flag warns of potentially dangerous surf currents.
Rip currents can pose risks to swimmers, so be cautious and swim with a buddy. Parents are advised to keep a close eye on their children at the beach and always have flotation devices available.
Best Time to Visit
While Destin's beaches with their crystal clear waters are beautiful year-round, the best time to visit depends on the kind of beach experience you'd like.
The high season, between Memorial Day and Labor Day, offers the warmest water temperatures and lively beach crowds. Water temperature in the summer is in the mid-80's while only mid-60's during the winter months.
However, spring and autumn are pleasant times to enjoy more peaceful beach days and avoid the overcrowded peak season.
The average temperatures during each season are as follows:
Spring: 65°F – 75°F (18°C – 24°C)
Summer: 80°F – 89°F (26°C – 32°C)
Fall: 65°F – 78°F (18°C – 26°C)
Winter: 50°F – 65°F (10°C – 18°C)
Upcoming Trip?
I like to use Booking for booking not only my hotels, but my tickets and rental cars as well. Makes life so much easier with only having to log into one location for my information.
Be sure to grab my travel tips to save you time and money. You'll also be entered into the weekly drawings.
Register here: Get 100 Travel Tips EVERY traveler should know PLUS entered into the weekly drawing.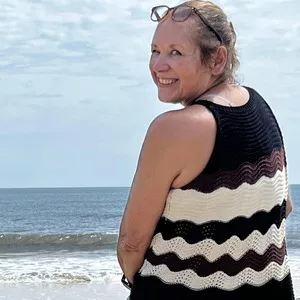 About Denise
Denise Sanger lives a life split between her love for fitness and her passion for travel particularly to the BEACH. Denise also has a love of marketing and lives in beautiful Suwannee County, Florida. You can find out more about Denise here: About Denise