Why You Need To Visit Live Oak Florida
This article may contain affiliate links. Whenever you buy something through one of these links, I may earn a small commission without any cost to you. I really appreciate it as it supports this site and my family. Thank you!
Why Live Oak Florida?
Should you visit Live Oak Florida? Absolutely!
Sometimes we get so focused on planning on the next vacation destination that we often overlook the beauty right in our backyard.  For me this is Live Oak located in beautiful Suwannee County, Florida.
Live Oak Florida was established prior to 1861 and is the County Seat of Suwannee County. It is in the north central part of Florida in the United States.
Roughly 1.75 hours to either Tallahassee or Jacksonville and just west of Lake City near I-75. The city of Live Oak was named for a large live oak tree under which railroad workers rested and ate lunch.
Thank you for reading this post. Don't forget to subscribe! This way you never miss an update, travel deals, discounts and more!! Subscribe to the right------>
Early in the 1900s, Live Oak was actually the largest inland, and fifth-largest overall, city in Florida. Nearby resorts at Suwannee Springs and Dowling Park drew thousands of visitors to the area to enjoy the sulfur springs.
According to public records, the Live Oak area has a population of about 7000 and the county has a total population of roughly 45000. 14% of Suwannee County residents live below poverty level.
Love history? Then you will quickly fall in love with the historic buildings and houses located in downtown area of Live Oak.
Real estate sales are at an all-time high as people leave the city for the country. The problem with this unfortunately is that folks think they will have the same services in the country they did in the city.
Too many people move to the area because they love it so much then want to change it. They are in for a battle they won't win. This portion of north Florida loves to be exactly who they area.
I love where I live so much that I wanted to do a quick article that will explain why you need to put Suwannee County on your list next time you're on your way to Florida.
How Did I Get To Live Oak Florida?
I get asked this all the time. I wasn't always a Floridian.
I'm actually a Midwesterner that was transplanted to South Florida when my husband was transferred by American Airlines.
When we first moved to Miramar in South Florida, it was not near as hectic as it was when I told my husband, we have to get out of here!  A drive that originally took 10 minutes was taking 35 minutes less than 10 years later.
With the decision made to leave South Florida, we had to figure out where to move to.  One thing I knew for sure and told my husband? I was NOT crossing the Florida/Georgia line.
A friend of mine had moved to Suwannee County. One weekend, I packed up my daughter and went to check it out. It was love at first site.
The air was clean. There were rivers surrounding where she lived and the people? Super nice.
That was it.  The plan was in motion and land was bought.
We originally bought the land in Live Oak but ended up building south on four acres between McAlpin and Branford.  To me, it's the perfect location.
It's 15 minutes to Branford and roughly 20 minutes to Live Oak. Even better? I can literally be on the Suwanee or Santa Fe rivers or one of the many nearby springs with a kayak in less than five minutes.
Water Activities
There is nothing I love more than exploring a new city especially when it helps me stay active. Live Oak Florida is home to many natural springs that flow into the Suwannee River, Withlacoochee River and Santa Fe Rivers.
My favorites are Ichetucknee Springs, Little River Springs, Wes Skiles Peacock Springs State Park and Royal Springs. Royal Springs is where I am able to do much of my triathlon training, although I generally wear a wetsuit as the springs are a constant 72 degrees.
When you visit Little River Springs or Peacock Springs, you just may catch a glimpse of  cave divers entering or coming out of the spring. It's a very cool thing to watch even though I cannot even imagine what it's like to be in a cave underwater.
Those that do cave dive have many interesting stories to tell. For me, I do not like being contained so the thought of diving underground into a water cave is not my idea of fun.
The Ichetucknee Springs River is also a must to visit especially if you like tubing. Last time I was on the river with friends I was lucky enough to float over manatees.
There is nothing quite like this crystal clear river with the swaying grass and numerous fish.  A natural lazy river you'll want to enjoy over and over.
Suwannee River
If fishing, boating, kayaking, and other water sports are on your must-do list, definitely make time to visit the majestic Suwannee River.  The Suwannee varies in-depth based on where you are.
In some areas, you are able to walk across the river while in others, the depth is well over 20 feet or more. The river flows into the Gulf of Mexico on the west side and the beginning flow is from Okefenokee Swamp in southern Georgia.
There are several places you can camp or rent a cabin directly on the banks of the Suwannee River under the large shade trees. Two of my favorites are Suwannee River State Park and Spirit of the Suwannee Music Park.
Both offer cabins and more but if you prefer a more active trip, Spirit of the Suwannee Music Park may be your better option. Music, restaurant, camping, festivals and more.
Whichever you choose, be sure to book early as you may have a difficult time finding accommodations certain times of the year.
Festivals
There are several festivals in Live Oak and the surrounding areas but the largest by far is Christmas On The Square. Crafters from around the country make it a point to display their goods during this huge event.
Christmas On The Square is the first Saturday of December, but it has been expanded to include the Thursday prior. Festivities begin with the tree lighting ceremony followed by a fun run for the kids then the Jingle Bell Walk and Jog for adults immediately after.
In addition to Christmas On The Square, Flea Across Florida crosses Live Oak, and there are several rodeos and festivals in nearby Lake City, Branford, Fort White, High Springs and more.
What else should you be sure to visit?
There truly are so many things you should make the time to visit while in Live Oak or Suwannee County. I've covered nature lovers above but there is so much more.
Love antiquing and shopping? You're in the right city. There are several cute little shops right in downtown along with several fantastic restaurants. Two of my favorites are Downtown Café and Grazing Gals near the courthouse.
History? Be sure to stop at Heritage Park not only to see the original home located in the park but also to take a stroll along one of the walking trails.
In addition to Heritage Park, be sure to look for the many Victorian homes downtown as well as the courthouse and museum right across the railroad tracks.
Where to eat?
My two favorites I mentioned above, but there are several good Mexican restaurants, a few diners as well as BBQ. You'll find one you will be sure to enjoy.
Where to stay?
Camping not your thing? No worries. There are several hotels located right off I-10 in Live Oak. More options are available right up the road in Lake City.
Don't forget to let me know if you visit! I may just come up and meet you.
Upcoming Trip?
I like to use Booking for booking not only my hotels, but my tickets and rental cars as well. Makes life so much easier with only having to log into one location for my information.
Be sure to grab my travel tips to save you time and money. You'll also be entered into the weekly drawings.
Register here: Get 100 Travel Tips EVERY traveler should know PLUS entered into the weekly drawing.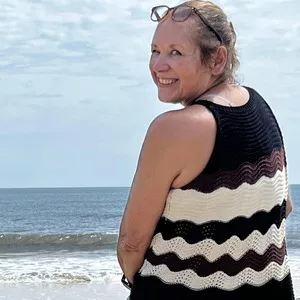 About Denise
Denise Sanger lives a life split between her love for fitness and her passion for travel particularly to the BEACH. Denise also has a love of marketing and lives in beautiful Suwannee County, Florida. You can find out more about Denise here: About Denise