Blue Spring State Park: Beautiful Adventures On Vacation
This article may contain affiliate links. Whenever you buy something through one of these links, I may earn a small commission without any cost to you. I really appreciate it as it supports this site and my family. Thank you!
Why you must Visit Blue Spring State Park.
Blue Spring State Park is one of the best places to see manatees during winter. But there is more to this gorgeous Florida State Park for you to visit all year long.
First though let's talk about all the State Park that have Blue Spring or Springs in the name. For this state park located in Orange City, you will notice spring as in singular.
Blue Spring is the largest spring on the St. John Rivers. It is also a winter home and refuge for West Indian Manatees that numbers inside the park grow every year.
My first visit to Blue Spring State Park was to see the manatees, and they did not disappoint! There is something about these animals that always make me smile. They're so very gentle and unassuming.
Thank you for reading this post. Don't forget to subscribe! This way you never miss an update, travel deals, discounts and more!! Subscribe to the right------>
Every year in the winter, I make it a point to visit and see these beautiful animals in both Blue Spring State Park and Three Sisters Springs Refuge on the Crystal River. You can read about Three Sisters here: Three Sisters Springs Manatees
Springs throughout Florida called Blue Spring or Blue Springs
Before we move on about all the fun things to do at Blue Spring State Park, I want to quickly mention the other springs that are called Blue Spring or Blue Springs. This way you can be certain you are visiting the park you want to be at.
Blue Spring State Park/St. Johns River (this Article)
Blue Spring State Park (this article) is located at 2100 W French Ave, Orange City, Florida 32763. This spring is sometimes called Volusia Blue.
Madison Blue Spring State Park/Withlacoochee river
Madison Blue Spring State Park is located at 8300 N.E. State Road 6, Lee FL 32059 and is absolutely magnificent. Another spring I often visit and often kayak from Blue Spring into the Withlacoochee River. You can swim at this spring but during summer, the park may close access and limit the amount of people to protect the spring.
Lafayette Blue Spring State Park/Suwannee River
Lafayette Blue Spring is located 799 N.W. Blue Spring Road, Mayo FL 32066. You can also swim in this spring that flows into the Suwannee River. Another fantastic spring to launch your kayak from.
Levy Blue Spring
Levy Blue Spring is a county park located in Levy County located at 4550 NE 94th Place, Bronson, FL 32621. You can also swim in this spring, but it is only open from Spring Break until the end of August.
Jackson Blue/Merritt's Millpond
Blue Springs Recreation Area is also called Jackson Blue and is located at 5461 Blue Springs Road, Marianna, Florida 32446. This is a gorgeous spring that feeds into Merritt's Millpond which is renowned for great fishing. You can also swim in this spring. Tip: Stop at Marianna Caverns State Park nearby and explore the caves.
Ruth B. Kirby Gilchrist Blue Springs State Park/Santa Fe River
Ruth B. Kirby Gilchrist Blue Springs State Park is located at 7450 N.E. 60th St. High Springs FL 32643 and is another high attendance state park during summer. They will close the park to further visitors when the spring reaches capacity to protect it.
In addition to Blue Spring, Little Blue Spring, Naked Spring, Kiefer Spring and Johnson Spring are also located in this park. These springs feed into the Sante Fe River and you can kayak in to see the spring head.
Citrus Blue Spring/Withlacoochee River
Citrus Blue Spring is located along the Withlacoochee River approximately 10 miles southeast of Dunnellon. It doesn't really have an address, but I can give you the coordinates which are 28° 58′ 9.0012″, W 82° 18′ 51.9984. It's important to note that this spring is surrounded by private property. You need to be a resident or kayak in off the Withlacoochee River.
Big Blue Springs/Wacissa River
And our final to mention is Big Blue Springs on the Wacissa River. It is often referred to as the headwaters of the river. It is accessible by boat off the river and is a favorite of kayakers and those in canoes.
You can also get to it driving from Tallahassee following US 27 south/southeast towards Petty. Turn right or south onto State Road 59. Roughly drive five miles through the village of Wacissa. This road will dead-end at the headwaters of the Spring.
I do want to mention both Blue Hole located in Itchetucknee Springs State Park and Blue Grotto in Silver Springs State Park because they have the name Blue in it as well. But neither of these are referred to as Blue Spring or Blue Springs.
Blue Spring State Park, Orange City
This beautiful Florida State Park is located east of Ocala in Orange City. Easy jaunt over from Orlando or from along the coast near Daytona and Ormond Beach.
It's a must-see if you're in the area when the temperatures are cold during winter. This is when the manatees make their way into the springs to stay warm when it's cold outside.
Florida's springs are a constant 72 degrees year round. Doesn't sound that warm but when the rivers and oceans are 65 or less in temps, 72 sounds positively balmy.
Last time I visited this beautiful spring, there were over 500 manatees in the spring run. The run connects to a river feeding into the St. Johns River.
This Florida State Park is very focused on protecting the spring and the manatees, they only allow a certain number of visitors in at one time.
If you are planning a trip to see the manatees, my recommendation is that you get there as early as possible. The park opens at 8 a.m. and remains open until sundown.
We arrived about 10:00 a.m. and did have to sit in line roughly 30 minutes before we were able to get in the park. As cars would leave the park, the rangers would allow more to enter.
Personally I have no problem with this. We live in such an impatient society that I watched car after car leave the line. But these procedures are in place to protect the manatees, so please keep this in mind.
Before you actually get into the park, you do need to pay an entrance fee which is $6/vehicle. You can actually pay this online if you choose, but it's just as easy to pay at the entrance.
A boardwalk along the spring run has several observation spots to stop at and see the manatees. You'll also see alligators, turtles and many water birds. Take the time to walk to the end of the trail which is where the spring head flows from.
Blue Spring is a first magnitude spring on the St. John River. Located on the property is The Thursby House, built in 1872. Louis Thursby was a gold Rush prospector turned orange-grower and purchased Blue Spring in 1856. The house is beautiful and definitely worth the time to tour if it's open.
You cannot swim or kayak in Blue Spring or the Spring run when the manatees are in residence. They are protected and unfortunately, many have died as a result of their diet staple of eel grass dying due to fertilizers and chemical run-off.
It's up to us to take care of our planet and the beautiful animals that exist on it with us. Be sure to make the time to visit Blue Spring to see these gentle sea cows soon. Unless things change, they may not be available to see in the future.
Blue Spring State Park was awarded the 2021 Traveler Choice Emblem. This is a fantastic destination when near Orlando in the center of the Sunshine State or Daytona Beach on the Atlantic Coast side.
FAQ Blue Spring State Park
Address
2100 W French Ave, Orange City, Florida 32763
Hours
Blue Spring State Park is open 365 days per year from 8 a.m. until sundown. There is a fee of $6 per vehicle.
What Else Is There To Do At Blue Spring State Park
Easy answer? PLENTY! Enjoy swimming, snorkeling, tubing, diving, canoe/kayaking, hiking, bird watching and more. Camping is available via campsites, or you can rent a cabin.
Thursby House
Also be sure to stop and visit Thursby House. This historic home was built by Louis Thursby in 1872 was known for hosting visitors on steamboats as they made their way up and down the St. Johns River.
Best Time To See Manatees
During the winter months when temps are much colder. The best time of day to see the manatees is early morning.
Can You Swim At Blue Spring State Park
Yes, when manatees are not in residence. Be sure to check before planning your trip during cooler months.
Tours Are Strongly Recommended During Summer
This beautiful state park gets quite busy during the hot, summer months. It is strongly recommended that you book a tour or prebook a kayak or canoe during the time you plan to visit. This will ensure you are able to get into the park. Additional information here: Blue Spring Adventure Tours
The best thing you can do in my opinion is Get Your Guide. They do an awesome job of highlighting the best tours and things to do for Blue Spring State Park. You can get it here: Get Your Guide Blue Spring State Park
One of the best tour guides is Manatee and Natural Spring Adventure Tour at Blue Springs. Get information here: Manatee and Natural Spring Adventure Tour
Additional Information For Planning Your Trip To Blue Spring State Park
Upcoming Trip?
I like to use Booking for booking not only my hotels, but my tickets and rental cars as well. Makes life so much easier with only having to log into one location for my information.
Be sure to grab my travel tips to save you time and money. You'll also be entered into the weekly drawings.
Register here: Get 100 Travel Tips EVERY traveler should know PLUS entered into the weekly drawing.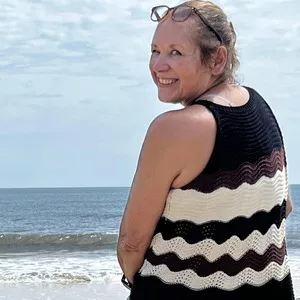 About Denise
Denise Sanger lives a life split between her love for fitness and her passion for travel particularly to the BEACH. Denise also has a love of marketing and lives in beautiful Suwannee County, Florida. You can find out more about Denise here: About Denise