Three Sisters Springs Manatees What You Need To Know Before Visiting
This article may contain affiliate links. Whenever you buy something through one of these links, I may earn a small commission without any cost to you. I really appreciate it as it supports this site and my family. Thank you!
Three Sisters Springs
UPDATED 2/2023. Returned to Three Sisters Springs yesterday. It is truly a magical place right here in the sunshine state.
On my last visit, even the cold couldn't contain my excitement for my trip to this beautiful spring. Three Sisters Springs is located in beautiful Crystal River which I have written about previously.
You can check it out here: Best things to do in Crystal River, Florida. It's a trip you'll definitely want to make time for.
Thank you for reading this post. Don't forget to subscribe! This way you never miss an update, travel deals, discounts and more!! Subscribe to the right------>
This time around, however, we visited when the temps were in the upper 60s and manatees were not in the spring. When the temperatures drop in the winter, the manatees search for warm water.
One of the locations in Florida they turn to are the many springs. Believe it or not, in spite of how "fluffy" manatees are, they have relatively low fat on their bodies.
The temperature of the springs throughout Florida, tend to be around 72 degrees. When the rivers and other water channels become cool, the manatees move into the springs.
Three Sisters Springs is one of them they migrate to. It is up to YOU to check the weather before a planning a trip to any location you want to see manatees.
These refuges and state parks can't personally update people when they should or should not visit. Check before heading that way.
I listened to one woman complaining that she purposely booked her vacation this week because it was winter and the manatees have to be in for winter. How her whole vacation was ruined because there were no manatees this weekend.
Um hello? Winter in Florida isn't like winter in the rest of the country. We have days in the upper 70s/80s as well as in the 20s/30s. Am I in the twilight zone?
My best tip is IF you are in Florida during the winter and would like to see the manatees, first check the temps. Then check the websites for the closest location to where you are vacationing.
When you read the information for the wildlife refuge it may not be clear that you need to go to the Three Sisters Springs Center to purchase your tickets.
Clicking on the tickets link does show that you can also buy your tickets at the front gate entrance located at 601 Three Sisters Springs Trail, Crystal River, FL. You need to know there is NO parking at the spring refuge except for handicap.
If you plan to ride the trolley, you will also need to go to the Three Sisters Springs Center. If like us, you plan to walk, you will need to find parking then walk over to the Front Gate. There are plenty of public parking lots. We found one on 3rd Street.
I have read people complaining about this so wanted to clarify in my article what you should do. This time around because of my hip issue, we did take the trolley and were entertained by the driver along the way.
It's roughly a mile from the Visitor Center to the Front Gate. For walkers, find your parking spot then head directly to the Front Gate. No need to go to the Center first because you can purchase your tickets at the refuge.
The woman at the front gate was very welcoming and explained the various routes to the boardwalk.
We chose to take the longer route that was to the right as you entered the refuge. This allowed us a nice leisurely walk that took us first to the river.
We did see some manatees at the various observation points. We were too far away and the water not as clear to get excellent views, but you could definitely see them in the water.
As we continued following the grassy flat trail, we came to the boardwalk. That is when manatee heaven happened. The colors of the spring are out of this world.
The farther along the boardwalk you went, the more manatees there were!
Big ones. Little ones. Mamas and babies. The day we were there the count was 130 +/- They count by eye in the morning but the manatees come and go all day.
There were rangers and other volunteers throughout the refuge ready to answer any questions you may have. That's how we found out how they counted the manatees.
The run where the spring connects to Crystal River was where the little ones would play while mom was snoozing in the refuge.
There is a service that will allow you to snorkel with the manatees – but no touching! These gentle giants are protected.
And this right here is the reason for this update. I have never witnessed such rudeness as I did from the snorkelers in the spring this time around.
MANATEES ARE PROTECTED ANIMALS IN THE STATE OF FLORIDA. This means NO TOUCHING of any kind.
We watched the guide remind people over and over and over do not touch the animals. Do not touch the rope separating the snorkelers from the main spring where the mom and baby manatee were.
One guy literally ignored her, rolling his eyes and did whatever he pleased! Talking to the VOLUNTEERS so rudely that work the refuge. To hear how they are spoken to when reminding folks of the rules of the refuge, made me actually angry.
I don't know how these people are raised, but I can tell you they are raising their children with no respect for anything.
No respect for nature, these protected outdoor places throughout our country or for volunteers giving their time FREE to help you enjoy your visit.
What has happened in our world saddens me. Know that continuing on this path will result in many animals including these beautiful chubby mermaids no longer living on our planet.
The spring is also closed off at this time of year to paddlers and boats of any kind including kayaks and canoes. I feel they should be closed off to these snorkelers as well.
These manatees are absolutely adorable. My friend, was able to capture the perfect photo. Look at this little face.
We spent quite some time on the boardwalk, but eventually it was time to leave. We followed the grassy trail back out and were treated to many different birds including robins that had migrated to the refuge.
An easy walk back to our car, and it was time for lunch. Last time we ate at Crackers. This time we ate at Charlies.
Unfortunately at this visit, the fish market was closed for remodeling and there were no tarpon in the river behind the restaurant.
Our lunch was fantastic as well as our waitress and all employees in the restaurant. Definitely make the stop.
What you need to do when visiting:
These springs are located in a wildlife refuge in Crystal River, Florida. I was told there are 70 springs in this area. We were able to tick only three off our list on this visit. Information below from the Refuge Website:
Springs Center
123 N.W U.S. Highway 19, Crystal River, Fl. (behind City Hall)
Ticket sales
Annual pass sales
Trolley departs from here every 30 minutes
Front Gate @ Three Sisters Springs
601 Three Sisters Springs Trail, Crystal River, Fl. (Credit/Debit Card Only)
Ticket Sales
Walk-in Access
Bicycle Access
CONTACT INFORMATION
Phone: (352) 586-1170
Location
Three Sisters Springs Center
123 NW HWY 19
Crystal River, FL 34428
Hours
8:30 am – 4:30 pm EST
Ticket sales end at 3:30 pm EST
Upcoming Trip?
I like to use Booking for booking not only my hotels, but my tickets and rental cars as well. Makes life so much easier with only having to log into one location for my information.
Be sure to grab my travel tips to save you time and money. You'll also be entered into the weekly drawings.
Register here: Get 100 Travel Tips EVERY traveler should know PLUS entered into the weekly drawing.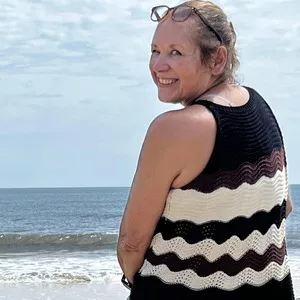 About Denise
Denise Sanger lives a life split between her love for fitness and her passion for travel particularly to the BEACH. Denise also has a love of marketing and lives in beautiful Suwannee County, Florida. You can find out more about Denise here: About Denise