Magical Places in Florida You Won't Want To Miss Visiting
This article may contain affiliate links. Whenever you buy something through one of these links, I may earn a small commission without any cost to you. I really appreciate it as it supports this site and my family. Thank you!
Embark on a new adventure and explore the magical places Florida has to offer! Discover five unforgettable locations you must see for yourself.
Florida is full of vibrant, exotic, and enchanting destinations! From beautiful coral reefs to majestic state parks and luscious natural springs, there are plenty of magical places in Florida that you must visit. Read on to find out our top five picks.
Everglades National Park
Enjoy wildlife in its natural habitat. Everglades National Park is the perfect place for an unforgettable adventure. With more than 1.5 million acres of swampland, mangrove forests, and grasslands, you can explore the wilderness and appreciate all kinds of wildlife in its natural habitat.
There are several entrances to this park. I always go in at Florida City.
Thank you for reading this post. Don't forget to subscribe! This way you never miss an update, travel deals, discounts and more!! Subscribe to the right------>
Enjoy airboat tours or take a hike along one of the many pathways – there's something here for everyone!
Historic St Augustine

Wander Through The Cobblestone Streets Of America's Oldest City. Established by Spanish settlers in 1565, St Augustine is the oldest continuously inhabited European-established city in America.
Roam its historic streets and marvel at sites of old including the Castillo de San Marcos fortress, Flagler College, and the Lightner Museum – all overflowing with architecture from centuries past.
Keys to Paradise
Explore the enchanting beaches and crystal clear waters of the Florida Keys. Take a journey to paradise and dive into the sparkling waters, colorful coral reefs, and sandbars of the Florida Keys.
Each key has something different to offer including hiking, fishing, kayaking, snorkeling, and swimming with dolphins.
For an unforgettable experience, don't miss the Dry Tortugas National Park. Seven islands that are home to Fort Jefferson and some of the best beaches in Florida!
Silver Springs State Park
Take a peaceful trip to Silver Springs State Park. This park is home to one of the largest natural springs in the world, which creates a tranquil atmosphere for a day of swimming, boating, and exploring nature trails.
Admire the crystal clear spring water filled with manatees and other wildlife as you paddle your way through the area. This park also has monkeys that often you will see on the river banks or trees.
You are not allowed to take any type of food or plastic on the river. You will need a stainless or glass bottle for your water if you are kayaking. Or the other option is to enjoy a leisurely glass bottom boat ride.
Florida Caverns State Park in Marianna
Back towards the Florida Panhandle in the town of Marianna, you will find caves. Yes that is correct. Caves.
We ventured down into the caves following our guide. It was really amazing to see.
As we listened to the story behind the caves, it has you really thinking back to how people lived at that time.
Literally crawling through the caves with a rope attached. Nowhere to stand up. And if their oil lanterns blew out, they had no light. Zero.
Rapids Big Shoals State Park
Rapids? In Florida? That's right there are.
Over in the little, historic town of White Springs, you will find Big Shoals State park and State Forest. They share some of the same land.
This is also where you will find the only rapids in Florida, and they are Class III rapids. For those adrenalin junkies, you can kayak over the shoals but for others, there is a path to portage around them.
Every time I visit, I see pieces and parts of kayaks and paddles that did not make it over the shoals. Please do not attempt if you have never paddled over rapids or are inexperienced. Others? Good luck!
Devil's Den Prehistoric Spring
This has got to be one of the coolest things you will ever see. I was speechless when I first saw it.
Underground with an opening above, is 120 feet across and roughly 45 feet deep is one of the most gorgeous springs you will ever lay eyes on. Even better? You can choose to snorkel or dive in it.
Called the Prehistoric Spring for good reason as you will note when you visit. If one in your part chooses not to enjoy the clear, 72 degree water, they can look down on you from the opening above.
Devil's Den is located in the small town of Williston and worth the trip to see it.
These are only a few of the most magical places in Florida. I will be adding more so be sure to bookmark this page.
Upcoming Trip?
I like to use Booking for booking not only my hotels, but my tickets and rental cars as well. Makes life so much easier with only having to log into one location for my information.
Be sure to grab my travel tips to save you time and money. You'll also be entered into the weekly drawings.
Register here: Get 100 Travel Tips EVERY traveler should know PLUS entered into the weekly drawing.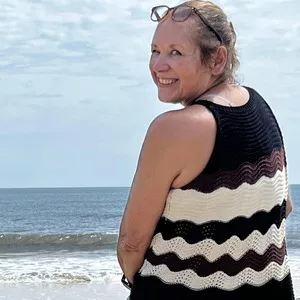 About Denise
Denise Sanger lives a life split between her love for fitness and her passion for travel particularly to the BEACH. Denise also has a love of marketing and lives in beautiful Suwannee County, Florida. You can find out more about Denise here: About Denise