Florida Caverns State Park Marianna – All you need to know 2023
This article may contain affiliate links. Whenever you buy something through one of these links, I may earn a small commission without any cost to you. I really appreciate it as it supports this site and my family. Thank you!
Caves? In Florida? Seriously? Yes, those were my first questions when I saw the sign off I-10 heading of course to Panama City Beach. And since that time, I've been trying to visit Florida Caverns State Park in Marianna. Let me tell you this Florida State Park is a must visit. The caves are breathtaking.
Driving west on I-10 after crossing the Apalachicola Bridge, you will notice two changes. First the time will change back one hour as you leave Eastern Standard Time and enter Central Standard Time. Florida does have two time zones. The second thing you will notice? Open areas and many in the woods that border I-10. This area was hit very hard by Hurricane Michael in 2018.
Off I-10, enjoy the ride through the quaint town of Marianna. Soon you will be at the front gate to the park. There is a fee to enter the park. I have my Florida State Park pass which covers entrance but this park is often crowded, so I'd recommend you go online and purchase your day pass. You can do that here: Cave Information.
A short drive through the park and you are at the Gift Shop/Museum building. Both are located in the same building. Follow the paved trail to the shop entrance. Purchase your tickets to enter the guide tour in the Gift Shop. Ticket prices for adults are roughly $10. And the tour is well worth it!
Thank you for reading this post. Don't forget to subscribe! This way you never miss an update, travel deals, discounts and more!! Subscribe to the right------>
Tip: If you carry a bag of any type, you may want to leave it in the car. It's very important that nothing touches the walls of the caves. I did have my backpack with me and had to wear it on the front of my body. That made it a bit difficult at times to see where I was walking and in several areas, the floor was wet and slippery.
Oh my gosh the caves! The tour provides so much information. These caves were chiseled open by 1930s-era Civilian Conservation Corps workers. Before those workers went in, map writers explored the caves and many crawl spaces are 12″ or less. Can you imagine crawling in a pitch black cave to explore and map it out? I certainly cannot.
At this time, the only light they had was provided by an oil burning lamp affixed to their hats. If for any reason those lamps went out, they were instantly plunged into blackness. Our tour guide did demonstrate how it would look by turning off the lights and her flashlight. Let me tell you I was not a fan and did not like not knowing where I was or how to get out of the cave if we needed to. Thank goodness the pitch dark lasted only a few moments.
You will see plates in the ceilings in many of the cave rooms. The workers would hang their lamps near these plates which would serve to spread the light throughout the room.
The tour lasts about 45 minutes and is definitely a step back in time. The caves are other wordly and so beautiful. The park has provided lighting in many of the rooms so you can see the stalactites and stalagmites as you move from room to room.
As mentioned above, there are several slippery areas and the ceilings can be quite low when moving from one cave to the other. You will need to duck your head because you definitely will not want to hit it on one of the rocks on the ceiling as they are quite sharp.
Plan your outing for the day. TripAdvisor has many other attractions and things to do including nearby Panama City Beach. You can check them out here: Florida Caverns Tripadvisor. Note Tripadvisor does show this park as closed but it is not. As of this writing in January 2022, the park has recently reopened including camping and kayaking.
Blue Sink is a beautiful spring located right in the park near the campground. It feeds into the Chipola River which is approximately 2 miles downstream. Florida Caverns State Park is definitely one not to miss and in the top 10 for me of State Parks I've visited.
Next week I'll be back at Blue Springs State Park visiting my beloved manatees. Last count was 290 in the spring. Be sure to come back for my updated review but you can read about last year's trip here: Blue Springs State Park.
Upcoming Trip?
I like to use Booking for booking not only my hotels, but my tickets and rental cars as well. Makes life so much easier with only having to log into one location for my information.
Be sure to grab my travel tips to save you time and money. You'll also be entered into the weekly drawings.
Register here: Get 100 Travel Tips EVERY traveler should know PLUS entered into the weekly drawing.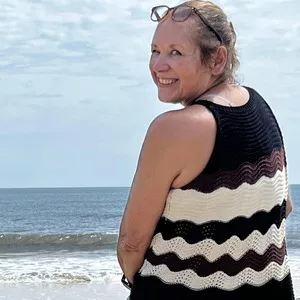 About Denise
Denise Sanger lives a life split between her love for fitness and her passion for travel particularly to the BEACH. Denise also has a love of marketing and lives in beautiful Suwannee County, Florida. You can find out more about Denise here: About Denise